Texas
This Week's "Sunday Morning": The Food Issue (November 20)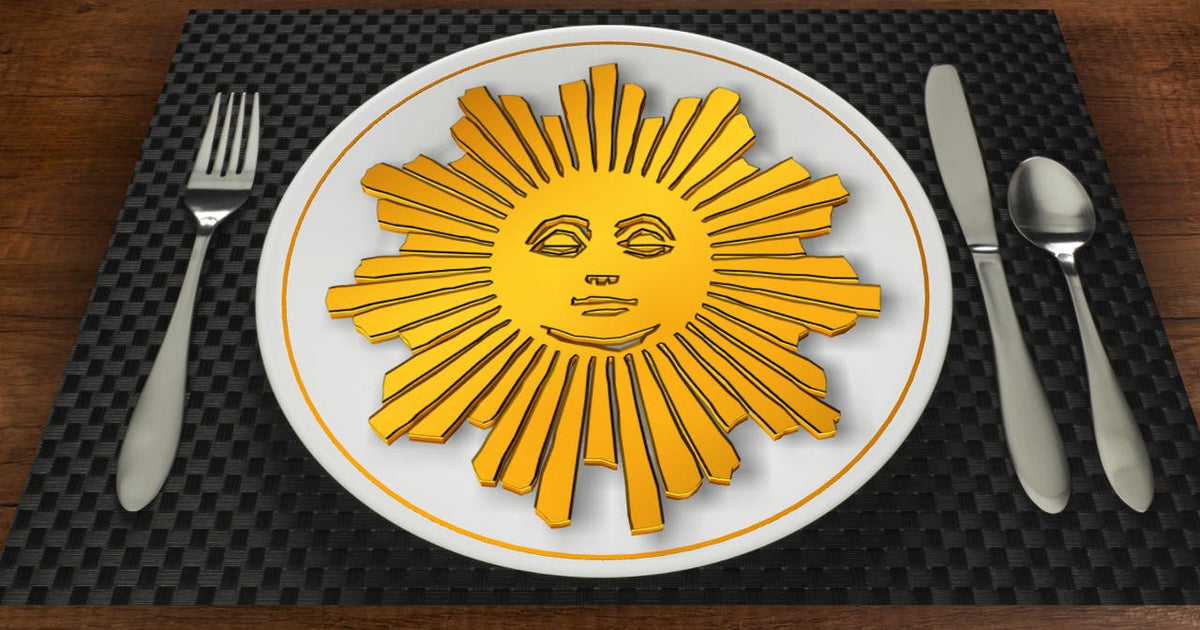 Emmy Award-winning "CBS Sunday Morning" airs on CBS Sundays beginning at 9:00 a.m. ET. "Sunday Morning" Stream on the CBS News App Starts at 10:30 AM ET. (click here to download.)
---
Jane Pauley hosts an annual holiday broadcast exploring all things Epicurean!
And to start:
check us out 2022 Food Issue Recipe Indexfeaturing holiday recipes and delicious menu suggestions from top chefs and mixologists, cookbook authors, food writers, restaurateurs, and editors New York Times Cooking.
---
Cover Story: Cannabis, It's the Ingredient for Dinner
With more than half of America legalizing cannabis in some form, some of the country's top chefs are finding even more ways to incorporate cannabis into their recipes. We talk cannabis cooking with chef Miguel Trinidad, who hosts cannabis dinners, and cookbook author Laurie Wolfe.
For more information:
United States: Crops move north due to climate change
Farmers have always dealt with the whims of Mother Nature, but global warming could wreak havoc on farms around the world. Our correspondent Ben Tracy explains how climate change is already changing which crops can be grown where, and how some food companies are turning to artificial intelligence to find solutions. I'm reporting on where I'm headed.
For more information:

Beverages: The History of Carbonated Beverage Effervescence
A "dirty soda" – a soda, sparkling water, or flavored energy drink – is a popular new take with roots in Utah, based on an old recipe that began as a pharmacy staple. Correspondent Jonathan Vigliotti examines the history and future of his soda fountain.
For more information:

Vegetables: Baby Carrot Secrets
They are pretty, do not need to be peeled or washed, and are very popular. His 70% of the carrots sold today are of the baby variety. But technically it's not a "baby carrot". Correspondent David Pogue watches "Eureka!" The moment farmers found a way to produce less waste and sell more vegetables.
For more information:
Restaurant: Le Bernardin at 50
Founded in Paris 50 years ago and now based in New York City, Le Bernardin is recognized as one of the world's greatest restaurants. Chef and co-owner Eric Ripert told correspondent Martha Teichner that running his three-Michelin-starred restaurant is an extension of his approach to life that aims to make a difference. is said to be
For more information:
Postcard from Italy: Take home the authentic Neapolitan pizza
In Naples, the birthplace of pizza, pizzerias (pizzaioli) celebrate the tradition of wood-burning ovens. But as home pizza ovens have grown in popularity, the Verace Pizza Napoletana Association, which usually teaches professionals, now offers online courses for pizza lovers. Our correspondent Seth Dorn reports.
For more information:

Beverages: A New Trend is Born: Non-Alcoholic Beer and Mocktails
Non-alcoholic beer sales have increased 70% in recent years, and no good cocktail list is complete without a few "mocktails." "Sunday Morning" Contributor Kelefa Sané talks with The New York Times' Chief Wine Critic, Eric Asimov, about the latest "cold curiosity" trend and samples delicious beverages. No alcohol needed.
For more information:
From our tasting:

Drinks: Cool: Ice Tales
Let's be clear, ice is not just a cube of frozen water. Our correspondent Serena Altschul finds out how important ice quality is to cocktails.
For more information:
MEATS: A New York Butcher Where Time Has Stopped
Jennifer Prezioso dreamed of a life as an actress, but when her grandfather, who ran the last butcher shop on Elizabeth Street in Little Italy, began to decline, she took on a new role as an apprentice butcher. Today, she runs Albanese Meats & Poultry, which will soon celebrate its 100th anniversary. Correspondent Mo Rocca tells Prezioso about a New York City institution that's half museum and half butcher shop.
For more information:

Little Wonders: Pros and Cons of Microgreens
In 1993, engineer-turned-farmer Michael Clarke was offering his produce to friend and Virginia chef Craig Hartman for "baby greens." The result is even smaller lettuce leaves. Today, these little vegetables are big ingredients in fine dining restaurants, food magazines, and window farms. Our correspondent David Pogue reports on how the trend was born.
For more information:

Sunday Profile: Linda Ronstadt: A Taste of Home
Singer Linda Ronstadt has always done the unexpected. And now, the woman who admits she can't cook has released a memoir focused in part on traditional Sonora recipes from her childhood. He talks about his book Feels Like Home: A Song for the Sonoran Borderlands.
For more information:
WORLD: How Ukrainian chef Yevgen Kropotenko protects his country
When Russian troops launched their invasion last spring, Yevgen Kropotenko, Ukraine's most famous chef, closed his acclaimed Kyiv restaurant, 100 Rokiv, and reopened it as a military canteen. They support their national identity by serving their customers and promoting their national cuisine such as borscht. Correspondent Holly Williams hits the kitchen with Kuropotenko for a taste of Ukraine.
For more information:
Restaurants: Rise of Halal Meat
Halal meat is becoming a popular meat in restaurants across the country, from Chinese, Italian, Korean and Mexican to Jewish delis and BBQ restaurants, all serving halal meat. Our correspondent Jim Axelrod reports.
For more information:
WORLD: Purple Passion for Ube
A staple and increasingly exported from the Philippines, purple sweet potatoes are a feast for the eyes when used in cakes, pies, drinks and ice creams. Correspondent Elaine Quixarno examines ube, a bright purple tuber taking root in America.
For more information:

Small wonders: The future of watermelons is getting smaller
Syngenta Vegetable Seeds was one of the first to introduce mini watermelons that are easy to carry, more likely to fit in the refrigerator, less wasteful and available all year round. Correspondent David Pogue tastes melon ripeness in miniature.
For more information:
Commentary: Give thanks through the joy of mango pie
For this Thanksgiving holiday, musician and "Song Exploder" host Hrishikesh Hirway shared his thoughts on how food brings people together, including his mother's mango pie recipe. I'm talking about the thoughts of
For more information:

Nature: TBD
---
Web only:
From the archive: Wes Moore and "The Other Wes Moore" (Video)
In November 2022, Wes Moore, a Baltimore native, is a Rhodes scholar, Army officer, White House Fellow, and the first black man elected Governor of Maryland. But as told in his 2010 best-selling book, The Other Wes Moore: One Name, Two Fates, his life story is that of another Baltimore man, also named Wes Moore. It was not very different from the story of life for murder. In this CBS Sunday Morning report, which aired May 2, 2010, correspondent Russ Mitchell talks with the Wes Moores.
movie: DOC NYC Documentary Film Festival Returns: Real Life on Screen and at Home
America's largest non-fiction film festival returns to New York City in both theaters and online streaming, showing more than 200 feature and short films.
For more information:
"Here comes the sun": Actress Julia Roberts and Soft Drink Moxie (Video)
Actress Julia Roberts sits down with Jane Pauley to discuss her new romantic comedy Ticket to Paradise, parenthood and her love of knitting. Nancy Giles then travels to Maine to learn about the soft drink Moxy.
---
Emmy Award-winning "CBS Sunday Morning" airs on CBS Sundays beginning at 9:00 a.m. ET. Executive Producer Rand Morrison.
DVR Alerts! Find out when 'Sunday Morning' airs in your city
"Sunday Morning" Stream on the CBS News App Starts at 10:30 AM ET. (click here to download.)
All episodes of "Sunday Morning" are available on CBSNews.com, CBS.com, and Paramount+Apple TV, Android TV, Roku, Chromecast, Amazon FireTV/FireTV Stick, Xbox.
Please follow us twitter; Facebook; Instagram; Youtube; tick tock; and cbssundaymorning.com.
You can also download it for free "Sunday Morning" Audio Podcast and itunes and Play.itNever miss a trumpet again!
---


https://www.cbsnews.com/news/this-week-on-sunday-morning-the-food-issue-november-20-2022/ This Week's "Sunday Morning": The Food Issue (November 20)