Texas
Teen falls off roof of Spring Klein Cinemark, family says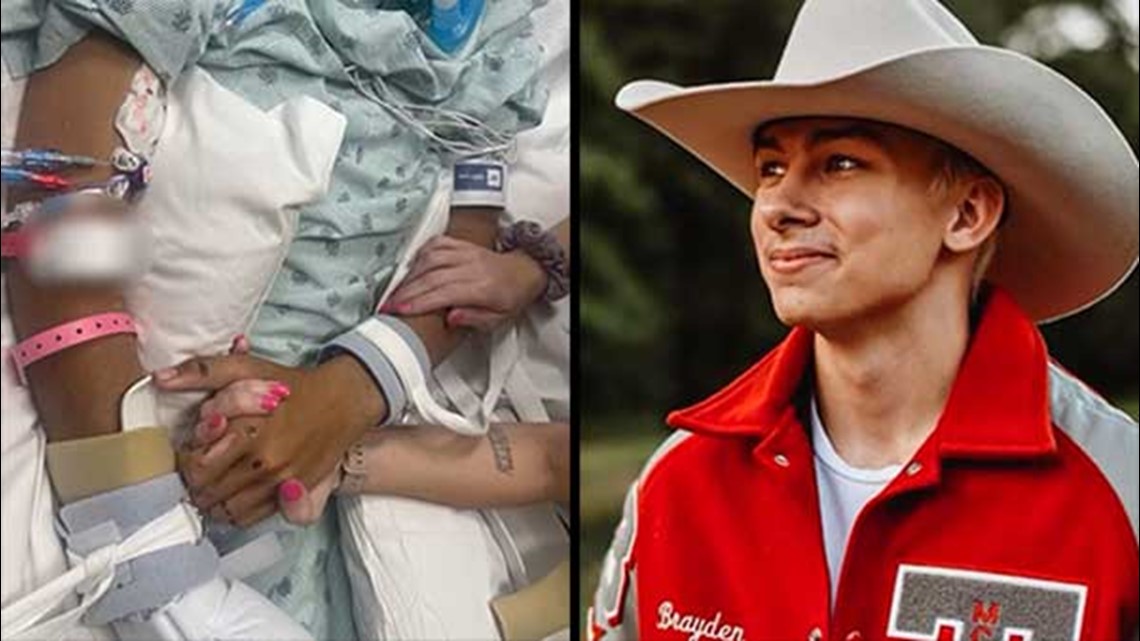 His mother hopes to bring awareness to the importance of job site safety by sharing his story.
KLEIN, Texas — An 18-year-old has been in the intensive care unit for weeks after he fell 40 feet off the roof of a movie theater where he was working on its AC unit.
Brayden Millon's mother, Stephanie Minchew, said she hasn't left his side since the accident. By sharing his story, she hopes to bring awareness to the importance of job site safety.
It was his first summer job at an AC company after graduating high school. His family said he was working on the roof of a Cinemark movie theater in the Klein area.
"He was going to spray the air coils and as he was walking backward and grabbing the hose, there was a little lip right behind where the roof kind of isn't barricaded like the rest," Stephanie said. 
She said Brayden fell 40 feet, breaking several bones throughout his entire body.
"Brayden started falling backward but his natural instincts, I guess, kicked in and so he flipped himself over and somehow hit his head going down," she said.
Despite the fall, he somehow managed to stay conscious.
"There was an amazing girl from Cinemark, an employee there, that held his hand the entire time until EMS got there," she said. 
He was rushed to Memorial Hermann in the Woodlands, where he's been for weeks.
"His brain activity, nothing was touched," his aunt, Sherry Lyday, said. "His heart has been strong, all the major organs strong the entire time."
"Everyone at the hospital is so amazed. When they got the call, they didn't expect him to be alive."
KHOU 11 has reached out to OSHA for a statement, but they could not comment as an investigation into the incident is underway.
Stephanie says she hopes this leads to more safety measures being taken.
"So this does not happen to another family. This was completely preventable. This is not something that any mother or any family should have to go through when their kid is ready to start their life," she said.
Now, instead of preparing Brayden for his first semester in college, they're focusing on his recovery.
"The only thing I could ever ask for is prayers and faith," Stephanie said. 
Brayden has undergone several surgeries already and his family says he has more to follow.
We've reached out to the company Brayden was working for, Air Houston Mechanical LLC. Their attorney said worker's compensation insurance is taking care of his medical bills and they pray for a full recovery. His family has also set up a GoFundMe campaign to help pay for expenses.
Read the attorney's full statement:
"Brayden Millon is a fine young man. That is the primary reason Air Houston Mechanical hired Brayden. The worker's compensation insurance carrier is currently taking care of Brayden's medical bills and we all pray for Brayden's full recovery. Due to the ongoing investigations, Air Houston Mechanical is precluded from making further comment at this time."


https://www.wfaa.com/article/news/local/teen-falls-off-roof-spring-klein-cinemark/285-7456847a-71ad-4163-b557-8126755ae552 Teen falls off roof of Spring Klein Cinemark, family says