Texas
Severe weather in East kills at least 2, hits airlines schedules hard and causes widespread power outages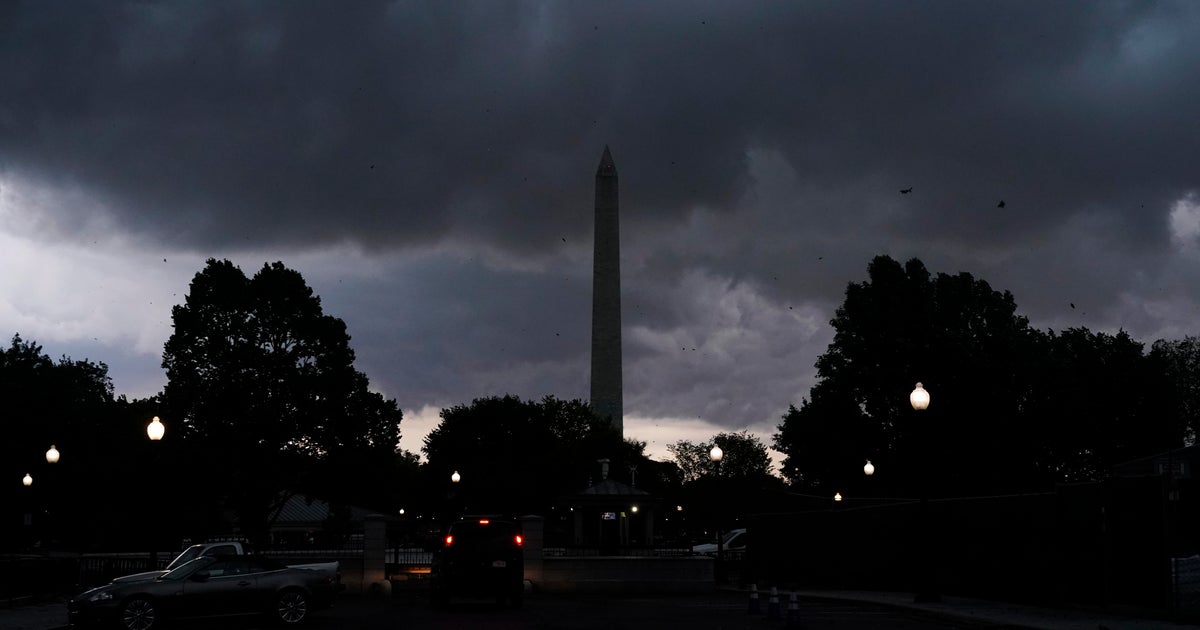 At least two people died, thousands of U.S. flights were canceled or delayed and more than 1.1 million homes and businesses lost power Monday as severe storms, including hail and lightning, moved through the eastern U.S.
In Florence, Alabama, a 28-year-old man died when he was hit by lightning in the parking lot of an industrial park, police said. In Anderson, South Carolina, a minor was killed by a fallen tree, the city's Fire Department Chief Charles King told CBS News.  
The storms' spread was massive, with tornado watches and warnings posted across 10 states from Tennessee to New York. The National Weather Service said more than 29.5 million people were under a tornado watch Monday afternoon.
The National Weather Service issued a tornado watch for the greater D.C. area that lasted until 9 p.m. A special Weather Service statement warned, "There is a significant threat for damaging and locally destructive hurricane-force winds, along with the potential for large hail and tornadoes, even strong tornadoes."
Federal employees in Washington, D.C., were told to go home early because of the extreme weather forecast. Federal offices closed at 3 p.m., according to the U.S. Office of Personnel Management.
"This does look to be one of the most impactful severe weather events across the Mid-Atlantic that we have had in some time," National Weather Service meteorologist Chris Strong said in a Facebook live briefing.  
About 30 miles north of Baltimore, in Westminster, Maryland, 33 adults and 14 children were trapped in their cars for several hours after strong winds knocked down utility poles along Route 140, CBS News Baltimore reported. They were all safely evacuated by 11:30 p.m., police said.
Parts of Maryland were also dealing with severe flooding. More than a dozen motorists had to be rescued after getting stranded by floodwaters in Cambridge, Maryland, police said in a statement.
And CBS News Baltimore says a Harford County couple in their 70s had to be rescued after a massive tree in their backyard fell on their home in White Hall during Monday night's storms.
By Monday night, more than 2,600 U.S. flights had been canceled and nearly 7,900 delayed, according to flight tracking service FlightAware. Many cancellations were at Hartsfield-Jackson Atlanta International Airport, which was digging out from disruptions caused by Sunday storms. As of 3:15 a.m. EDT, there were some 800 delays or cancelations, FlightAware said.
The Federal Aviation Administration said it rerouted planes around storms heading to the East Coast Monday evening.
The White House pushed up by 90 minutes President Biden's departure on a four-day trip that's taking him to Arizona, New Mexico and Utah.
By early evening, more than 1.1 million customers were without power across Alabama, Georgia, South Carolina, North Carolina, Maryland, Delaware, New Jersey, Pennsylvania, Tennessee, West Virginia and Virginia – all states along the storm system's path, according to poweroutage.us. The Knoxville Utilities Board tweeted that the damage across its service area in Tennessee was "widespread and extensive" and will likely take several days to repair.
As of 2:30 a.m., the number was down to 442,000, the bulk of which were in North Carolina, Pennsylvania, Maryland, Georgia and Tennessee.    
Trees and power lines were toppled in multiple states, falling into roads and some homes, news outlets reported.
CBS News Boston said late Monday that, "it appears the best chance and highest threat of showers and storms will be between 7 a.m. and noon on Tuesday."
https://www.cbsnews.com/news/weather-severe-east-deadly-airline-cancelations-delays-power-outages/ Severe weather in East kills at least 2, hits airlines schedules hard and causes widespread power outages