Texas
Parent PLUS loan forgiveness: What to know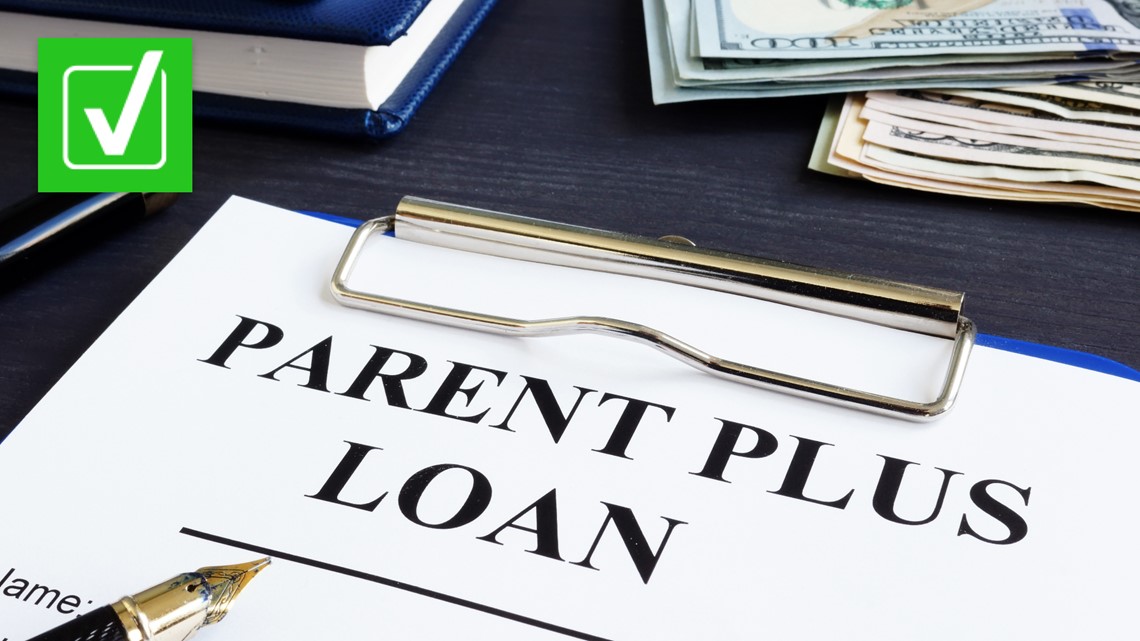 Here's what Parent PLUS borrowers should know about forgiveness options through an income-driven repayment plan and public service work.
Terry asked VERIFY if there are other loan forgiveness options available to Parent PLUS borrowers. 
THE QUESTION
Can Parent PLUS loans qualify for forgiveness?
THE SOURCES
THE ANSWER
Yes, federal Parent PLUS loans can qualify for forgiveness if they are consolidated. These borrowers must enroll in an income-contingent repayment plan or pursue public service loan forgiveness. 
WHAT WE FOUND
Parent PLUS borrowers can have their remaining debt forgiven after certain periods of time if they enroll in a specific income-driven repayment plan or pursue public service loan forgiveness. 
Both options require Parent PLUS borrowers to consolidate their loans beforehand. Any federal education loan can be consolidated, even if you only took out one loan, according to Finaid. 
Here's a breakdown of the loan forgiveness options available to Parent PLUS borrowers.
Income-driven repayment plans can lower your monthly student loan payments based on your income and family size, and eventually forgive your remaining loan balance. 
The federal government offers four income-driven repayment plans, including the SAVE plan, but only one is available to parent PLUS borrowers who consolidate their loans. That plan is called an income-contingent repayment (ICR) plan.
If Parent PLUS borrowers on ICR plans still have debt after making payments for 25 years, their remaining loan balance will be forgiven, according to the Education Department. 
ICR plans cap monthly payments at 20% of your discretionary income or offer fixed payments based on a 12-year loan term, whichever is lower. Discretionary income refers to the difference between your income and an amount the Education Department determines you must have to meet your basic needs. 
Public Service Loan Forgiveness (PSLF) program
Parent PLUS borrowers who work full-time in qualifying public service jobs are eligible for full loan forgiveness after making 10 years' worth of payments (totaling 120 payments).
Under PSLF program rules, only qualifying payments that borrowers make on their new consolidated loans can be counted toward the 120 payments required for loan forgiveness. Any payments that parents made on their loans before consolidating them will not count toward this forgiveness. 
Double consolidation 'loophole'
Two student loan advisory services, the Institute of Student Loan Advisors (TISLA) and Student Loan Planner, outline a double consolidation "loophole" that can allow Parent PLUS borrowers to access other income-driven repayment plans such as SAVE.
While some borrowers have had success with this process, it is "more complicated and the [Department of Education] has said it will prevent borrowers who consolidate after July 1, 2025 from using that approach," Abby Shafroth, a student loan expert with the National Consumer Law Center, told VERIFY. 
The double consolidation process can take as long as six months to complete, according to TISLA. You can read more about it here and here. 
Follow Us
Want something VERIFIED?


https://www.wfaa.com/article/news/verify/student-loan/parent-plus-loans-can-be-forgiven-if-consolidated-what-to-know/536-e024a045-8edb-4bb1-b84d-3327fbbb6586 Parent PLUS loan forgiveness: What to know