Texas
Man wanted in Corpus Christi murder shot and killed by deputies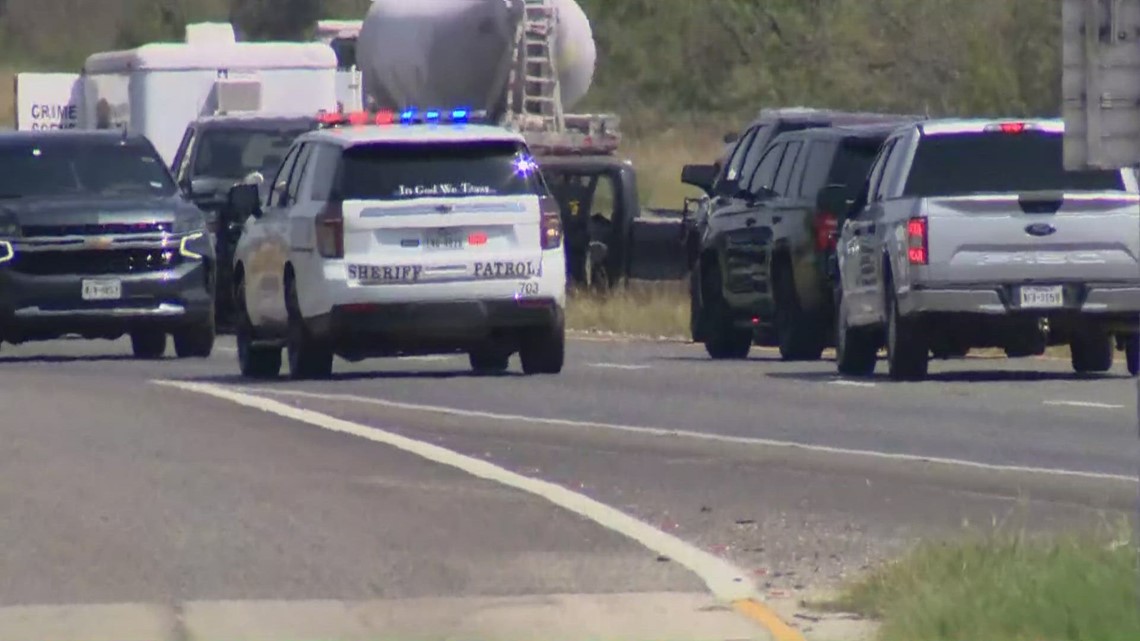 The incident happened around 9 a.m. Friday at I-37 at exit 117 near the border between Bexar and Atascosa County.
ATASCOSA COUNTY, Texas — Law enforcement officers shot and killed a murder suspect who fired at deputies on I-37 near the Atascosa County line. Authorities later said that, after conferring with Corpus Christi police, they believed the suspect to be Edward Garcia. 
Garcia, 51, was a former deputy constable in Nueces County. 
Just before 11:30 p.m. Thursday, Corpus Christi police say they were called to the 300 block of Hiawatha Street. Officers discovered the body of a woman inside a home. The victim, who police say was in her 30s, has not been identified yet.
The Corpus Christi Police Department (CCPD) named Garcia a 'person of interest' in the case, and asked other agencies to be on the lookout for him.
That's what led to the deadly shootout Friday morning on I-37 near exit 117, just south of Bexar County.
Atascosa County Sheriff David Soward said his department received a call of a murder suspect travelling northbound on I-37 in a black Ford F-150 truck. The truck was spotted by an investigator with the DA's office. Deputies tried to pull the suspect over, but he took off. Deputies chased him at speeds of up to 85 miles per hour before DPS troopers threw down spike strips. 
The suspect crashed and got out of his vehicle with a rifle. He was wearing a bullet proof vest, Sheriff Soward said. The suspect then started shooting at officers, who fired back, hitting the suspect. The suspect died at the scene.
The highway was closed for nearly seven hours while detectives collected evidence, bringing thousands of travelers to a standstill. 
The Texas Rangers have taken over the investigation.  
On Facebook, the Atascosa County Sheriff's Office (ACSO) said an autopsy was ordered to positively identify Garcia. Based on early information, though, ACSO believes Garcia is the person who was killed in the I-37 shootout. 
Since going on the air in 1950, KENS 5 has strived to be the best, most trusted news and entertainment source for generations of San Antonians.
KENS 5 has brought numerous firsts to South Texas television, including being the first local station with a helicopter, the first with its own Doppler radar and the first to air a local morning news program.
Over the years, KENS 5 has worked to transform local news. Our cameras have been the lens bringing history into local viewers' homes. We're proud of our legacy as we serve San Antonians today.
Today, KENS 5 continues to set the standard in local broadcasting and is recognized by its peers for excellence and innovation. The KENS 5 News team focuses on stories that really matter to our community.
You can find KENS 5 in more places than ever before, including KENS5.com, the KENS 5 app, the KENS 5 YouTube channel, KENS 5's Roku and Fire TV apps, and across social media on Facebook, Twitter, Instagram and more!
Want to get in touch with someone at KENS 5? You can send a message using our Contacts page or email one of our team members.
https://www.wfaa.com/article/news/local/i-37-in-atascosa-county-closed-in-both-directions-due-to-law-enforcement-incident-crime-san-antonio-area/273-19b3c64f-d59f-46b5-8d2a-b97cc5a168dc Man wanted in Corpus Christi murder shot and killed by deputies