Texas
IRS whistleblower's attorney raises new questions about Justice Dept's claims of independence in Hunter Biden investigation, which Justice Dept disputes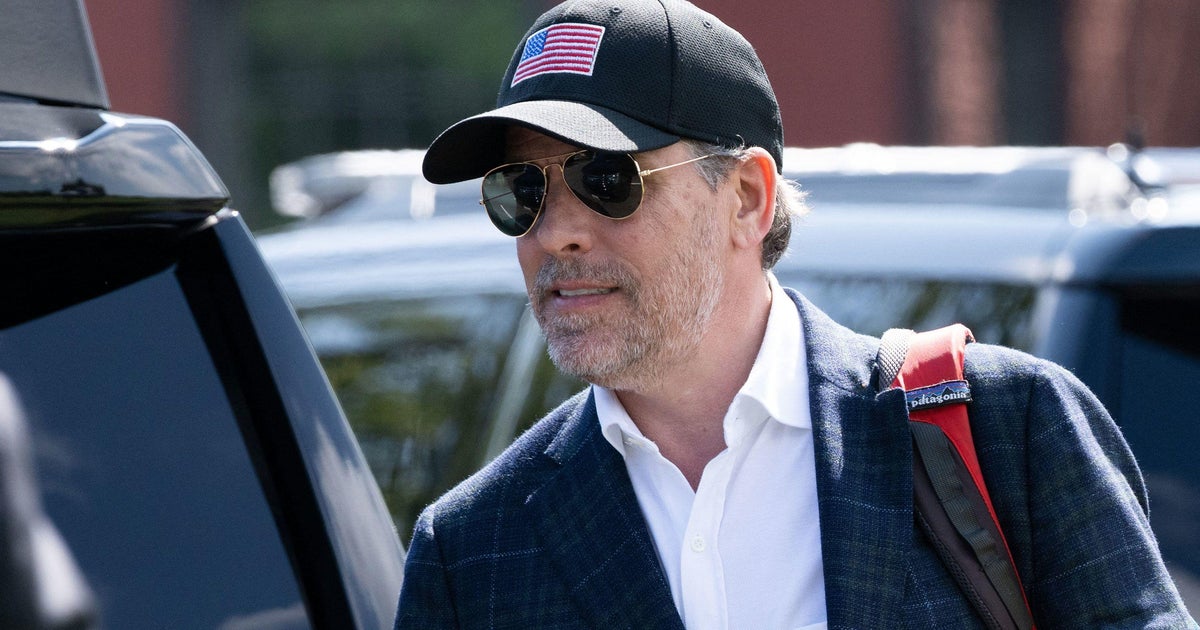 The lawyer for an IRS whistleblower is raising questions about the Justice Department's claims that its investigation of Hunter Biden has been independent of political interference, pointing to a series of events in April that he says cast doubt on the department's assertion.
The events transpired just after Mark Lytle's client came forward to Congress with allegations of preferential treatment in the Hunter Biden probe. A Justice Department spokesperson described the communications and meetings as "routine."
On April 19, Lytle, who represents IRS whistleblower Gary Shapley, wrote to the Senate Finance and House Ways and Means Committees to say that his client wished to come forward.
Lytle said in the letter that the disclosures his client would make included allegations of "preferential treatment and politics improperly infecting decisions and protocols that would normally be followed by career law enforcement professionals in similar circumstances." The letter did not mention Hunter Biden, referring to the case only as a "sensitive investigation of a high-profile, controversial subject."
Emails reviewed by CBS news say that a senior Justice Department official in the deputy attorney general's office, Associate Deputy Attorney General Brad Weinsheimer, set up a phone call with Lytle six days later, on April 25. The internal emails were first reported by the Daily Mail.
"I was initially encouraged at the outreach from Brad Weinsheimer, in the office of the Deputy Attorney General Lisa Monaco, that they were interested in learning about any allegations of wrongdoing at the department (in the Hunter Biden probe) and that they wanted to create a safe environment for whistleblowers,"  Lytle told CBS News. "But that all went out the window when the IRS agents were kicked off the case."
On April 26, Weinsheimer met with U.S. Attorney David Weiss, who had been appointed to oversee the investigation into Hunter Biden — and who has since been named special counsel in the case — and then-Hunter Biden attorney Chris Clark. This meeting was first reported by Politico and confirmed by CBS News by two sources familiar with the events.  
While it is not publicly known what happened in the April 26 meeting, it occurred during a pivotal moment in the five-year investigation, as negotiations to reach a plea agreement appeared to accelerate.
Weinsheimer, a career Justice Department official, has served 32 years under Republican and Democratic administrations. He has a broad portfolio, including the areas of professional responsibility, special counsel affairs and whistleblowers. Weinsheimer has also served as a department point of contact in the Hunter Biden investigation and other politically sensitive cases.
In response to CBS News' questions about Weinsheimer's role in the Hunter Biden case and that meeting, a Justice Department spokesperson said, "Although the department does not publicly discuss meetings and communications relating to ongoing matters, the department is committed to ensuring that its work is conducted according to the highest standards of professional conduct. Lines of communication with the Department's senior career official is a routine process entirely in keeping with that commitment."
Lytle, however, said he finds the timing significant. "The fact that the office of the deputy attorney general reached out to whistleblowers, then we learned that the same senior DOJ official was apparently meeting with Weiss and counsel for Hunter Biden, indicate Weiss did not have complete authority to make decisions on the case — contrary to what Weiss and the attorney general have told the public," he said.
But a person familiar with the discussions sought to dispel the idea that there was anything suspect about the timing of the April 26 meeting with Hunter Biden's attorney and said that it had been scheduled weeks earlier — before the IRS whistleblower had notified Congress. In describing the meeting, the source also suggested it was in keeping with meetings that would take place with attorneys of those who are high-level targets of an investigation and compared it to those that took place between department officials and lawyers representing former President Donald Trump before special counsel Jack Smith filed charges against him over the handling of classified documents after his presidency.  
In June, Attorney General Merrick Garland had said that Weiss would be able "to make a decision to prosecute any way in which he wanted to and in any district in which he wanted to."
In letters to Congress, Weiss insisted he had the "ultimate authority."
In August, Garland said Weiss had informed him that his investigation had reached a stage where he believed his work should continue as special counsel, and he then asked for the designation. Garland said he concluded it was "in the public interest" to appoint Weiss special counsel, giving him expanded powers to continue the probe, in light of the "extraordinary circumstances" of the case.
In their transcribed interviews with congressional investigators, Shapley and the lead case agent on the Hunter Biden probe, IRS whistleblower Joe Ziegler, said they were removed from the probe and that "DOJ had requested that change."
Shapely testified that he pressed his IRS manager for an explanation. 
"I specifically asked, and he said, 'No, didn't give a reason.' To which I said, 'How could you possibly make a decision like that in a case like this without being given a reason?'"
Ziegler told congressional investigators, "I can tell you in my normal course of investigations I work, why an agent would be removed is for conduct. So if they did something wrong. But I've never seen it to where they would remove from a supervisor down — anything like that ever."
After their removal, Lytle told CBS News he went back to the same senior Justice Department official, Weinsheimer, for assistance.
"When the IRS agents were kicked off the case, we called to complain to the very same person, Weinsheimer, who made those earlier promises and assurances, and he seemed no longer interested, and directed our team to U.S. Attorney Weiss." 
It is not clear who made the decision to remove the team, and Lytle said the timeline requires further explanation. 
CBS News asked Hunter Biden's legal team whether the IRS whistleblowers' allegations came up during their April meeting with the senior Justice Department official, and whether the disclosure alleging preferential treatment added new urgency to their plea negotiations. There was no immediate response.
The plea agreement between federal prosecutors and Hunter Biden fell apart in late July after Federal Judge Maryellen Noreika refused to sign off on a deal that would have seen the president's son enter guilty pleas to two misdemeanor tax charges and enter a diversion program in lieu of pleading guilty to a felony gun possession count. She expressed concern that attorneys were asking her to simply "rubber stamp" the deal, which she refused to do, citing several irregularities as well as confusion between prosecutors and the defense as to whether the plea concluded the investigation. The parties were ultimately unable to reach a new agreement.
After the deal collapsed, Hunter Biden pleaded not guilty. Soon afterward, in mid-August, Judge Noreika granted the government's motion to dismiss, so that tax charges against him could be brought in another venue.
The federal judge has ordered prosecutors and defense attorneys on Thursday to provide an update next week.
https://www.cbsnews.com/news/hunter-biden-irs-whistleblower-gary-shapley-justice-department-claims-of-independence/ IRS whistleblower's attorney raises new questions about Justice Dept's claims of independence in Hunter Biden investigation, which Justice Dept disputes