Texas
Colin Kaepernick letter requests chance to join NY Jets squad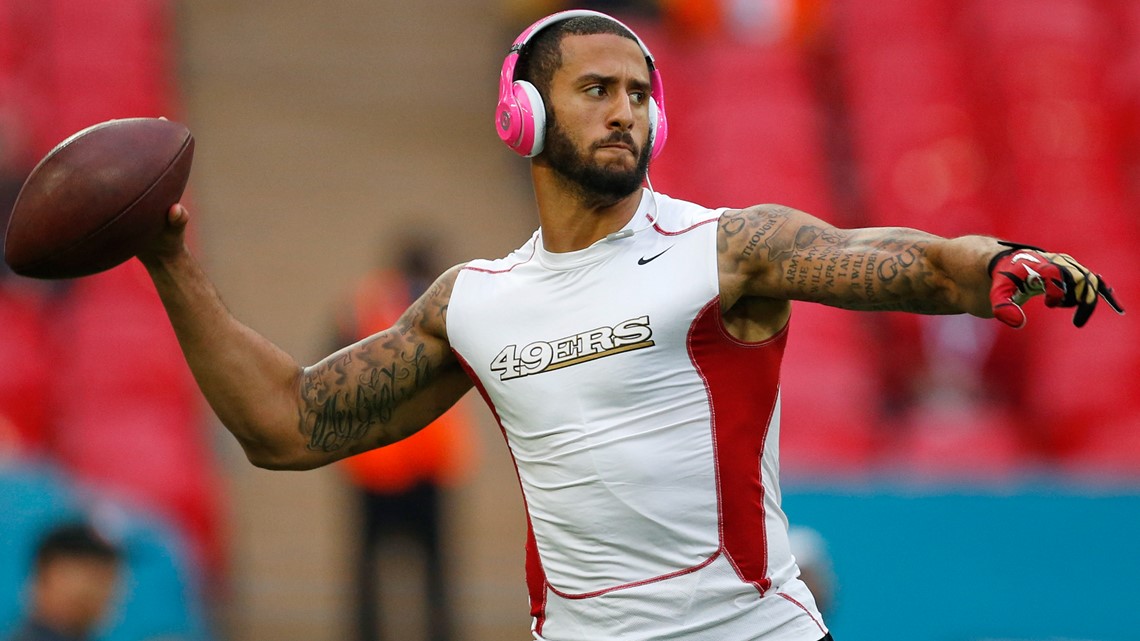 The letter was released on social media by rapper J. Cole. It wasn't immediately known if anyone in the Jets organization actually received Kaepernick's letter.
NEW YORK — The New York Jets signed veteran quarterback Trevor Siemian to the practice squad Tuesday, giving them an experienced backup to embattled starter Zach Wilson.
The team announced the move after the 31-year-old Siemian passed a physical at the Jets' practice facility in Florham Park, New Jersey.
Wilson has struggled since taking over for Aaron Rodgers, who tore his left Achilles tendon four snaps into his debut with New York. Wilson has two touchdown passes and four interceptions with a 52.4 percent completion rate and is averaging just 5.6 yards per pass.
Several names had been mentioned as potential pickups for the Jets. Former San Francisco 49ers quarterback Colin Kaepernick wrote a letter to New York general manager Joe Douglas asking the team to consider signing him to the practice squad.
The letter, dated Sept. 21, was released on social media by rapper J. Cole. A person close to Kaepernick, speaking on condition of anonymity because it's a private matter, confirmed to the AP the legitimacy of the letter. It was not immediately known, however, if Douglas or someone in the Jets organization actually received or saw the letter.
"I would be honored and extremely grateful for the opportunity to come in and lead the practice squad," Kaepernick wrote in the two-page letter. "I would do this with the sole mission of getting your defense ready each week."
Kaepernick last played in the NFL with the 49ers on Jan. 1, 2017, after he began kneeling on the sideline at games during the national anthem to protest social injustice and police brutality. He said in the letter he has been working out five days a week during the last six years and remains confident in his abilities.
That didn't sit well with fans — including Pro Football Hall of Famer Joe Namath, who said during an interview on "The Michael Kay Show" on 98.7 ESPN New York on Monday that "I've seen enough of Zach Wilson."
During his weekly appearance on "The Pat McAfee Show" on Tuesday, Rodgers said the Jets "need to hold our poise," referring to some sideline blowups between a few players and coaches during the game Sunday.
He said the offense needs to "grow up a little bit" and also implored fans to not lose faith in the team this early in the season.
"Let's just take a couple of breaths and I'm not going to say we need to relax," a smiling Rodgers said, referring to one of his often-quoted lines when he was in Green Bay.
"I feel like if I was there, some of those things wouldn't be happening," Rodgers said. "Not sure we'd be 3-0, I don't know. I'd like to think there's a possibility of that. It's more the side stuff that I don't like. I want to see us stick together through the tough times."
Rodgers also appeared to make an indirect reference to Namath's comments, among others.
"When we're not having success, how do we respond?" Rodgers said. "How do we respond to adversity? That goes for our fan base and former players, as well. You're not helping the cause."
Saleh reiterated the team's commitment to Wilson on Monday, saying he's "our unquestioned quarterback."
That remains the case, but Siemian at least gives Saleh and the Jets another option if Wilson continues to falter, beginning with their next game Sunday night at home against Patrick Mahomes and the Kansas City Chiefs. Career backup Tim Boyle was the only other quarterback on New York's roster.
This is Siemian's second stint with the Jets after he was with them in 2019. He made one start for New York when Sam Darnold was sidelined with mononucleosis, but suffered a season-ending ankle injury early in the "Monday Night Football" game against Cleveland on Sept. 12.
Siemian was a seventh-round pick of Denver out of Northwestern in 2015 and was a backup to Peyton Manning during the team's Super Bowl run during his rookie season. He started 24 games over three seasons with the Broncos before being traded to Minnesota in 2018.
After being injured most of the next season with the Jets, Siemian had stints with Tennessee, New Orleans, Chicago and was among Cincinnati's cuts after training camp this summer. He started one game for the Bears last season — against the Jets in place of an injured Justin Fields. Siemian was 14 of 25 for 179 yards and a touchdown with an interception in Chicago's 31-10 loss.
Siemian has thrown for 7,027 yards and 42 touchdowns with 28 interceptions during his NFL career. He's also 13-17 as a starter.
AP Pro Football Writer Rob Maaddi contributed to this report.


https://www.wfaa.com/article/news/nation-world/colin-kaepernick-reaches-out-for-jets-opportunity/507-ac7a2dd0-b4f3-4e6d-9dae-53efe04ca68f Colin Kaepernick letter requests chance to join NY Jets squad