Texas
China Refuses 'Sustained Conversation' with US on Fentanyl Crisis, Ambassador Says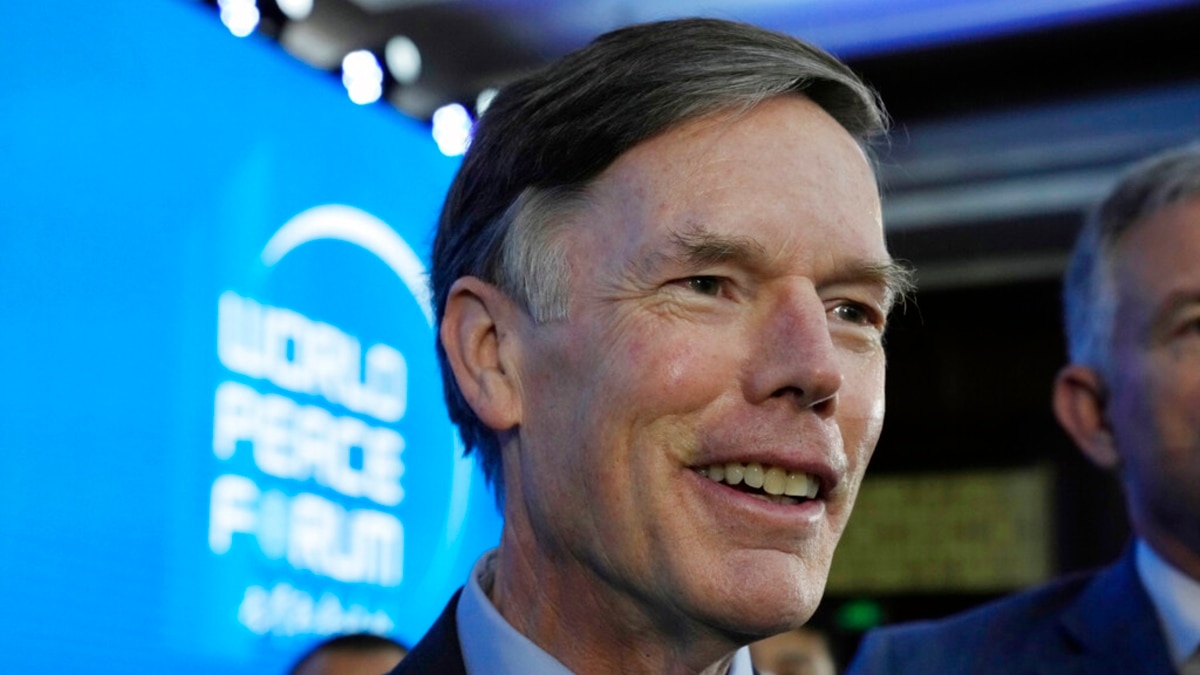 WASHINGTON — 
The Biden administration's top diplomat to China on Wednesday predicted an increase in tourism, commercial flights, and people-to-people ties between the world's two largest economies but said talks to form a working group on the fentanyl crisis have stalled.
Addressing a live-webcast gathering of the National Committee on United States-China Relations, or NCUSCR, Ambassador Nicholas Burns made the comments just weeks before Chinese Foreign Minister Wang Yi is to arrive in the U.S. for meetings with administration officials on bilateral trade, fentanyl and other topics expected to shape future top-level meetings.
Travel, tourism
Wednesday's event, held in Beijing, came as travel between the countries is rising.
"Right now, there are 24 direct [commercial] flights per week," said Burns. "That is doubling this month, so it'd be 48 flights by the end of this month."
Burns also told the group the Biden administration is "working hard" to expand the number of direct flights between the U.S. and China, which saw nearly 340 each week before the pandemic.
Burns said he expects to see an increase in tourism "maybe slowly but surely" as the two governments work to promote it. While the administration does not support an economic "decoupling" with China — a gradual severing of commercial and financial ties — Burns said "people-to-people contacts had been decoupled" at the official and unofficial level in previous years.
"There will be a U.S.-China tourism summit in Xian in the spring of 2024, and then another summit in the United States in 2025," Burns said, adding that 2022 saw only some 160,000 Chinese tourists in Los Angeles compared to an estimated 1.2 million in 2019.
Fentanyl
Burns urged China to act to stop the flow of precursor chemicals to drug cartels and work with the U.S. to address the fentanyl crisis.
"The diplomatic problem is that the Chinese refused, as of now, to have a sustained conversation with us for how we can work to prevent Chinese companies from exporting precursor chemicals to the drug cartels in Mexico, and 90% of the precursor chemicals that the drug cartels use come from Chinese companies."
Last week, the U.S. Justice Department announced a sweeping crackdown on the global fentanyl network, charging eight Chinese chemical companies and 12 of their employees in connection with the deadly opioid crisis ravaging the United States. This is the second time the department has charged Chinese companies and their employees for trafficking fentanyl precursor chemicals into the United States.
During Secretary of State Antony Blinken's trip to Beijing in June, he said both the U.S. and China agreed to "explore setting up a working group or joint effort" to stop the flow of synthetic drugs and precursor chemicals into the U.S. that contribute to the fentanyl crisis. U.S. officials have admitted both countries are not yet at the point of establishing the fentanyl working group.
Biden-Xi meeting at APEC?
"We have 1,000 differences between our governments, and we have areas where we can work together, but we've got to live in peace. We've got to find a way to communicate," Burns said, alluding to an upcoming meeting between administration officials and China's top diplomat later this month.
Biden on Friday said he could possibly meet with Chinese President Xi Jinping next month on the margins of Asia-Pacific Economic Cooperation summit in San Francisco, although such a meeting has not been set up.
"I always think communication is important, but it has to be framed within our values," said Democratic Senator Ben Cardin, who now chairs the Senate Foreign Relations Committee.
"I think Xi understands that about our concerns of the economic warfare, that we've seen the human rights violations, the support for Russia's aggression [in Ukraine], our concerns about ethnic communities, we are concerned about Taiwan," Cardin recently told VOA's Mandarin Service.
Israel-Hamas
As Blinken arrives in Israel on Thursday to express unwavering U.S. support for Israel's right to defend itself, Washington is providing ammunition, Iron Dome interceptors, and other defense material to bolster Israel's security.
Burns said the U.S. is disappointed with China's initial reaction to Hamas attacks on Israel, "which was very neutral and very flat and did not at all express any sensitivity to the loss of life."
Shortly after Senate Majority Leader Chuck Schumer raised that concern directly with Xi, China later issued a statement saying it "condemns actions that harm civilians" without naming Hamas. China also insists on implementing the two-state solution and establishing an independent Palestinian state.
"Hamas does not accept the two-state solution," said Burns. "Hamas does not accept the state of Israel. Hamas, by its very creed, wants to destroy the state of Israel and kill Israelis."
Asked if he believes China can assume a larger role brokering Middle East peace, Burns said he does not "see real indications of that."
Like Russia, China views Hamas as a legitimate representative of the Palestinians in Gaza and maintains a healthy relationship with the group, according to Giorgio Cafiero, an adjunct assistant professor at Georgetown University.
Cafiero told VOA on Wednesday that while China and Israel have maintained deep economic relations since they established diplomatic ties in 1992, Beijing has tried to avoid taking sides in the region's conflicts and has consistently opposed the Israeli occupation of Palestinian territories.
Some analysts said the Israel-Hamas conflict has challenged China's diplomatic efforts in the Middle East.
"There's no prospect for China to mediate any kind of Israeli-Palestinian peace deal," said Seth Jones, director of the International Security Program at the Washington-based Center for Strategic and International Studies. "Based on the Chinese decision not to condemn a Hamas activity, they're going to be looked at with deep suspicion by the Israelis."
"What it looks like here is the Chinese have decided not to anger the Iranians by taking sides [with Hamas] and so are staying neutral, which is deeply unfortunate," Jones told VOA.
"Time will tell, but my expectation is that China's cautious response to Hamas's attack on Israel will expose the limits of [the People's Republic of China] influence in the region," Ryan Hass, a former U.S. National Security Council China director and now a scholar at the Washington-based Brookings Institution, posted on X, formerly known as Twitter. "Beijing historically has been wary of being drawn into taking sides. I don't expect that will change now."


https://www.voanews.com/a/china-refuses-sustained-conversation-with-us-on-fentanyl-crisis-ambassador-says-/7307510.html China Refuses 'Sustained Conversation' with US on Fentanyl Crisis, Ambassador Says