Texas
79 years later, WWII pilot identified and headed home to Texas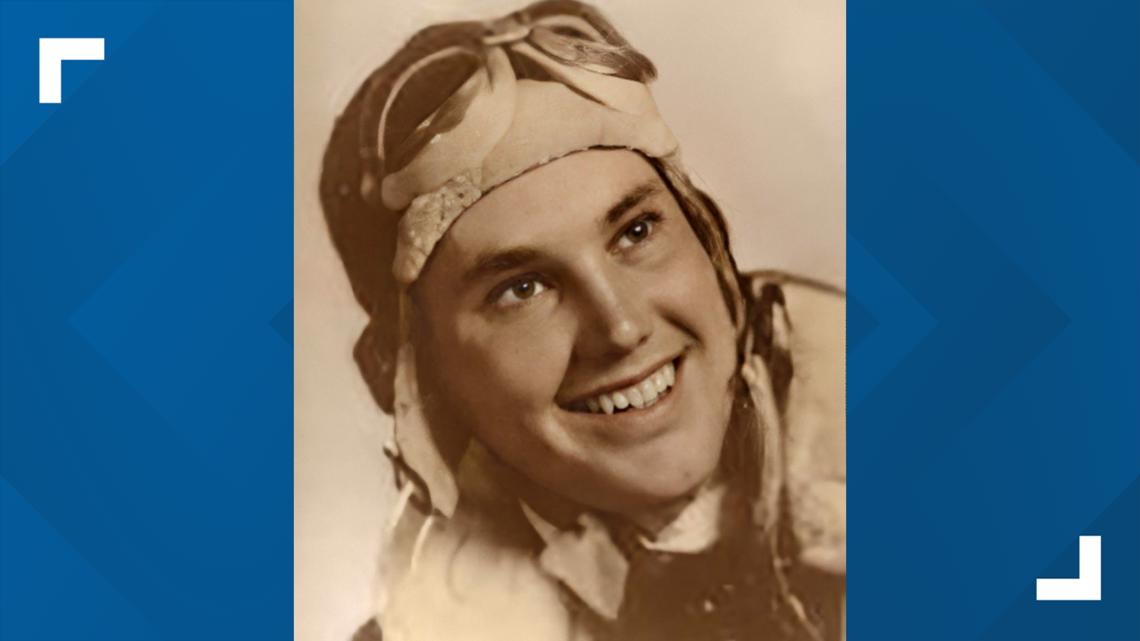 "I just think about God answering my grandma's prayer. He's finally home. Because we never expected this to happen," said Brenda Baumert, niece of pilot Noel Shoup.
DUBLIN, Texas — With the United States suddenly drawn into World War II, a student from tiny Dublin, Texas, left college with just one semester to go and signed up to fight for his country. He never came back. 
But, on what would have been his 105th birthday, a son of Erath County is finally coming home.
His name is Noel Shoup. And at the Dublin Historical Museum on W. Blackjack Street in the heart of old Dublin, details of his tragic story can still be found in the weathered pages of the 1944 Dublin Progress.
"His parents have the sympathy of the entire community in their sorrow in the hope he may yet be found alive," Dublin historian Ben Pate said, reading from the archived newspaper. 
Shoup was the pilot of a B-17 Flying Fortress. Hit by anti-aircraft fire over France, the plane spiraled out of control. Three members of the crew were able to bail out and survived. But the other seven on the plane died in the crash, including First Lieutenant Shoup.
"Can you imagine how that must have felt to receive that message," said Sandra Hammons as Pate read the newspaper account of Shoup's crash and disappearance.
"He was killed four years before I was born," Hammons said.
"Everybody in the family talked about him," added Brenda Baumert. "He was very much loved, in the whole family."
Baumert and Hammons are sisters. Noel Shoup was their uncle.
"We knew about him because our grandmother talked about him all the time," Hammons said.
And their grandmother Lela Shoup, who lost her first son in childbirth, went to her grave not knowing what happened to her second son in World War II. 
"Missing in Action," the Western Union telegram told her as she read it again… and again.
"Until the day she died. All her life. She never gave up. She never gave up," Baumert said. "And every day from four to five o'clock, she prayed. I know my grandmother, I know she prayed 'Dear God bring my boy home.' Now here's God, 79 years later, he's answering her prayer. Even though she is dead, he's answering her prayer. He is bringing her boy home."
Because in the years after the war, only five of the dead could be identified. Shoup was among the missing. 
But he is now the latest finally identified by the Defense POW/MIA Accounting Agency. In 2018, the DPAA excavated the "Miss Marooki" crash site and recovered additional human remains. Along with a set of unknown remains that were recovered during the war, the remains were transferred to a DPAA laboratory for analysis. 
But, this time the excavation also uncovered a high school class ring: Dublin High School Class of 1936 with the initials N.E.S. engraved inside. 
And 79 years after his death, with the help of DNA and other evidence, a son of Dublin, Texas had finally been found.
"It brings up a lot of emotion that I did not know I had. I will admit that," said Hammons. "I was just shocked how much emotion was there, for someone that I never physically knew, you know."
"I was elated," said Baumert. "I just think about God answering my grandma's prayer. He's finally home. Because we never expected this to happen."
And didn't expect what will happen next. 
Shoup, whose name is inscribed in the Dublin Veteran's Memorial next to the city library and included in a veterans memorial monument in Stephenville outside the Erath County Courthouse, will come home in September. 
The family, and the community of Dublin, plan to place Shoup near his parents' graves at the Upper Greens Creek Cemetery on what would have been his 105th birthday: September 11.
"We think that's just a remarkable coincidence," Hammons said of the notable date.
"I think that's just a God thing," added Baumert.
"I see this as an opportunity to let people remember how many of these young men and women gave their lives, not just in that war, but in all the wars," Hammons said.
Although the DPAA, with the benefit of modern DNA technology, is re-visiting cases of unknown soldiers and identifying war casualties on a daily basis now, there are still an estimated 72,196 missing and/or unidentified from World War II alone. 
If the conflicts in Vietnam, Korea, the Cold War and the Gulf Wars are included, the DPAA said there are more than 81,000 Americans still missing. Out of that total, the DPAA said the vast majority are from the Indo-Pacific region and that over 41,000 of the missing are presumed lost at sea.
But, of the more than 21,000 still missing from the WWII battlefields of Europe, Shoup has been removed from that list.
"How many parents and siblings have gone on not knowing what happened," Hammons said. "We still need to pay attention to the fact these guys are still out there. And every family should be as lucky as we are."
Because as the POW/MIA flag still flies at the Dublin Post Office, their uncle's story is at least no longer a mystery.
"They died so that we could live free," Baumert said. "They gave their lives for us for this country to be free. And that's what we should remember."
"And that it even reaches a place as small as Dublin, Texas," I asked them.
And exactly the message two nieces promise to carry as Dublin's hero finally comes home.
https://www.wfaa.com/article/news/local/wwii-pilot-identified-headed-home-to-texas-79-years-later/287-09e35939-7e63-4bab-bf6a-b00ab4153b25 79 years later, WWII pilot identified and headed home to Texas