Texas
4,000 pages of exhibits published in Paxton impeachment trial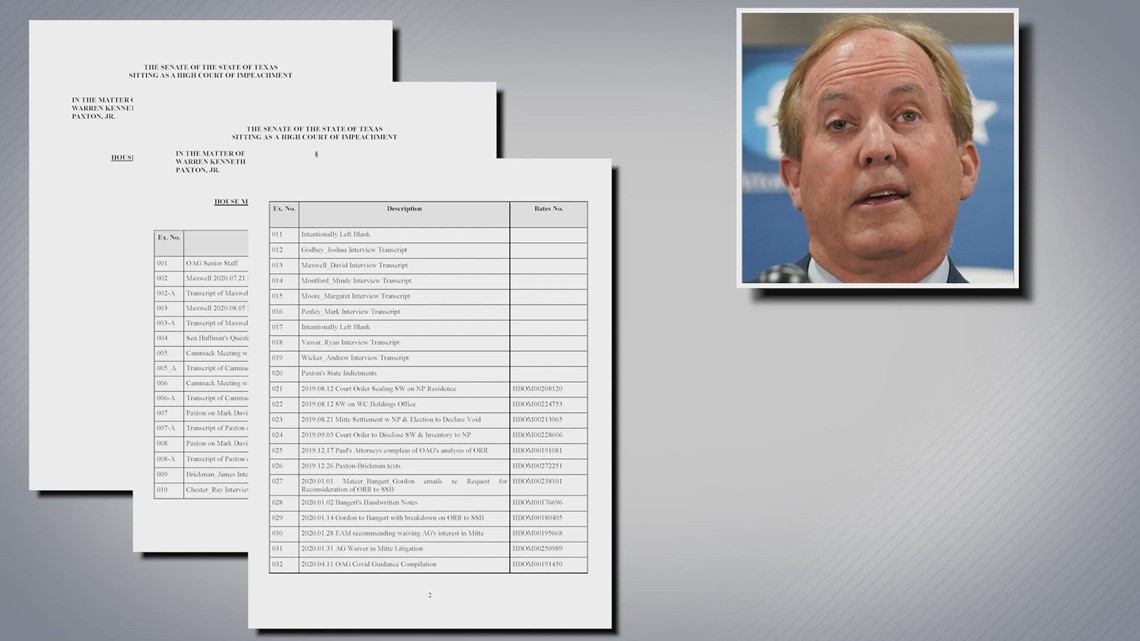 The Senate, which is conducting the trial, published the exhibits Thursday night. House managers say Paxton abused his office to help political donor Nate Paul.
HOUSTON — Texas House impeachment managers have submitted nearly 4,000 pages of exhibits ahead of next month's impeachment trial of suspended Attorney General Ken Paxton.
The Senate, which is conducting the trial, published the exhibits Thursday night. The document dump provides granular detail of how Paxton allegedly abused his office to help Nate Paul, an Austin real estate developer and campaign donor.
Editor's note: The main video in this story is from a previous report.
Paxton's lawyers last week called for all 20 articles of impeachment to be dismissed, relying in part on an argument that the House had not produced evidence to support them. Through the document dump, a remarkable public disclosure before the trial has started, the House managers have essentially called their bluff.
The managers' responses to Paxton's pretrial motions offer new allegations against Paxton, including that he used a burner phone, secret email account and fake Uber name to hide his relationship with Paul.
There are 150 exhibits across three documents totaling 3,760 pages. They include:
An interview with Paxton's former personal aide who said he ferried documents to Paul on Paxton's behalf and witnessed conversations about the renovations to Paxton's home that suggested Paul had paid for it.
Emails showing how Paul and his lawyer directed a special prosecutor authorized by Paxton to investigate Paul's business rivals and law enforcement officials that had raided his home.
Memoranda documenting numerous instances where Paxton's senior advisers unsuccessfully urged him to cut ties with Paul, whom they suspected was a liar and criminal.
Trip records obtained from Uber showing an account Paul created under the alias "Dave P" which Paxton used to travel to the home of Paul and the apartment of the woman with whom the attorney general was having an extramarital affair.
An employment contract proving Paul hired Paxton's mistress to work at his business.
The trial is set to begin Sept. 5. Responses to pretrial motions were due Tuesday, and now a special committee is reviewing the motions and responses. That committee has until Aug. 28 to prepare a report with recommendations on the motions for the trial judge, Lt. Gov. Dan Patrick. He gets to rule on all motions except for those that seek dismissal of any articles, which requires a majority vote of the Senate.
The breadth of the evidence could put more pressure on senators to at least proceed to trial. Assuming all 12 Democrats oppose Paxton's motions to dismiss, managers would have to convince at least four of the 19 Republican senators to side with the Democrats and clear the way for a trial. One of those GOP senators is Paxton's wife, Angela Paxton, and she does not get to vote under the trial rules.
This story comes from The Texas Tribune, a nonprofit, nonpartisan media organization that informs Texans – and engages with them – about public policy, politics, government, and statewide issues.
https://www.wfaa.com/article/news/politics/ken-paxton-impeachment-house-publishes-4000-pages/285-46e2c73a-ce70-432e-a27b-a11ef0d6e7be 4,000 pages of exhibits published in Paxton impeachment trial