Tech
Zoom versus Google versus Slack: Who has the edge in UCC?
Computing Delta surveyed more than 180 end users of different UCC tools. In this article we compare answers to find the winner from some of the major players: Zoom vs Google vs Slack
Working life has a distinctly 'back to school' feel to it at the moment, as increasing numbers of workers head back to their offices for the first time since March 2020. However, as pleasant as it is to experience life in person again, employees are not returning with the same attitudes that they held pre-pandemic; and many employers – with an eye on their office costs, ESG profiles and staff retention – are fully on board with that. The result in many cases is a declared intention to follow a hybrid working model.
That said, employers are finding out that hybrid working is more complex than it sounded initially. How do you ensure the right people are in the office in the right time? How do you manage hot desks? How do you ensure younger, less experienced employees get the on-the-job training their senior colleagues benefitted from? How can you ensure that remote meeting attendees have an experience just as good, if not better, than those present in person? How can you foster workplace culture and recreate those watercooler moments? How can you stop offices being deserted on Mondays and Fridays?
Unified communication and collaboration (UCC) technology can answer a lot of these questions, and help enterprises build a robust, hybrid model.
As part of Computing Delta's ongoing research into UCC products and services, our research team has been asking senior IT professionals about their preferences to help you answer the question:
Which UCC solution should I choose?
Delta's analysis of this market, with interviews with more than 180 senior IT leaders who are using UCC technology, is available to Delta subscribers. Click here if you do not have access but would like to see the full report in a demo. More information, including comparisons with other vendors, is available in the Unified Communication and Collaboration Report.
We've already published a summary of the UCC market leaders, Microsoft vs Zoom vs Cisco. This post will focus on the second tier of UCC vendors – Zoom, Google Workspace and Slack – who were less popular with research respondents. Zoom features in both posts because, whist the company didn't have a large install base prior to the pandemic, it was the second-highest scoring vendor and solution overall in our research.
Zoom vs Google vs Slack – the background
Before we begin, we should add another question in addition to which UCC solution an enterprise should choose:
How many UCC solutions should I choose?
None of the vendors focused on here are likely to be the sole or leading UCC solution enterprises use. Microsoft dominates the UCC marketplace to an extraordinary degree, with MS Teams fitting seamlessly into existing Microsoft identity, directory productivity stacks.
However, only 30 per cent of the organisations taking part in our research just used one UCC vendor or product. The remainder were keen to utilise the strengths of different platforms for specific purposes. For example, many organisations use Teams, Zoom, and Slack for different sizes and types of meeting, and different functionality such as video calls and messaging. Individual users can and do also use products like Zoom and Slack concurrently.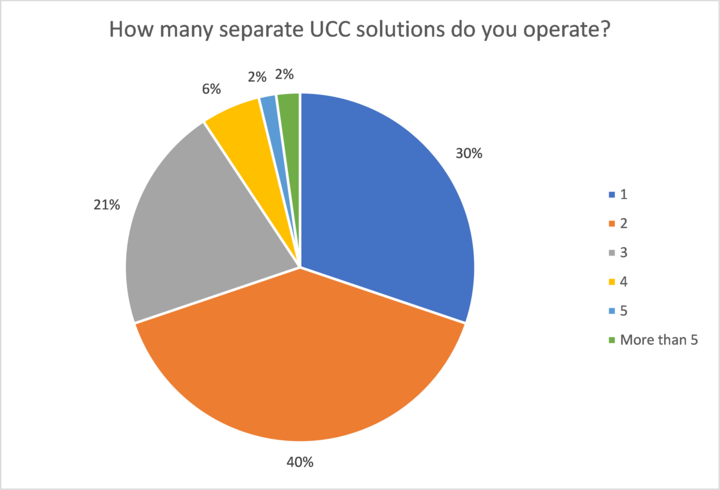 Zoom, the second most widely used platform after Microsoft, is a unified communications platform that includes video and audio conferencing and chat, plus much larger webinar functionality. The company has a keen eye on the switch to hybrid working and has been busy building out its strategy of growing into a full UCC platform by funding software companies building tools that integrate with the core video conferencing product, which became so popular last year. Zoom has also acquired AI capability with the aim of improving communications between remote and in-person meeting participants and running smart events.
Marginally behind Cisco WebEx in terms of popularly comes Google Workspace. Workspace (formerly known as GSuite) was officially launched in October 2020, and includes Drive, Docs, Meet and Chat. Google recently announced the rollout of collaboration tool Spaces within Chat, and other enhancements to Meet, again with hybrid working at the core of these changes. Google itself is also pursuing a hybrid work policy.
Slack, recently acquired by Salesforce, has less functionality than Google and different functionality to Zoom. It is, primarily, a virtual meeting room focused on messaging and file sharing. Slack can be organised by channel and was the sixth most popular UCC platform among those taking part in our research.
Zoom v Google v Slack – the tools
All three vendors are cloud platforms.
The graph below illustrates the vendors' different strengths, with Zoom scoring more than four times Google's rating on video conferencing; Google doing much better on file sharing and offline messaging; and Slack scoring more highly in instant messaging.
Zoom
Zoom is a unified cloud communications platform. Its audio and video conferencing functionality propelled astronomical growth throughout 2020, but it also offers chat and large-scale conferencing and events functionality. It also has a large marketplace of integrations, including with MS Teams and Slack.
Zoom licensing is straightforward, with free, pro, business and large enterprise editions. Zoom's biggest strength is its simplicity: its user-friendly and simple to navigate UI won praise from respondents, as did its stability and ability to host large-scale events. Negative comments included a US-centric focus and the cost.
Interestingly, none of our respondents mentioned security, which is an area where Zoom has been criticised.
Some comments follow:
"Great UI – very intuitive, users love it. Reliable platform."
"Zoom has proved over the last year to be simple, reliable and an effective way for the team to communicate. The Zoom video calls are preferred to those conducted in Teams as quality is better and there are less issues with sound problems / general stability of calls. In Zoom there's a lot less 'Sorry you broke up, can you say that again?'."
"The technology appears to be particularly sound and clearer for integration into our architecture."
"Volume discount, better pricing for NFP. Expensive for a platform just used for video conferencing."
"Financially expensive despite the superior product."
"Not UK-centric enough for us."
Google
Google Workspace is a productivity and collaboration platform which, according to Google enables teams to 'connect, create and collaborate.' Of the three products under review here, it is the one with by far the most wide-ranging functionality.
Google launched Frontline earlier this year: a custom solution specifically designed for the needs of frontline workers such as retail employees, drivers or healthcare professionals, who often do not have access to the same UCC tools as the knowledge workers who have all been working from home for so much of the last eighteen months. It includes all of the Chat, Drive and Docs tools, and augments the endpoint security.
Google Workspace can be integrated with more than 750 third party applications to enhance specific features and offers, as well as single sign on enabled by default for more than 200 popular cloud applications, such as those by Workday, Adobe – and Slack. These integrations were part of some of the more positive sentiment about Google, with others including strong service and a background of innovation. However, we recorded negative sentiment around the complexity and inflexibility of licencing, the product itself and the stability of the range.
Comments included:
"Great integration with the G Suite and GCP products – exposed APIs so that development and automation is available. Light weight using only browser-based products – no client to install."
"Good reliable software with plenty of ongoing development."
"Leader in tech. Aware of pan-European GDPR compliance as a legal requirement."
"Google do not really offer sector-specific tools and services."
"Simplify licence model with comprehensive development plan."
"Have always been expensive. Complicated CLI interfaces, takes time & experience to implement."
Slack
Slack is a messaging application, which enjoys great success based on its being built around channels: organised workspaces where colleagues can share all files and messages pertaining to a particular topic. Slack extended this functionality to external parties in 2020, and suppliers, partners and other third parties can also be added via the Slack Connect option. Video and audio calling is also available, although its use is limited. A library of 2,500 applications can be integrated with Slack, vastly increasing its reach.
Whilst it is difficult to see how email could be entirely replaced by less formal and more dynamic messaging mediums like Slack, we believe Slack Connect and similar offerings will continue to diminish the importance of email to enterprises and individuals.
Slack users enjoyed the simplicity, stability and intuitiveness of the product whereas those who were less keen mentioned a lack of UK and sector specific focus and the fact that Slack was not yet perceived as mainstream.
"Excellent interface, plenty of third-party add-ins and very reliable. No issues, having used for years."
"Strong reliability and integration capabilities. Clear leader in class around async/text-based communications and workflows."
"They have a simple but powerful product that's so much better than using Teams."
"Slack is more user-friendly but more niche amongst tech developers, rather than general office and knowledge workers."
"Enterprise Grid is too expensive and doesn't really solve the problem for a big org – but certain features are in Grid to drive upsell e.g., you can't get the DLP capabilities without grid."
"[Needs] better video calling options for mobiles."
At a glance
Vendor
Pros
Cons
Zoom

Simple & intuitive UI
Robust
Simple licencing structure

Expensive at scale
Minimal UK support
Security & regulatory concerns

Google

Technically strong with good integration
Intuitive for users
Comprehensive functionality

Inflexibility
Lack of sectoral/geographical focus
Complex licencing

Slack

Clear licensing
Simple & intuitive UI
Instant communication

Lock-up of key features in Enterprise Grid
Limited features
Mobile voice and video needs work
Zoom vs Google vs Slack – Pricing
Zoom
Zoom has a very clear and simple pricing structure, which is likely to have played a part in its rapid growth trajectory when video calling became essential. There is a free product, but its 40-minute time limit on meetings limits its usefulness. The Pro licence (£119.90 per licence per annum) supports up to 100 meeting participants, social media streaming, recording etc. The Business tier (£159.90 per licence per annum) adds single sign on and another 200 users to the service, as well as recording transcripts. The final level is Enterprise (£192 per annum with a minimum of fifty accounts), which can host up to 500 participants and provides unlimited cloud storage.
Sentiment is best surmised as "A great VC platform, but expensive to scale in the longer term."
Google
Google has four different licensing options: Business Starter, Business Standard, Business Plus and Enterprise. A free 14-day trial is available, and Workspace Education offers a free 'fundamentals' product.
Prices per month for Starter and Standard (£4.14 and £8.28 per user per month, respectively) have recently been reduced for the first 20 users in the first 12 months of an organisation's contract. The Starter package provides up to 100 participant video meetings and 30GB of storage per user. The Standard package scales this to 150 participant meetings with recording functionality and 2TB of storage per user.
Whilst security and management controls feature in all services, Business Plus (£13.80 per user per month) adds features like eDiscovery and retention and enhanced security. Meetings can scale to 250 participants and the storage limit increases to 5TB per user. Larger enterprises get more video conferencing features such as attendance tracking and noise cancellation, unlimited storage, advanced security and compliance features such as DLP and enhanced support. However, this tier has no list price published.
Some research respondents considered Google's licencing expensive, although technical sentiment was generally positive.
Slack
Slack offers a free product that supports the creation of unlimited private and public channels, 10,000 searchable messages, up to 10 connected applications, file sharing and one-to-one voice and video calls.
The next step for businesses is the Pro package (£5.25 per user per month), which provides unlimited integrations, entire message history, voice and video calls with up to 15 users and secure guest access. Enterprise (£9.75 a month) adds support and SLAs, single sign-on and a much stronger compliance offering with retention, data export etc. It is ideal for smaller organisations in more regulated industries.
Enterprise Grid (list pricing unavailable) provides 'enterprise-grade' security and compliance features, support for up to 500,000 users, more than 2,000 application integrations and tailored support and access to account and customer service teams.
Although Slack's licencing was perceived to be simple, there was negative sentiment about the cost and international stance of the Enterprise Grid product.
Conclusions
The whole concept of 'unified' communication and collaboration strongly suggests that organisations are – or should – only be running one such product or service. The reality is very different. The fact is that, in most of the organisations taking part in our research, communication and collaboration are not unified. Most organisations run more than one system; 31 per cent run at least three. This is because, at present, one product does not do everything equally well (although according to many of those taking part, Microsoft is giving it a good go).
It is impossible to draw conclusions about what constitutes the second tier of UCC vendors without reference to the first. Microsoft dominates the UCC market because of its install base and the ease with which it integrates into the enterprise hybrid cloud technology landscape – which it also dominates. Google Workspace is the closest to the market leader in terms of breadth of functionality, but isn't quite as feature packed as M365, which can be a good or bad thing for users. Much depends on the existing organisation's estate: organisations where BYOD and similar schemes have led to a very diverse IT estate might find Google Workspace a better UCC option because it's designed to run in a web browser, on any device.
Microsoft also has some weaknesses such as product instability and complexity and inflexibility of licencing structure, which its smaller, arguably more agile rivals are exploiting, with narrower functionality but a more stable, robust product. Why limit yourself to a product or service that does many things fairly well when you can supplement it with another service that does one thing brilliantly?
Certainly, this is where Slack and Zoom fit in. Slack is an instant messaging medium that is arguably succeeding its goal of lowering organisations' reliance on the email that larger, more established competitors provide. Zoom remains many people's first choice of video conferencing platform because they became so familiar with it in the dark days of lockdown.
All three of these vendors have a keen eye on the hybrid workplace, and all have been developing their product to best fit the changing needs of businesses. The new, more flexible workplace may well prove an excellent way for them to consolidate and build their customer bases.
For more information on these and other UCC vendors, including interviews, case studies and data on how all of these companies performed in our study please contact Delta.
Zoom versus Google versus Slack: Who has the edge in UCC? Source link Zoom versus Google versus Slack: Who has the edge in UCC?