Sports
Wimbledon – Nadal in action, Halep defeats Badosa, Kyrgios reaches last eight – live! | Wimbledon 2022
First blow goes to Nadal who returns cross-court to win the opening point and then Van de Zandschulp whacks a forehand long. There are two break points for Nadal after the Dutchman caresses the net with a backhand. An ace gives Van de Zandschulp hope and an overhit backhand from Nadal takes us to deuce. Nadal gets advantage and soon after the set thanks to another double fault.
No messing about from Nadal as he applies a few broad brush strokes to hold to love. Van de Zandschulp needs to hold to stay in the set.
Van de Zandschulp double faults to make it 15-15 and follows it up with another. Not what you need in a tense situation. On the upside he does then spear an ace past Nadal. He completes the hold with some impressive work at the net and a volley into space.
A beautiful backhand slice gives Van de Zandschulp no chance to lift Nadal to 30-0. Ooooof … Van de Zandschulp just about returns a wicked Nadal serve, allowing the Spaniard to sprint to the net to finish the point but he instead volleys it very long. He need not worry as Van de Zandschulp pings a backhand beyond the baseline. Nadal holds to make it 4-1.
After losing the first three games of the second set, Van de Zandschulp finds his feet to win to love thanks to some ruthless serving. I think that game was over in less than a minute.
Van de Zandschulp is finding the net with plenty of unforced errors. Nadal is not messing about and completes a relatively simple hold when a return is sent long.
Van de Zandschulp tries to clip one over the net from the base but he gets it all wrong and it dips far too early for his liking. Nadal helps level the score at 30-30 with a wayward forehand. The Dutchman whips a more efficient forehand of his own to put him on the verge of winning the game but Nadal opens himself up at the baseline to ping a winner. Deuce. Advantage Nadal and he breaks after the Dutchman finds the net. Nadal is very much in control now.
Nadal gets us going in the second and Van de Zandschulp makes the most of an underwhelming serve to whack straight back past him. The Dutchman should make it 0-30 after racing across the back of the court to hit a backhand down the line but he sends it long after doing the hard work. Nadal loops one long to make it 30-40 but he holds his nerve with the next serve to earn deuce. The Spaniard gets advantage and Van de Zandschulp dinks the ball into the net to gift the hold.
A fine valley concludes with the Dutchman's backhand volley at the net swerving into the tramlines to make it 15-30. He then double faults to give two set points. The first sees Nadal unable to return a serve but the second sees Nadal win the set after a Van de Zandschulp flies wide.
Van de Zandschulp has a chance to make it 15-15 but needlessly volleys into the net. Nadal takes advantage of the error and sees out the game with a frisky serve which cannot be returned. Van de Zandschulp serving to stay in the set.
Van de Zandschulp does not look in any trouble in his service game. Two fine aces down the middle finish off a simple hold.
And what an hour it could be! Nadal holds to lead 4-3 in the first thanks to a lovely forehand down the line into space.
A double from Van de Zandschulp gives Nadal 15-30, after which he punishes a backhand winner down the line for 30-40. But three huge serves in a row rescue the Dutchman and earn him 3-3, on which note I shall depart for a break; here's Will Unwin to guide you through the next hour.
Nadal rushes through a love hold for 3-2, but Van de Zandschulp is serving nicely.
Have a look!
In recent times, the women's quarters have been the most beguiling, but tomorrow, it's the men's to which I'm most looking forward. In particular, Djokovic v Sinner should be brilliant – Sinner's performance against Alcaraz was the best I've seen from him, and though Djokovic is an entirely different challenge, if he serves and returns as he did yesterday, he's a chance.
Every time I watch Nadal, I can't believe what he's doing. He's got every chance of snaffling another one of these, and it still seems like he can win the French every year until we all die.
And then there were two. Nadal and Van de Zandschulp are away, Nadal holding in game one.
Anisimova is "super happy" to reach the last eight – the demise of the word "very" is to be lamented – thanking the Americans in the crowd for supporting her, while Tomljanovic notes that Cornet, who she also beat last year, is very tough. She's the first Aussie to make back to back quarters since Jelena Dokic in 99/00, and doesn't know who she's playing next; told it's Rybakina, she says anything is better than Ash Barty, who despatched her last term. Asked if she's enjoying it more this time – she regretted not doing so a year ago – she reckons she is, especially as her mum is here, whereas last time, she went out walking the dog during her matches. It's another lovely moment.
Ajla Tomljanovic beats Alize Cornet 4-6 6-4 6-3!
She reaches the last eight for the second year in a row and looks emotionally beat. Next for her it's Rybakina, which will be a very serious test, but she's got the moxie to make a match of it.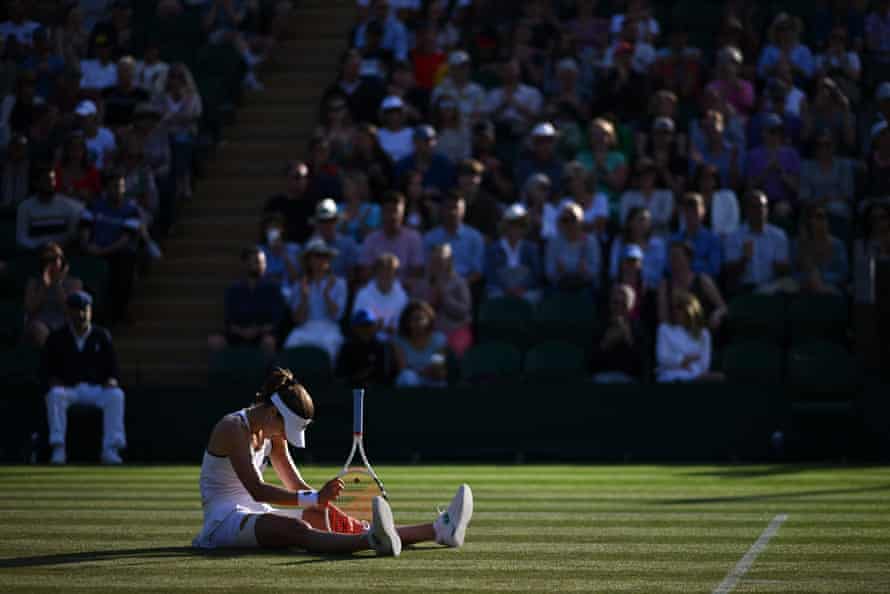 Amanda Anisimova beats Harmony Tan 6-2 6-3!
It's been an amazing, uplifting, affirming run from Tan, but Anisimova was too good, especially in the first set, and a lacerating backhand down the line secures the break and with it the match. She meets Halep next, and that should be an absolute jazzer.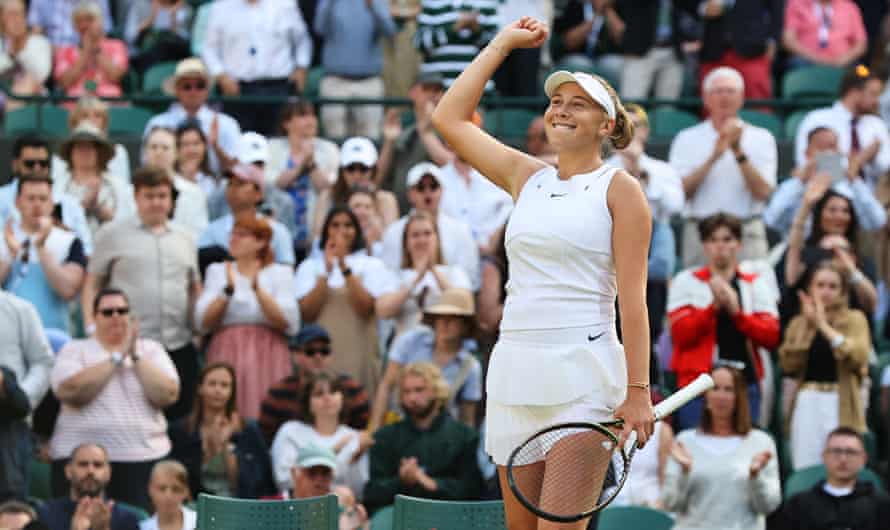 Tan makes her fight for it, but Anisimova eventually secures her hold and with it 5-3; she's a game away from the quarters.
On Centre, Nadal and Van de Zandschulp are knocking up, so we'll soon be away in our final tussle of the day.
Yup, Tan races into the net but Anisimova really should complete the stop-volley for 30-all. Instead, she dumps into the net, so faces two break points … and saves them both! Meanwhile, Cornet has retrieved one of Tomljanovic's breaks, so now trails 3-5 in the decider.
Oh man, every time Tan wins a game we cut to her 10-year-old daughter in her box absolutely having it, and it kills me every time. what a feeling that must be, for both of them. Anismova leads 6-2 4-3 with a break, but she's tightening with the finish in sight.
Tomljanovic breaks Cornet a second time and it must surely be a matter of time before she's into the last eight. She leads 5-1 in the third.
Next on Centre: Botic van de Zandschulp [25] v Rafael Nadal [2].
I said Tan was making Anismova work for her consolidation and she was, but the American got there in the end, and is now three holds away from Halep. She leads 6-2 3-2.
Halep is happy with how she played and delighted to be back on Centre Court, though hadn't noticed she's yet to drop a set – so she says. She feels she's getting better in every round and was really happy to come out with all the champions during yesterday's 100th anniversary celebrations. It'll take something decent to stop her wining a second title here, because of all the players left in the draw, her best is probably the best – and she's closest to it.
Simona Halep [16] beats Paula Badosa [4] 6-1 6-2!
That's an absolute tousing, and Halep is into the last eight having not dropped a set. She's now the favourite for the plate, and rightly so – she's playing so smoothly and, most importantly, being kind to herself. She meets Anisimova or Tan next.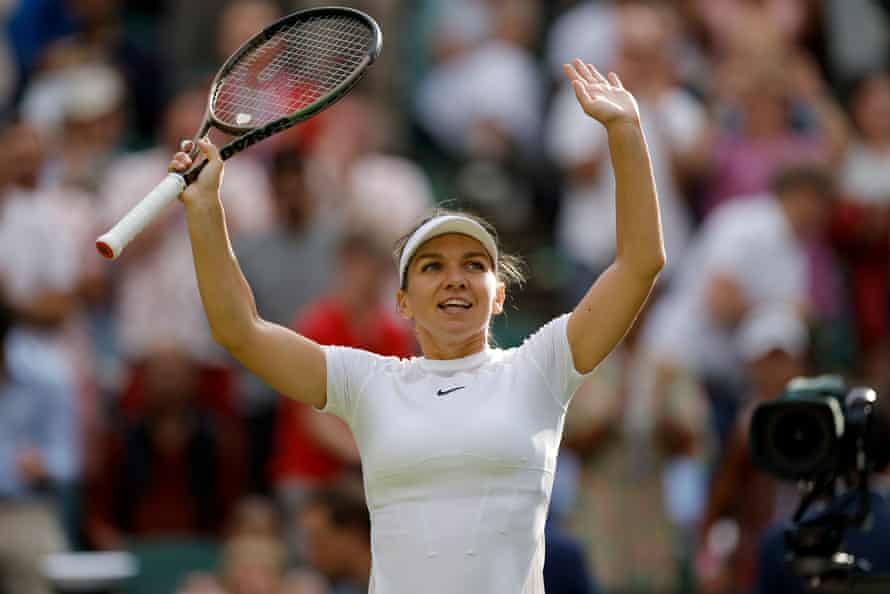 Back on No1, Anisimova has broken Tan for 6-2 2-1 – but has been forced to deuce as she attempts to consolidate – while Tomljanovic has broken Cornet again for 3-1 in the decider.
Halep has never beaten a top-five player on grass, but she rattles through a hold and is now just a game away from the quarters. Even bearing in mind Badosa's frailty, this has been a seriously impressive effort so far.
A lot of the indignation about NK's behaviour stems from an interpretation of it as gamesmanship/gaining undue advantage," emails Will Wiles. "In my view top players all have their own ways to gain an edge outside of hitting the balls really well. "Tsitsipas left his opponents cooling their heels whilst he took breaks of 5-8 mins between sets (they were longer when he was losing) until the ATP clamped down. "Nadal makes them wait on his serve. "Novak has often feigned or exacerbated the appearance of injury. And a wide variety of players have tried to change the dynamic by arguing with the chair umpire and creating drama – Kyrgios just does that last one more than anybody else.
These are alphas butting heads, tennis is a game played between the ears as well as between the lines – if it was only played by the neuro-typical then we wouldn't have nearly as much spectacle. Anybody who identifies with the outsider loves watching NK play and he certainly livens the game up! And those of us in that category certainly notice that he seems to get tagged a lot more than for example Andy Murray did when he had his LOUD internal monologue going for half the match or had a go at the umps. There hasn't been a situation like this since Mac broke through in 1980 (a divisive player going deep in the tournament and dominating the conversation), maybe in 15 years Nick will be a national treasure too! I hope he goes all the way to the final."
Yup, I agree with this. We don't want robots, and if sport is an expression of personality, players who play with attitude will also display attitude.
Ach, Badosa plays a poor game right as Halep plays a decent one, ceding a tame break to trail 6-2 4-2. This is nearly over, and real talk, it's barely got started.
"Lots more empty seats," emails Diana Powell. "Is everyone just getting a blinder in the bar or are they bored? If they're bored, send them to the races instead or out on a super yacht."
I don't think the tickets have all gone, but this is also a perennial Wimbledon problem: lots of people are there not because they love tennis but because they're on a work jolly, so aren't compelled by the tennis. I also wonder if the state of this draws has made a difference this year – both men's and women's are missing big names.
Reflections on earlier…
On No2, Tomljanovic broke Cornet in game one of the decider, but has just been broken back. I've not a clue who's going to win this one.
Badosa goes long on the backhand, giving Halep 15-40 … then finds a much better version of the same to wrongfoot her opponent before making deuce. We then go back and forth, Badosa saving another break point with a banging forehand, then another, before Halep nets and we're level in set two at 2-2.
She needs five goes at it, but eventually Anisimova clinches the first set 6-2. Tan got better during it, but there's no sign she'll get better enough to avoid defeat here.
On Court 2, Tomljanovic has again broken Cornet, and is now serving for set two at 5-4. They go through some deuces, but as I type that, she secures the game, and we'll now have a decider.
Hello! Halep is making the odd mistake now as Badosa changes up with some digs own the middle, inciting a backhand that drops long and earns her deuce. Then Halep goes long again, ceding break point, only for Badosa to go long herself … before Halep's forehand, unleashed with devastating war-cry, secures the game and gives her 6-1 2-1/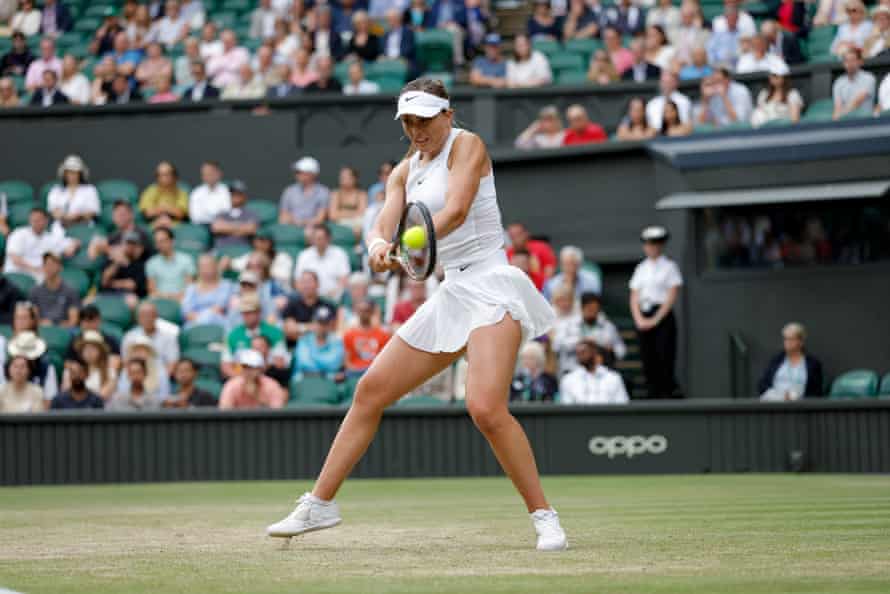 Harmony Tan is one of the feelgood stories of this Wimbledon, but it looks like she's run out road against Anisimova. It took a few deuces, but she finally succumbed to a second break and now trails 1-4.
Meanwhile, Cornet is coming again, breaking Tomljanovic back for 4-4. Suddenly, she's two games away from the last eight.
Halep strolls through the first set 6-1 in 23 minutes. If Badosa, who struggles with confidence, doesn't find some and quickly, she'll be back in the locker room before she knows it.
A love-hold for Halep, who's found a terrific length right away. She leads 5-1 while, on No1, Anisimova has broken Tan for 2-1 in set one.


Wimbledon – Nadal in action, Halep defeats Badosa, Kyrgios reaches last eight – live! | Wimbledon 2022 Source link Wimbledon – Nadal in action, Halep defeats Badosa, Kyrgios reaches last eight – live! | Wimbledon 2022