Sports
Wimbledon 2022: Raducanu v Van Uytvanck, Djokovic battles through – live! | Wimbledon 2022
Van Uytvanck* 4-6 1-1 Raducanu (*denotes next server)
That was easier, a love hold for Emma Raducanu.
Van Uytvanck 4-6 1-0 *Raducanu (*denotes next server)
Van Uytvanck looks wobbly after conceding that first set. It's 0-30 after a double fault, then 0-40 before Raducanu wallops the ball too long from the baseline. The Belgian fights back to deuce, showing she's by no means quit. What looks a miscue lands what seems a lucky break point before both players seem to lose their cool over a rally, Radacanu eventually netting from the back of the court. Van Uytvanck double faults for deuce again, then nets a backhand for another break point, only to serve and volley her way out. Some Raducanu self-admonishment as she makes a backhand error, and then some relief when her lob saves her deuce once more. These two don't do simple games. Another break point, her sixth, but again, she can't take it. Then, a winner is begging as she speeds to the ball, and yet she nets. Van Uytvanck then hits too long but, eventually, and at last, after seven deuces, she holds.
Raducanu takes the first set 6-4
The BBC commentator team, of Sam Smith and Tracey Austin, are discussing South London traffic. To drive from Bromley to Roehampton isn't easy, apparently, and actually truly. Not easy by public transport, either, which is South London for you. Meanwhile, Van Uytvanck's crashing forehand lands her a 0-30 lead, only for Raducanu to hit back with a squawk of celebration. Then a let called on 15-30, despite a challenge from the Belgian. But 15-40 comes soon enough, though a good serve halves the breaking chance, and then a top-spun backhand tempts her opponent into an error. Deuce, then set point is granted by a skewed backhand outside the lines. Set point is begging but Raducanu gets too low and nets. A waste, though a similar efforts takes the rally into her control, and another set point is her. With a clubbing backhand, she takes it this time.
Van Uytvanck 4-5 *Raducanu (*denotes next server)
Big roars for Raducanu's chase down the court to crash home for 0-30, then she tempts Van Uytvanck into netting to land her own three break points. Then, Van Uytvanck, with a forehand, clanks the ball out. A second break, and Raducanu serves for the set.
Van Uytvanck* 4-4 Raducanu (*denotes next server)
Oh, now it's Raducanu's turn to wobble, and a crouching baseline hit from the back of the court doesn't clear the net. Then, she misreads the spin on drop shot from her opponent and there's three break points on offer. The first is taken rather too easily.
Van Uytvanck 3-4 *Raducanu (*denotes next server)
A whipped winner gets the jewellery rattling on Centre Court. Emma seems to have her eye in, and with a crashed backhand, she has two break points. And the pressure tells when the Belgian chokes up and double faults.
Van Uytvanck* 3-3 Raducanu (*denotes next server)
Raducanu's serve is holding up well at the moment, and 3-3 soon comes. One of those tennis bros you hear at the slam events starts up with that "let's go, Emma, let's go" chant.
Van Uytvanck 3-2 *Raducanu (*denotes next server)
Van Uytvanck has a crashing serve when she connects and aces past Raducanu to level at 15-15, and eventually it sees her to winning the game. This is a bruising encounter for Dame Emma.
Van Uytvanck* 2-2 Raducanu (*denotes next server)
Hello, hello, I'm back again for the next hour as Radacanu serves to level in the first set, and does so with quite the roar.
Van Uytvanck 2-1 *Raducanu (*denotes next server)
The Belgian edges ahead again. The players take a drink. And I will hand you over to the estimable John Brewin for the next hour …
*Van Uytvanck 1-1 Raducanu (*denotes next server)
This game turns into quite a battle. The Belgian forces it to 30-30. She hits wide, and Raducanu has game point … but then a high-risk angled forehand just kisses the line from Van Uytvanck and it's deuce. Then break point for Van Uytvanck – saved by Raducanu – and a second break point is negotiated with a brilliant sliced drop shot. Raducanu probably looks the more nervous of the two players and you sense that Van Uytvanck is trying to capitalise on that. Raducanu has another game point but carelessly hits a forehand wide, and then hits long for a third break point for her opponent … Back to deuce again … Raducanu, eventually, manages to hold in a game that lasted over 10 minutes as Van Uytvanck is forced into the net but cannot get a drop shot back.
Hurkacz has levelled it up against Davidovich-Fokina, winning the fourth set 6-2, and making it 2-2 and into a deciding set.
Van Uytvanck 1-0 *Raducanu (*denotes next server)
Raducanu earns herself a couple of break points with some typically aggressive hitting from the baseline. However, Van Uytvanck saves them both, and when Raducanu finds the net with a forehand on a first-serve return, the Belgian edges in front. That was so nearly a nerve-settling break to open for Raducanu, but positive signs anyway.
Here we go. Emma Raducanu's debut on Centre Court is under way.
Sunshine and blue skies in SW19.
On Court 1, Alcaraz took the second set against Struff, 5-7, and now leads 2-1 in the third.
Alison Van Uytvanck and Emma Raducanu stroll out on to Centre Court. Raducanu smiles and waves as she gets a big cheer from the fans. She'll be nervous – wouldn't you be?
Emma Raducanu is up next on Centre Court, for the first time:
The back courts have dried out following the earlier deluge, and the matches are recommencing. On Court 3 Hubert Hurkacz has grabbed a set back against Davidovich Fokina: the score now stands at 7-6 (4), 6-4, 5-7.
Norrie beats Andujar – 6-0, 7-6, 6-3!
Following that pesky rain break, Norrie dispatches a lovely winner down the line to break Andujar's serve and seal progress to the second round in straight sets. A very accomplished performance from the British men's No 1.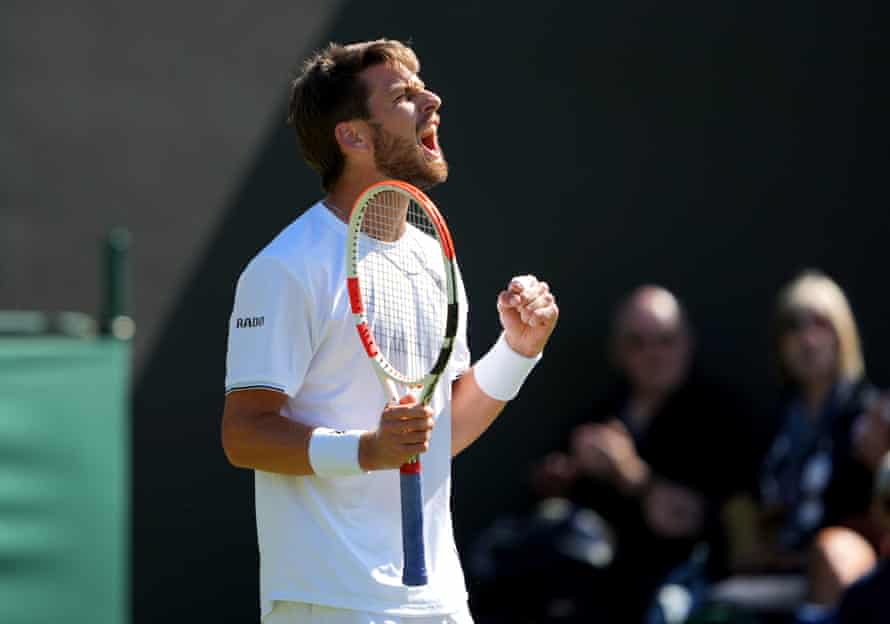 Djokovic speaks to the BBC: "It's always a pleasure to come back to Centre Court at Wimbledon. Credit to Kwon for playing some really high-quality tennis. He deserves applause, definitely … I didn't have any lead-up, or preparation tournaments or matches … you're going to feel a bit less comfortable than usual … it was really difficult to go 'through' him so I had to find a way, tactically, to get in control of the point. I had to put a lot of variety in the game … At this level, one or two points decide the game … I want to thank you [the fans] for coming out and supporting both players today.
"I owe a lot to this sport … I'm as dedicated as anybody out there … the love, and flame for this sport still burns in me … I try to deliver the best tennis on these most significant courts."
Djokovic beats Kwon – 6-3, 3-6, 6-3, 6-4!
That was a fine effort by the world No 81, Kwon. He put Djokovic in some uncomfortable places at times but the Serb exerted his authority in the end. The reception from the crowd is warm for both players.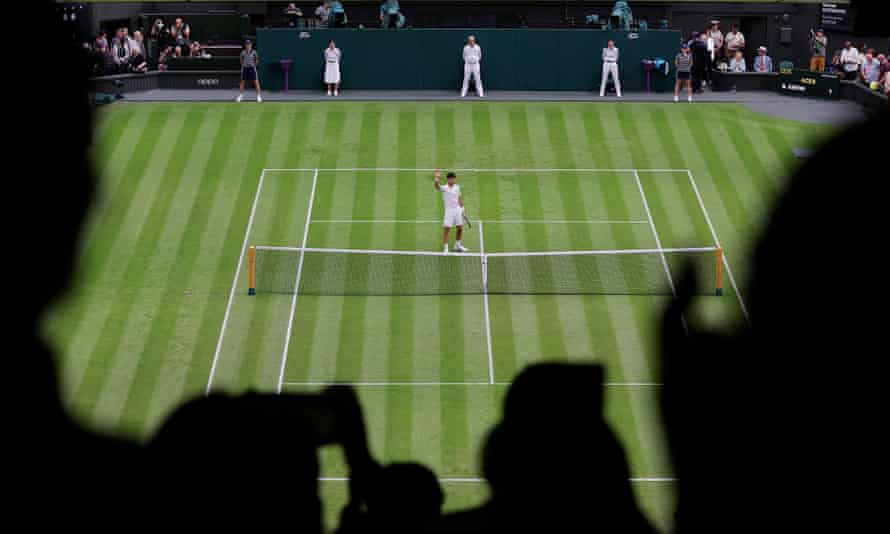 Over on No 1 Court, Struff and Alcaraz and locked in a battle for the 10th game of the second set. Alcaraz wound up one obscenely good down-the-line forehand a few moments ago, and ominously for his opponent looks to be seeing it better and better.
That said, Alcaraz has converted 0/6 break points in the match, and Struff eventually holds for 5-5.
Kwon holds for 5-4 in the fourth. Djokovic will serve for the match …
Now a break up, Djokovic is serving at 4-3 against Kwon, aiming to move to within a game of victory and progress to the second round.
Alcaraz will ultimately have too much though, won't he? I reckon your bet will be alive into the second round, at least.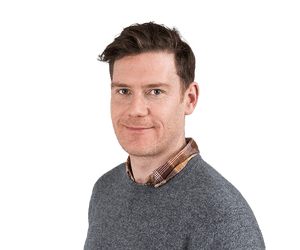 Paul MacInnes
Wimbledon is turning to big data to help improve fans' tennis knowledge, after discovering even ticket holders at the Championships were not aware of most of the players in the game.
Struff and Alcaraz are locked at 3-3 in the second set after Struff took the first 6-4.
That was a LOT of rain falling on SW19 a while ago … thankfully there are now blue skies across south west London so things are looking up for the rest of the afternoon and evening.
At deuce on the Djokovic serve, the Serb produces a sensational lob in response to a very good volley by Kwon which probably would have won the point against a lesser player. Djokovic holds one hand aloft and quickly closes out the game to make it 1-1 in the fourth set.
Don't forget, you can always send me an email or a tweet with your thoughts on the tennis. Or anything else, within reason.
Alcaraz edges ahead in the second set against Struff, it's 2-1 and with serve on No 1 Court.
Djokovic wins the third set against Kwon! The score now stands at 6-3, 3-6, 6-3. The South Korean has given an extremely good account of himself here but it looks as if Djokovic is going to get it done.
The BBC now shows a shot of Emma Raducanu limbering up for her imminent appearance on Centre Court. She is next up, and will face Alison Van Uytvanck of Belgium, who is ranked No 46 in the world. Andy Murray will be in action later, too against James Duckworth of Australia, the world No 74. Murray himself is ranked 52.
Djokovic now forces two break points against Kwon and he seizes the first of them, opening up the court with a big, deep forehand. Djokovic suddenly finds another gear, as he so often does, winning four points in a row in that game, and he will now serve for the third set at 5-3.
Struff takes the first set against Alcaraz! A lovely bit of serve-volleying action from the German helps to close out the first set, 6-4. He's ranked 155 in the world, the 32-year-old, and he now has a foothold against the No 5 seed.
They had a rain delay up at Headingley, too, but it didn't stop England sealing an impressive 3-0 series win against New Zealand:
Struff, eventually, closes out the game and makes it 5-3 to Alcaraz must serve to stay in the first set on No 1 Court.
The rangy figure of Struff is aiming to make it 5-3 in the first set against Alcaraz but the Spaniard is fighting hard. He grabs a break point with an outrageous angled effort placed delicately over the net. Struff answers back with an 126mph serve and then hits a good wide one next up which Alcaraz cannot get back. It's a big tussle for this eighth game of the first set.
On Centre Kwon continues to stay with his more illustrious opponent – it's 2-2 in the third.
The unfortunate people who don't have tickets for either Centre Court or No 1 court will be doing their best to shelter from the rain at the moment. Classic English summertime scenes.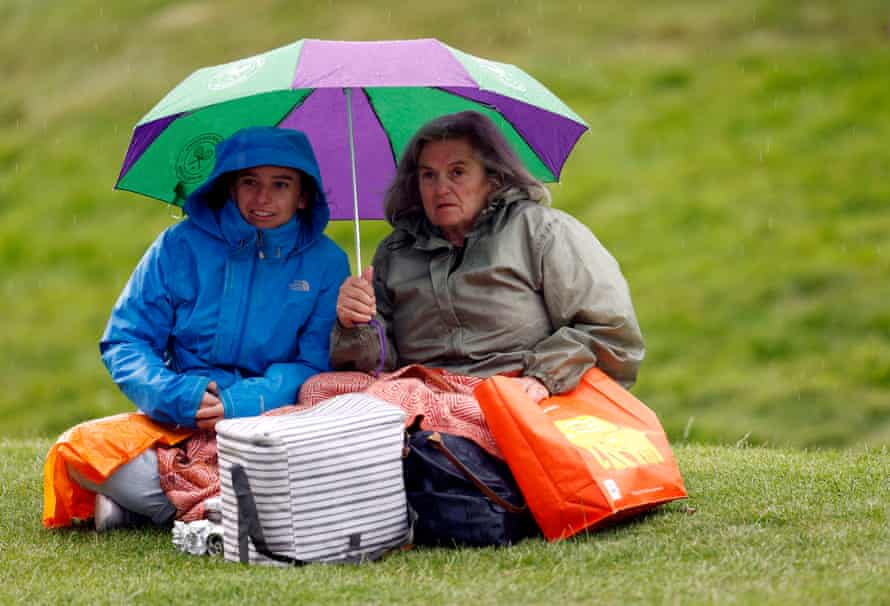 Alcaraz manages to avoid falling a double break down in the first set, holding for 3-2.
Djokovic and Kwon are level at 1-1 in the third set, and level at 1-1 in sets, too.
On No 1 Court there is a deafening sound of the rain hammering down on the retractable roof. Carlos Alcaraz (5) has fallen 3-1 behind against Jan-Lennard Struff, of Germany. Struff has taken it to deuce on the Spaniard's serve too …
They've stopped for rain at the moment, of course, but Hubert Hurkacz of Poland is in trouble against Alejandro Davidovich Fokina, two sets down. The score is 7-6, 6-4, 5-5. Hurkacz reached the semi-finals last year after that demolition of Roger Federer, and it would be quite a shock should he go out.
And Kwon takes the second set! No rain breaks on Centre Court, of course, with the roof closed. Djokovic hits long and Kwon pumps his fist and looks up at his team. They celebrate almost as if he's won the match. Taking a set from Djokovic here is some achievement.
At 5-3 in the second, Kwon is serving for the second set against Djokovic.
Meanwhile, rain stops play after Norrie passes up three match points against Andujar. At 6-0, 7-6(3), 5-3 and deuce, the Johannesburg-born player is going to have to wait to close this out. The rain is forecast to hang around for an hour or so.
Norries forces it to deuce on Andujar's serve and then digs out a superb forehand on to his opponent's toes and he has match point … it's a chance to return second serve, too, but he mishits a big booming forehand from the back of the court and it bounces out.
"Thousands of tennis fans will cheer on Emma Raducanu and Andy Murray at Wimbledon today as the tournament returns to full capacity for the first time in three years.
"The grounds will be packed with up to 42,000 people each day after crowds were slashed by 50% last year due to the Covid pandemic."
Djokovic belts a forehand just wide and Kwon holds for 5-2 in the second set. Djokovic seemed to be taking a stranglehold in the first set but this is impressive stuff from Kwon to put his opponent under such pressure.
Norrie moves a step closer, to 5-3 in the third set, and is a game away from a straight-sets victory against the world No 100.
Simon Cambers spoke to Matteo Berrettini, the beaten finalist in the men's singles last year:
"Sometimes it takes a while before the scale of an achievement such as reaching the final of Wimbledon for the first time sinks in. For Matteo Berrettini it came within a few hours. Having attended the Euro 2020 final and seen Italy defeat England on penalties, Berrettini joined the team on the pitch for the celebrations. They told him they had been glued to the television earlier in the day, willing him on against his opponent, Novak Djokovic."
Against Djokovic on Centre Court, Kwon has indeed regathered himself impressively and he is now 4-1 up in the second set! Djokovic forces him to deuce in the latest game but the world No 81 serves it out and has victory in this set firmly in his sights.
One of the great things about Wimbledon, in my opinion, is that if you're willing to queue you've always got a great chance of getting in. And early in the fortnight there is so much happening on the back courts, it makes for a fantastic day out. In the absence of previous Covid restrictions the famous Wimbledon queue is back:
Jabeur (3) defeats Bjorklund 6-1, 6-3!
The impressive Tunisian wasn't hanging around there. So much so I didn't notice that match had finished – a straightforward victory and into the second round for the No 3 seed.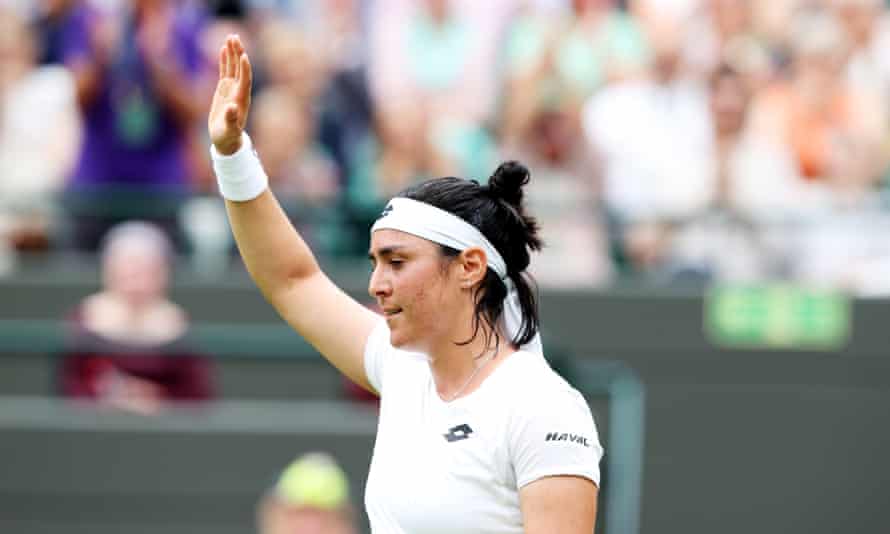 Norrie has just broken Andujar's serve and gone 3-1 in the third set against Andujar – that match is going to be over pretty quickly at this rate. Djokovic and Kwon are now 1-1 in the second set.
On Centre Court there is a break in play as it appears one of the spectators is unwell. Medics are in attendance. Djokovic paces around by his seat and takes a drink.
In the women's singles on Court 7, Anhelina Kalinina (seeded 29) is 4-3 up in the third set against Anna Bondar. She lost the first 4-6 and won the second 6-2.
Norrie wins that second-set tiebreak 7-3, and moves two sets to the good: 6-0, 7-6 (3). All looking good for him.
On Centre Court, Djokovic wins a fifth consecutive game to clinch the first set 6-3, and any early concerns appear to be melting away. But can Kwon regroup and put the world No 3 under pressure again?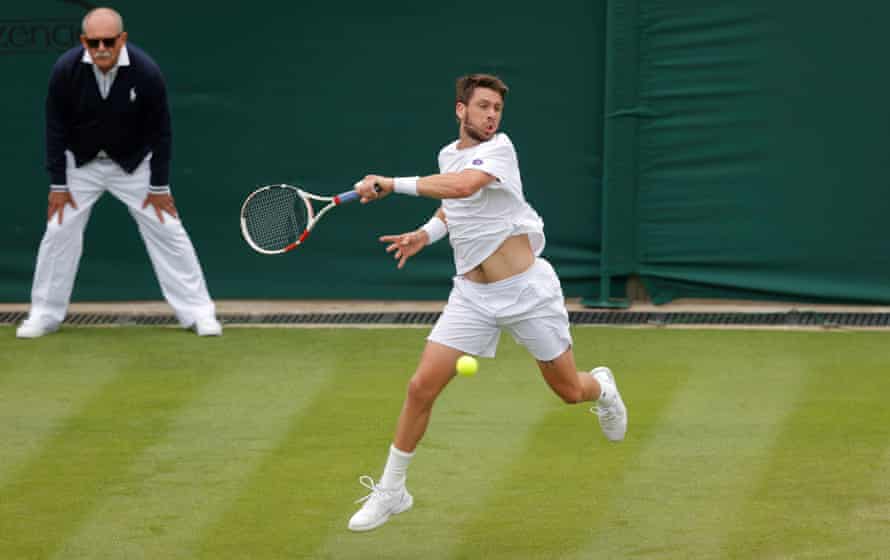 Djokovic breaks and it's 5-3 … he enjoys one big slice of luck in this game with a shot that flicks off the net and flops down on Kwon's side. Aside from that, it's classic attritional tennis from the Serb, and he wears his opponent down in the final rally until Kwon dumps a groundstroke into the net. Business as usual.
Norrie, meanwhile, is into a second-set tiebreak with Andujar and is well in control of it at 4-1.


Wimbledon 2022: Raducanu v Van Uytvanck, Djokovic battles through – live! | Wimbledon 2022 Source link Wimbledon 2022: Raducanu v Van Uytvanck, Djokovic battles through – live! | Wimbledon 2022