Sports
Wimbledon 2022: Boulter, Kyrgios and Kvitova through, Nadal in action – live! | Wimbledon 2022
Luke Broady latest: The British No5 is two sets to one down in his match against Argentina's Diego Schwartzmann, who is seeded 12th in the championships.
Another Covid withdrawal: No17 seed Roberto Bautista Agut has become the third player to withdraw from the men's singles with Covid, the Spaniard joining Matteo Berrettini and Marin Cilic in being forced out from the bottom half of the draw.
An emotional Katie Boulter speaks …
"I've got no words right now, I'm literally shaking," she says in her post-match interview. "The crowd was unbelievable so thank you so much for getting me through that."
She goes on to say that her grandmother passed away two days ago and "I'd just like to dedicate that to her today". She adds that getting to the third round of a slam event for the first time is a dream come true for me. "Hopefully I will have many more matches to play and if I can have you guys behind me then hopefully I can go a long way. Thank you so much, thank you."
Game, set and match, Boulter!
Women's singles: A drop shot leaves Karolinas Pliskova stranded near the baseline and Britain's Katie Bolter pulls off the result of her career. She's put awful injury problems behind her to advance to the third round of a grand slam event for the first time.
Women's singles: Boulter earns two break points against Pliskova but loses the first to an ace, Pliskova's 13th of the match. A long forehand down the line does for the Czech, who can only send her return into the base of the net on the stretch. Ranked 118 in the world, Katie Boulter is serving for the match against the No6 seed and last year's runner-up.
Pliskova leads Boulter 4-3 in the deciding set. They're haring through games that are going with serve on Centre Court as they approach the business end of the match.
Meanwhile on No 1 Court: Stefanos Tsitsipas has set up a mouthwatering third round encounter against Nick Kyrgios on the back of his 6-3, 6-3, 7-5 win over the Australian, Jordan Thompson.
Harriet Dart is in action on No 2 Court. The 25-year-old Londoner won the first set of her match against the American No8 seed Jessica Pegula 6-4 but is 3-0 down in the second.
Liam Broady is in a spot of bother. Having taken a one-set lead against Diego Schwartzmann on No 3 Court, he lost the second and is now 5-0 down in the third and serving to save it.
Boulter restores parity at one set all
With three set points to her name in the tie-break and Pliskova serving, she sends a forehand return into the net to lose the first, before converting the second to tumultuous applause from the crowd. It's one set each between Boulter and Pliskova with one more to go.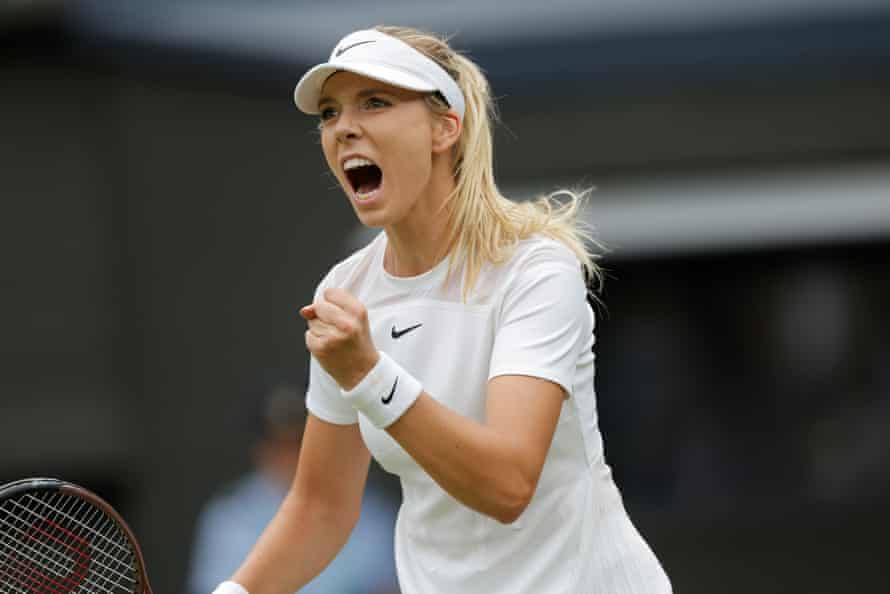 Katie Boulter is in a second set tie-break. Courtesy of two double faults from Pliskova and a magnificent ground-stroke to return a drop shot she races into a 3-0 lead. She wins the next point to go 4-0 up before whipping a forehand return long on her own serve to open the door for Pliskova.
Meanwhile on No 1 Court. Stefanos Tsitsipas, the No4 seed, is two sets up on his Australian adversary Jordan Thomspon and leads 3-2 in a third set that's going with serve.
Katie Boulter goes 6-5 up in the second set. She goes 40-0 up on her service game, hits a double fault, then returns into the net before forcing an error from Karolina Pliskova. Mid-game, her grandfather in the crowd roared "Go on, Katie!" by way of a wobble-avoiding pep talk. A set down, she's guaranteed herself a tie-break at least.
Liam Broady loses the second set 6-4. It's all square at one set each between him and his Argentinian opponent, the clay court specialist Diego Schwartzmann.
Pliskova breaks back. There's a fourth successive break of serve in the second set of the match between Karolina Pliskova and Katie Boulter. The 25-year-old from Leicestershire survives two break points but nets a return during the third. It's 4-3 to Boulter in the second, with Pliskova a set up and serving.
Unlucky for Katie Boulter, who goes 0-30 up against Karolina Pliskova, only to be foiled by the net cord as she attempts to earn three break points. Not to worry! She wins the next point and a double-fault from Pliskova puts her 3-1 up in the second set with that all important break.
Boulter holds serve. Having come from a set down to beat Pliskova at Eastbourne last week, Boulter will need history to repeat itself if she is to go through to the third round. She starts the first game of the second set in fine style, holding her serve to 15.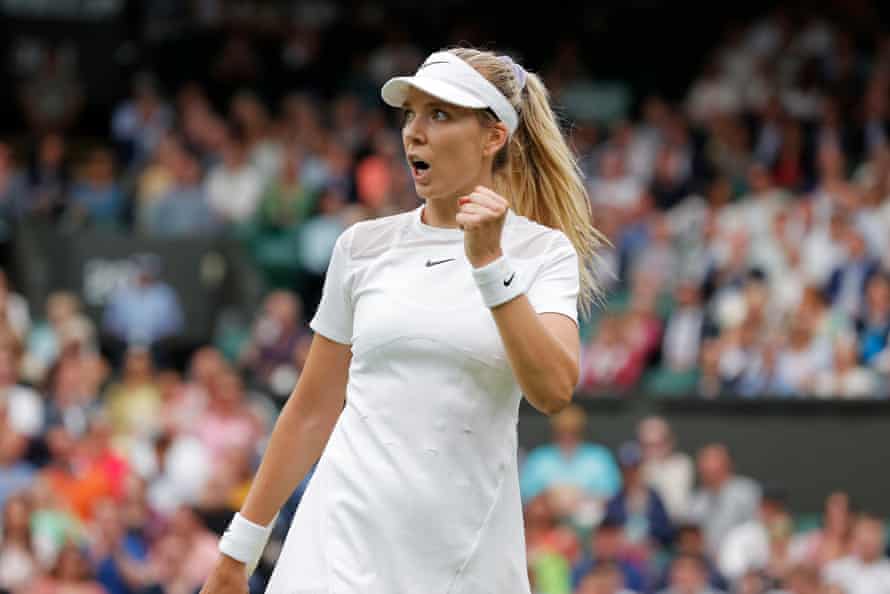 Katie Boulter holds her serve on Centre Court in her second round match against Karolina Pliskova. It's not enough to prevent her losing the first set, however, as her Czech opponent sends down three booming serves – two of them aces – in quick succession to give herself three set points before closing out. Last year's beaten finalist is in the box-seat.
Kyrgios cruises through in straight sets
Nick Kyrgios goes through. On his best behaviour on No 2 Court following those unsavoury antics during his first round win over Paul Jubb, the Australian has a much easier task in seeing off Queen's finalist Filip Krajinovic in straight sets, 6-2,6-3, 6-1.
Heather Watson advances to the third round. Resuming a match that was suspended due to poor light last night, Watson needs just one service game and three match points to see off Chinese player Wang Qiang of China. She will face the Slovenian Kaja Juvan in the next round.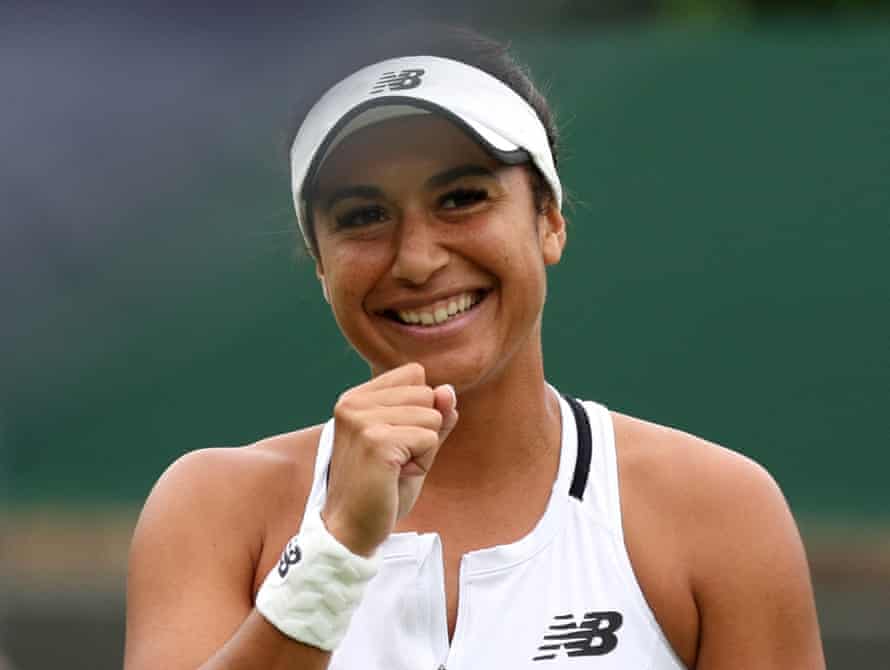 Greetings all. I join you as Britain's Liam Broady hammers down his first ace of the day to hold his serve and make it one game apiece in the second set of his match against the diminutive Argentinian Diego Schwartzman. The 28-year-old from Stockport is a set up.
Peter McDonald writes on the empty-seats issue: "It's not a new problem. I was there when Henman came out to finish his semi against Ivanisevc, the first British player for years to reach that point. The corporate seats were 80-90% unfilled. By the time the Ladies' final started, the court was still less than half full. One suspects that for the corporate world, whatever sport is happening takes a poor second place to wining, dining and networking."
Those who are on Centre Court see Pliskova force a break point from Deuce on Boulter's serve, and it's converted when Boulter overhits her forehand beyond the baseline. We're back on serve at 2-2.
And with that, I'll hand you over to Barry Glendenning who'll guide you through the rest of the day. Thanks for your comment and company. Bye.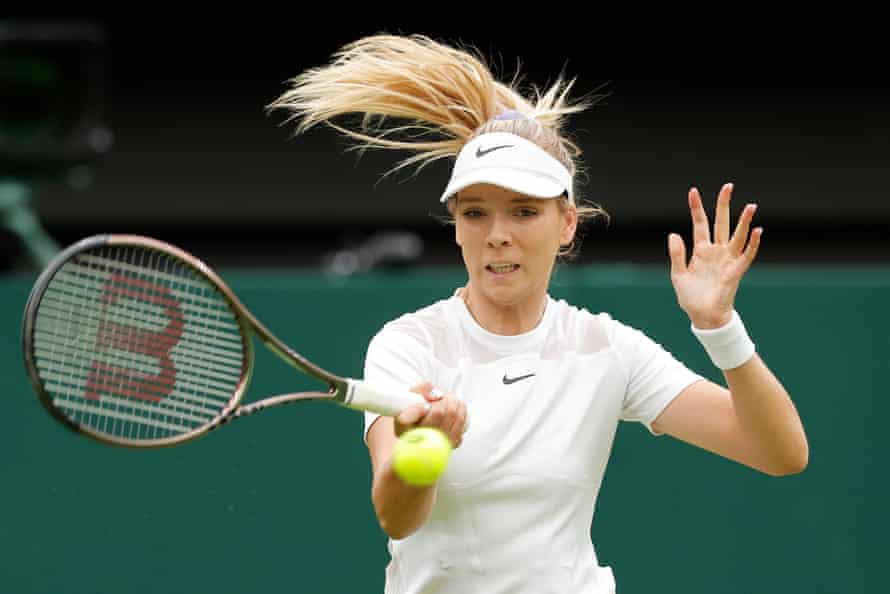 There's some fearsome baseline hitting in Boulter's first service game, but she keeps a steely focus to hold to 30, sealing it with a driving forehand winner to the back of the court. 2-0.
Over on Court No 1 Tsitsipas has stormed through the first set 6-2 against Jordan Thompson and another Brit, Liam Broady, has taken the first set against Diego Schwartzmann 6-2 on Court No 3. Upset on the cards?
Boulter breaks Pliskova in first game. Boulter wins a break point in the first game but overhits her return. She gets another chance though after her opponent errs and this time she converts, forcing Plisova backand into a sliced backhand out of court. What a start for the British player.
Kyrgios wins second set against Krajinovic 6-3. The Australian earns himself two set points, the first of which he squanders by misjudging a deep return, but the second he emphatically does not – a booming ace giving him a two-set lead on Krajinovic. The lad's in form, can't be denied.
An early break for Liam Broady against Diego Schwartzmann, the Argentinian No 12 seed. He leads 3-1. Also a break up, on No 1 Court, is Stefanos Tsitsipas, who's 3-2 ahead against Jordan Thompson.
And Salisbury and Ram have progressed in the men's doubles, beating Altmaier and Taberner 6-3, 7-6, 7-6.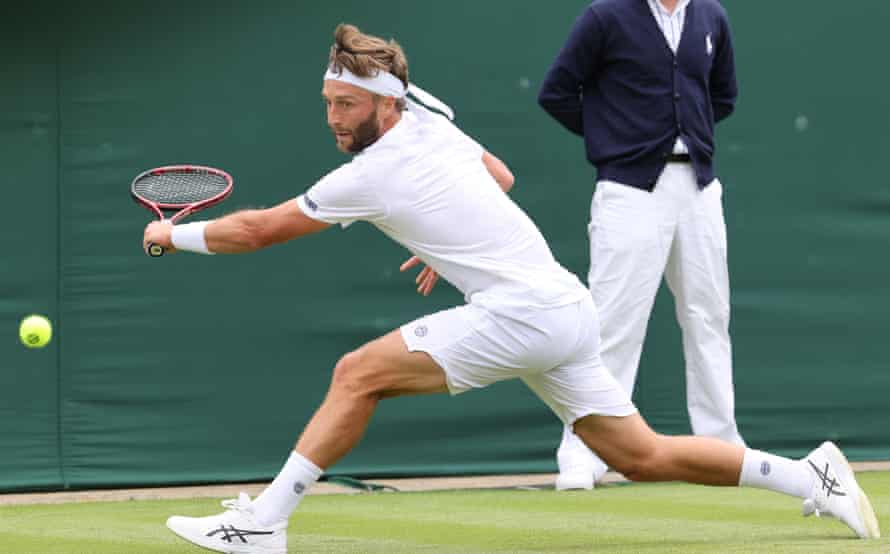 Katie Boulter is out on court hitting up for her match against Karolina Pliskova, against what once again – at this point – seems a dispiriting backdrop of empty seats. Of course as attenders of other big corporate events such as Lord's Test matches will know, this is Peak Agreeable Lunch time for those in the posh seats but even so, you've got seats on centre court damnit. Use 'em.
More forceful returning from Kyrgios earns him another break point, which Krajinovic saves with a backhand at the net. Then Kyrgios does what only Kyrgios does, when presented with an easy forehand winner – he opts to turn round and execute a 'tweener – that goes out. Krajinovic goes on to hold for 2-4, second set. I know he's ahead but will he regret that showboating?
Nick Kyrgios is still well on top against Filip Krajinovic, breaking early in the second set, though the Serb has just served confidently to love to open his account for this set but the Australian responds with a strong service game of his own. Kyrgios leads 6-2, 4-1.
They're under way on Court No 1 between Jordan Thompson and Stefanos Tsitsipas. One game all and on serve so far.
Fritz beats Gray 6-3, 7-6, 6-3.
It's all over for Alastair Gray, as Taylor Fritz converts his sixth match point with a blistering ace. The American continues to look in decent nick and could be headed for a quarter-final against Rafa Nadal. As for Gray, he showed some nice touches and fought hard, but couldn't overcome a consistent and in-form opponent.
Gray, serving to stay in the match at 2-5, blunders to hand Fritz three match points, all of which he saves. The first is saved courtesy of a probing backhand from the back of the court, as is the second with a deep serve, while the third is saved with a lovely dipping volleyed drop at the net. They then have to replay another point after a reviewed line call, and Fritz regroups to win another match point after a long baseline rally. This too is saved with a nerveless forceful ace which Gray follows up with a similarly confident backhand volleyed winner. An error takes us back to deuce, but he rouses himself with fine serving to hold. A decent show of defiance from the Briton, that – 5-3, third set.
Kyrgios wins first set against Krajonovic 6-2. There's talk of rain in the air and that play on No 1 court might start under the roof, and the Australian is in a hurry on No 2 court, breezing through the first set in 25 minutes.
Once again, Taylor Fritz has come back from a break down, breaking Alastair Gray twice to lead 3-2. The American No 11 seed is now set fair to complete a straight-sets win. Suddenly, Gray looks rather tired. Another Brit, Liam Broady, is about to get under way against Diego Schwartzmann on Court No 3.
On No 2 Court, Kyrgios is 5-2 up on Krajinovic.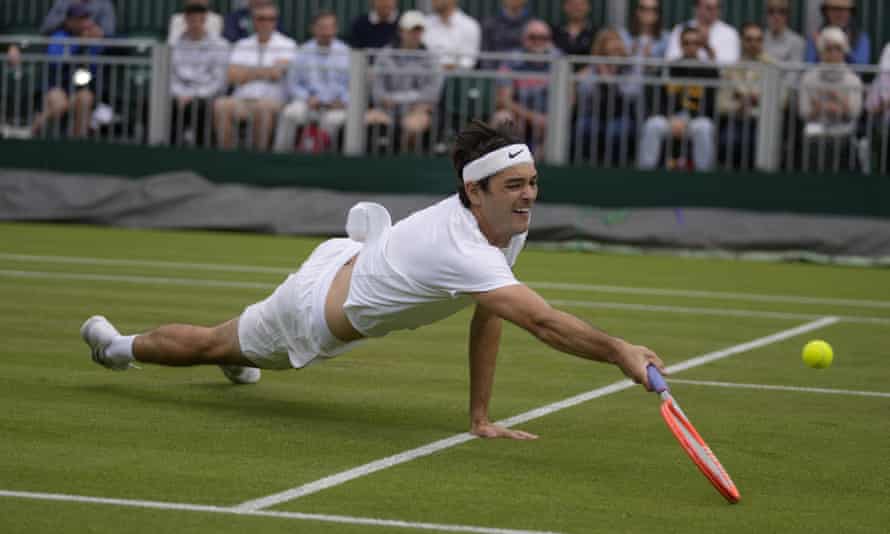 Kvitova beats Bogdan 6-1, 7-6 (5)
The Eastbourne champs is through, but had to dig deep for it in the end in an arduous second set, including the tiebreak, which she just edges at the end in forcing a backhand error from the tenacious Anna Bogdan of Romania. She'll play Paula Badosa in the next round.
Nick Kyrgios is in action now on court 2. What newsworthiness might attach itself to him today? He's made a blistering start on court anyhows, breaking Filip Krajonovic early on to lead 2-0 in the first set.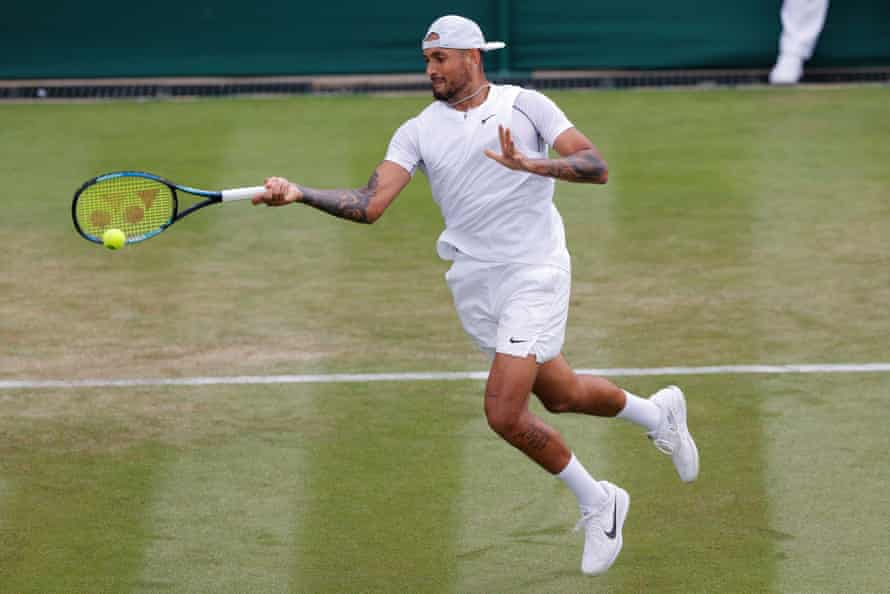 Gray responds in style, breaking Fritz's serve in the first game of the third set. Elsewhere, Kvitova and Bogdan are into a second-set tiebreak, while in the men's doubles top seeds Salisbury and Ram are two sets up on Altmaier and Taberner after winning the second set tiebreak.
Fritz wins second set against Gray 7-6. Gray is staring down the barrel now. Fritz steps it up at the same time Gray starts to look a little frayed and races to a 6-1 lead in the second-set tiebreak to earn five set points. Gray saves the first with another fine forehand at the net and the second with a good deep serve, but the third is converted in stunning style after a brilliant rally, the American stretching to meet a fine backhand volley and dinking it into an empty court to take the tiebreak 7-3. He's two sets up now.
Bogdan breaks Kvitova again! Kvitova has found the going toughter in this second set and squanders a match point with an awry backhand and then errs again to give Bogdan another break point. And the Romanian capitalises with a fine backhand winner to level the second set at 5-5. Could we be heading into a decider?
Meanwhile Gray and Fritz have gone to a second-set tiebreak.
Gray is a stylish-looking player at the net, having pulled out a couple of early shot-of-the-day contenders, and a delicious backhand drop volley gets him under way when serving at 5-5 but the errors at the back of the court continue to undermine him and a long backhand gives Fritz another break point, which they have to replay after an erroneous line call deep into the rally. It's saved by Gray with more positive net-play. An ace sets him up for a vital hold. 6-5.
Badosa beats Bara 6-3, 6-2
The first match on Court 2 today is done and dusted, the No 4 seed breaking twice in the second set to close it out. A stumble for Petra Kvitova though, serving for the match at 5-2. She's taken to deuce and then broken by Ana Bogdan. Her lead is now 6-1, 5-3.
Oh Alastair! Gray, serving for the set, overhits a forehand and then a backhand to give Fritz two break points and hands his opponent the break back with a double-fault. We're back on serve now at 5-4 in the second set.
Gray, serving at 4-2 in the second set, puts himself under pressure by starting his service game with two unforced errors but comes back well with a fierce serve and a neat angled backhand volley, which sets him up for a good hold – he's 5-2 up in the second set and a set down.
On No 3 court, Kvitova is 4-1 up and two games from victory against Bogdan, and on No 2, Badosa is a break and a set up, leading the second set against Bara 3-2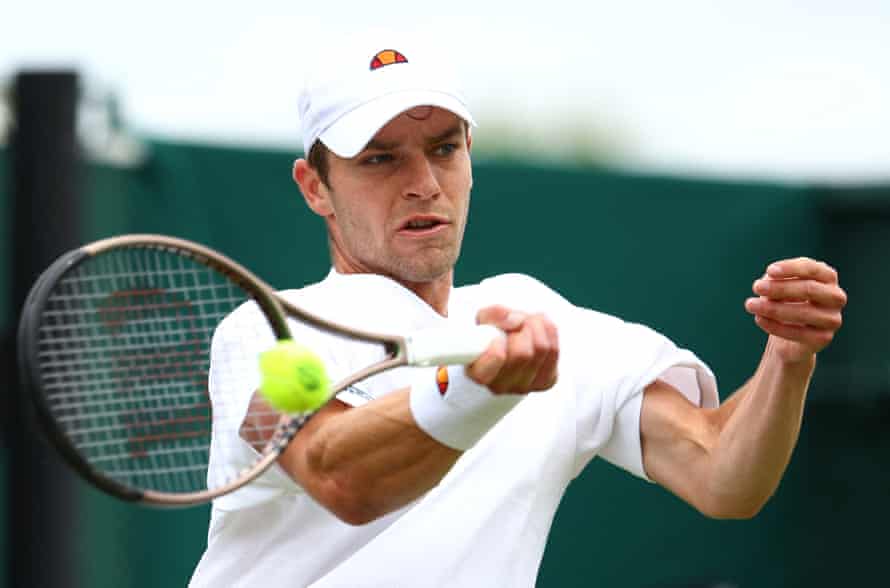 Doubles news: Britain's Joe Salisbury and America's Rajeev Ram, the top seeds, are a set up against Germany's Daniel Altmaier and Carlos Taberner of Spain. They took the opener 6-3 and the No 1 seeds are currently 3-4 in an on-serve second set.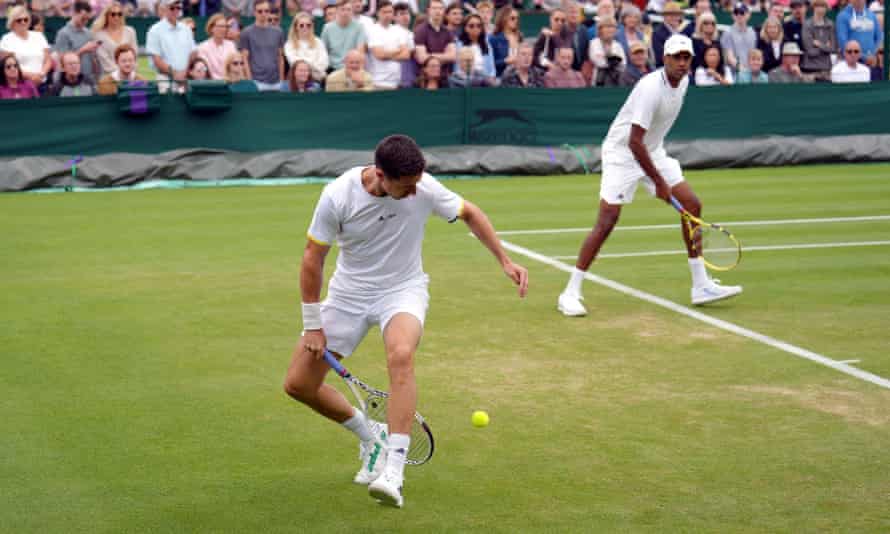 More on the overall state of doubles here:
Gray breaks Fritz's serve. Brilliant from Gray, stretching for a forehand volley at the net and putting it away to earn two break points and he pushes Fritz round the back of the court to force the error that gives him a 3-1 lead in the second set.
The Wimbledon debutant Gray looks to be growing into this a bit, holding serve confidently for 2-1 in the second set. Over on Court 17 Richard Gasquet is a set up against Mackenzie McDonald of the US, taking the opener 6-3.
Fritz's forehand is calling the shots here, and a lovely winner from the back of the court kickstarts the second set. Gray's got some magic in his locker though and executes a stunning deft drop shot while slipping on the grass, which helps him to a morale-boosting hold from 0-30 down.
On Court 2, Badosa has won the first set 6-3 against Bara and Kvitova isn't hanging about against Bogdan – she's a break and 2-1 up in the second set, having romped through the first set.
Fritz wins first set against Gray 6-3. Alastair Gray made Taylor Fritz work hard to serve for that first set but didn't take his opportunities and a backhand into the net seals the it for the American on Court No 12. Gray had six break points in that set but didn't convert any of them.
Roberto Bautista Agut pulls out with Covid
This is becoming a real problem. The Spanish No 17 seed, who had been due to face Daniel Elahi Galan later today, is the latest to withdraw. Here's PA Media's story:
Roberto Bautista Agut has become the third player to announce he has withdrawn from Wimbledon after testing positive for Covid-19.

The Spaniard, seeded 17, had been due to take on Daniel Elahi Galan in the second round on Court Three on Thursday. The Colombian will receive a walkover.

Bautista Agut wrote on Twitter: "I have tested positive for Covid-19. Fortunately, the symptoms are not very serious, but I think it is the best decision. Thanks for your support. I hope to come back soon."

Bautista Agut follows two former finalists, Matteo Berrettini and Marin Cilic, who both pulled out ahead of the first round.

While not known as a grass-courter, Bautista Agut achieved his best result at a grand slam by reaching the semi-finals here in 2019, while he defeated world number one Daniil Medvedev on his way to the final of the ATP Tour event in Majorca last week.

Players are not required to test themselves at Wimbledon this year, or even to withdraw if they test positive, but have been asked to be respectful to their fellow players and those they come into contact with.
Britain's Alastair Gray is battling to stay in the first set against Taylor Fritz, a break down, but digs himself out of a hole in his most recent game, which he seals with a confident ace to close the deficit to 3-5.
On Court No 2 a flurry of breaks as the women's fourth seed Padosa grabbed an early break against Romania's Irina Bara, Bara broke back swiftly but then lost her subsequent service game and Badosa now leads 5-2. Kvitova meanwhile has won the first set against Bogdan 6-1, though she had to work hard for it in her last service game, saving a couple of break points.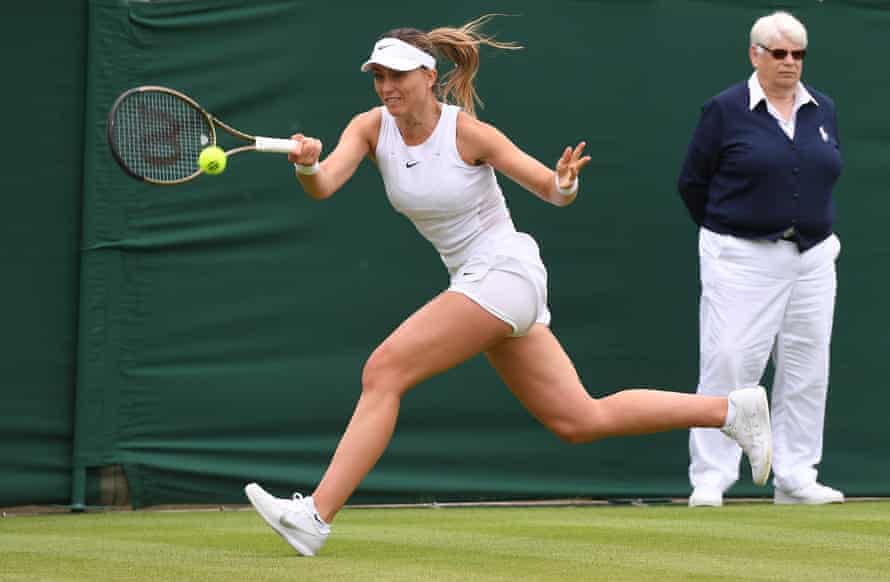 An early break for Petra Kvitova, the two-times Wimbledon champion, against Ana Bogdan. She's raced into a 3-0 lead in the first set. Having won at Eastbourne last weekend and thrived here in the past, the Czech, seeded 25, looks one to watch once again.
An early setback for Britain's Alastair Gray though. The No 11 seed Taylor Fritz has broken him and leads 2-0.
Pre-action reading, and we got plenty.
Here's Barney Ronay on Emma Raducanu making friends in defeat:
For all the attention on Murray and Raducanu, Simon Cambers reports on Britain's best start to Wimbledon since 1984:
And here's Paul MacInnes's Wimbledon diary, including a forgetful Ugo Humbert and the export of the Henman Hill experience to Brooklyn:
Here's the order of play on courts 2 and 3. The full list is here.
Court No 2
Paula Badosa (4) v Irina Bara
Filip Krajinovic (26) v Nick Kyrgios
Harriet Dart v Jessica Pegula (8)
(Not before 5pm BST) Kirsten Flipkens v Simona Halep (16)
Court No 3
Ana Bogdan v Petra Kvitova (25)
Liam Broady v Diego Schwartzman (12)
Daniel Galan v Roberto Bautista Agut (17)
Morning everyone, and welcome to day four at the All England Club. With a couple of the sport's greatest late-night drama kings and queens now eliminated, what awaits us today? Plenty, obviously, with British interest on Centre Court first up as Katie Boulter takes on the sixth seed, Karolina Pliskova. Boulter has never gone beyond the second round while the Czech was of course last year's runner-up, so a formidable challenge confronts the British world No 118. After that Rafa Nadal faces the unseeded Lithuanian Ričardas Berankis and Coca Gauff, the No 11 seed in the women's draw, is up against Mihaela Buzărnescu of Romania.
On No 1 court Stefanos Tsitsipas, the men's No 4 seed, faces Australia's Jordan Thompson before the relentless Iga Swiatek looks to continue her stunning winning streak when she plays the unseeded Dutchwoman Lesley Pattinama Kerkhove. Britain's rising star Jack Draper then rounds off proceedings when he plays the No 19 seed Alex de Minaur of Australia.
There's plenty of action on the outside courts before the show courts get going at 1.30pm though, with Paula Badosa, Petra Kvitova and Britain's Alastair Gray among those in action. We'll keep you updated on those and more.
Let's play.
Wimbledon 2022: Boulter, Kyrgios and Kvitova through, Nadal in action – live! | Wimbledon 2022 Source link Wimbledon 2022: Boulter, Kyrgios and Kvitova through, Nadal in action – live! | Wimbledon 2022