Sports
Wimbledon 2022: Berrettini out with Covid, Swiatek, Nadal and Williams in action – live! | Wimbledon 2022
The world No 1 Iga Swiatek is out on Centre Court and in action against Croatia's world No 252, Jana Fett. She gets a huge ovation from the packed crowd. Will she add the Wimbledon crown to her French Open one?
On No 3 Court it would appear Kyrgios has now found top gear, both with his tennis and his outbursts. Having lost the first set to Britain's Jubb 6-3, he blitzed the second set 6-1. He also had time to have a pop at the crowd, smash a ball out of the court and call a line judge "the worst I've seen" and a "snitch".
It is not to be for Katie Swan. Marta Kostyuk holds serve to progress 4-6, 6-4, 6-4. I think Swan will think she missed her chance in the second set, when she looked in commanding form before needing treatment on an injury. She battled hard in the final set but was obviously in discomfort.
On Court 12 the 14th seed Belinda Bencic has been taken to a deciding set by China's Qiang Wang. Having won gold in the Olympics last summer, the Swiss 25-year-old won't want to experience the ignominy of a first-round exit here.
Katie Swan is still battling through the pain in her first-round match against Ukraine's Marta Kostyuk. The Brit was broken in the first game of the deciding set but has steadied herself and trails 5-4. She will need to break her opponent to stay in the tournament but she has been returning well and won her last service game without exerting herself too much.
Court No 1 has swung into action, with men's 19th seed Alex de Minaur being bumped up into Matteo Berrettini's slot. He has broken Bolivia's world No 80, Hugo Dellien, in the first game with minimum fuss. And on Court 2 the 11th seed Coco Gauff (who is still only 18!) has got her 2022 Wimbledon tilt under way against world No 54, Elena-Gabriela Ruse of Romania.
What a moment for Britain's Ryan Peniston (ranked 135). On his Wimbledon debut he has cruised to victory over Swiss world No 96 Henri Laaksonen 6-4, 6-3, 6-2.
Britain's Paul Jubb has wasted no time in making the most of his moment in the spotlight against Kyrgios on Court 3. He's taken the first set 6-3. Kyrgios still enjoyed some magic monets in that first set. mind. Here he is hitting a 'no-look' winner.
On Court 3 the enigmatic, always entertaining and often combustible Nick Kyrgios is in action against Britain's Paul Jubb (ranked 22). The Australian has already thrown in an underarm serve as he looks to get some of the home crowd on his, rather than Jubb's side. It's on serve, with Jubb leading 4-3 in the first set. Another Brit going along nicely is Southend's Ryan Peniston (world No 135). He leads Switzerland's Henri Laaksonen, ranked about 40 places above him, 6-4, 6-3, 5-2 and, barring a Devon Loch-style tennis moment, should soon be in the second round.
A bit of housekeeping now: the 5th seed Maria Sakkari did indeed see out her match against Zoe Hives, winning in straight sets 6-1, 6-4. The No 12 seed Jelena Ostapenko also cruised into the second round, beating Oceane Dodin of France 6-4, 6-4 in a little over an hour.
Britain's Katie Swan (ranked 183) won a fine first set against Ukraine's Marta Kostyuk (ranked 76) 6-4 but she has lost the second set by the same scoreline and, in a worrying development, needed treatment for an injury in the latter stages of that set. There will now be a straight shootout to see who progresses. Swan may have to play through the pain though.
Simon Zekaria has nets on his mind, specifically the length of them. "Can you or esteemed tennis heads help with this conundrum. Tennis nets have different lengths depending on their use – shorter lengths for singles (with the posts in the tramlines) and full length for doubles. Sometimes, the full length net is used for singles matches (such as the Katie Swan-Marta Kostyuk singles match) but there have to be 'sticks' in the tramlines to make sure the net height is the same. Why not use the shorter length for all singles matches? I presume this is because the outside courts have to quickly change to doubles. But then why not have all nets full length width and then you just have to change the sticks. However, there is another question arising from net lengths. In tennis, the ball doesn't have to go over the net. You can play round the post and outside the net to win a point – granted it is very rare but it can happen (I think Federer has done it). That is impossible if it is a full length net. If you are playing a singles match with a full length net you are at a disadvantage as you can't play that shot, unlike, say players on the show courts, who play with the shorter net. Unfair? See photos below of the Katie Swan match today and a Court 1 match yesterday."
It's an interesting point, Simon, but I'm not sure how often players really try to play round the net. Maybe a reader who plays tennis at a decent standard might be able to write in and tell us if it has any bearing on performance. Maybe Roger Federer is scrolling through. Roger!? Roger?!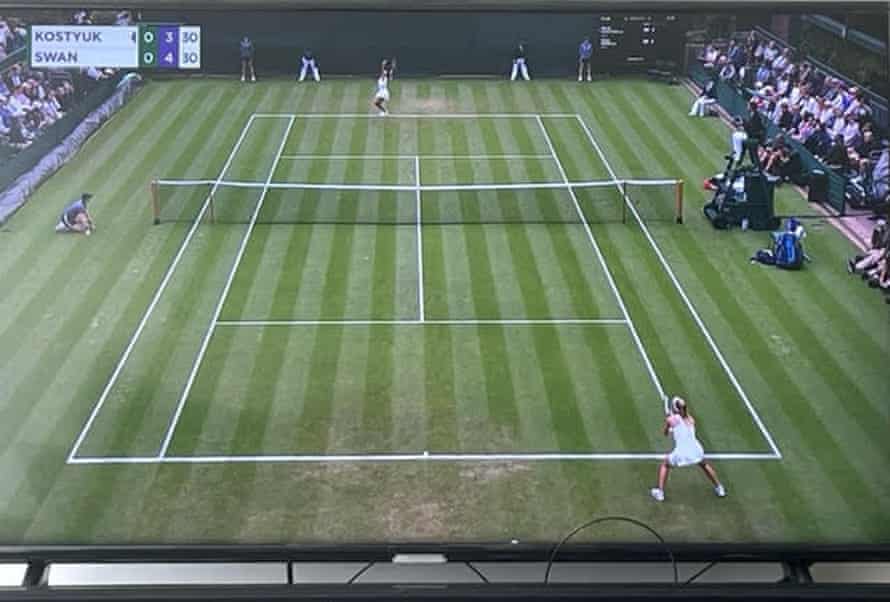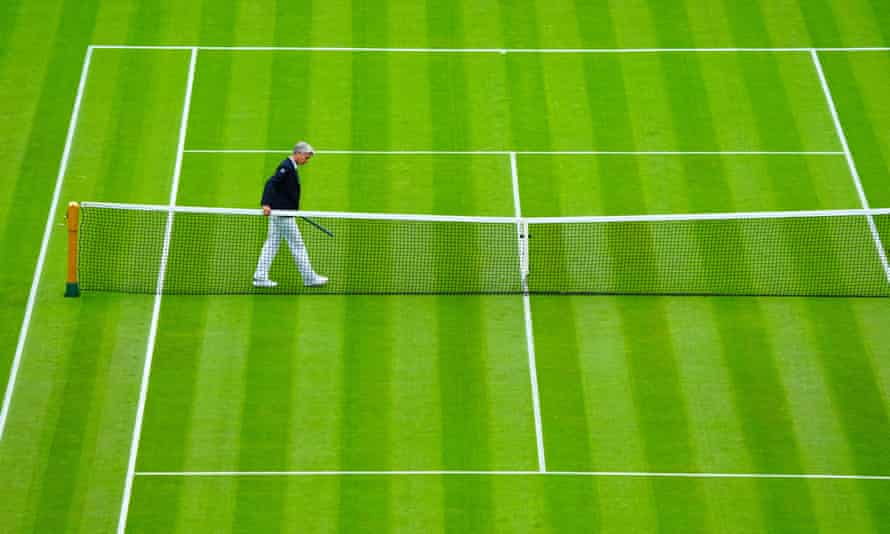 Wimbledon's Covid-19 protocols under review
Wimbledon's Covid-19 protocols are under review after Matteo Berrettini was forced to withdraw on the morning of his first round match after testing positive for Covid-19. Here's Tumaini Carayol's full story from SW19 …
Grigor Dimitrov retires injured
It's bad news for the men's 18th seed and 2014 Wimbledon semi-finalist, Grigor Dimitrov. The Bulgarian had taken the first set against America's Steve Johnson 6-4 but, after struggling with a leg injury in the second set, he has had to call it a day.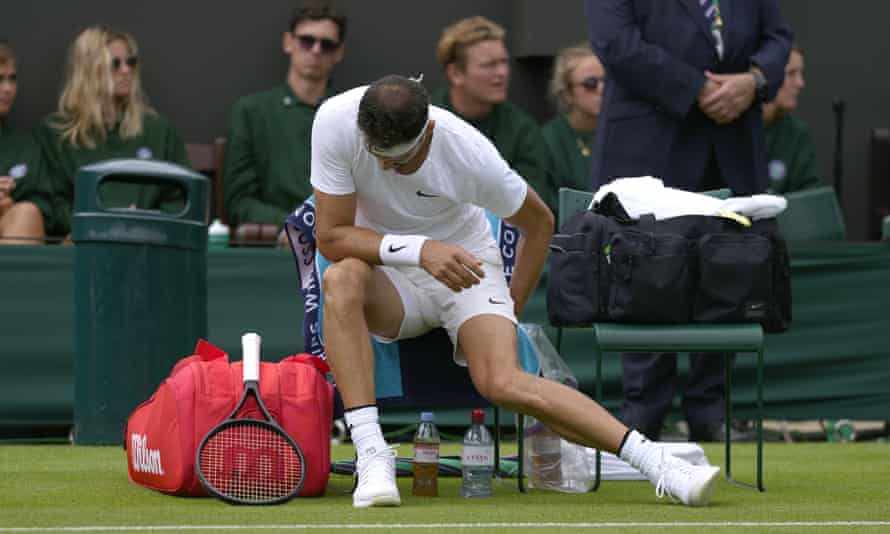 The highest-ranked singles player out there at the moment is Maria Sakkari, the women's No 5 seed. She is likely to be very soon into the second round as she leads Australia's Zoe Hives 6-1, 5-4 on Court 3. Sakkari has been in good form this year and will be looking to make it to the second week, something she hasn't done before.
Thanks Luke. Hello everyone. I hope you're all well and feeling much better than poor Matteo Berrettini, last year's beaten finalist who has had to pull out of this year's tournament with Covid. What a blow. The big names are yet to head out to the show courts but there are many singles matches under way at SW19 and I'll keep you updated if any stories develop in them.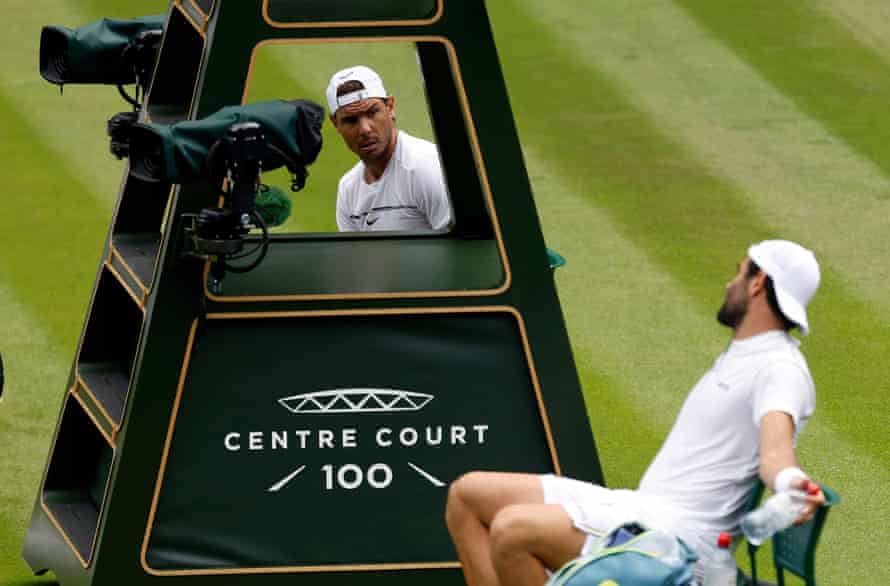 And with that, I shall hand you over to my esteemed colleague Gregg Bakowski to guide you through the next while. Bye for now.
And on Court 1, in the absence of Matteo Berrettini, from 1pm:
Alex de Minaur (19) v Hugo Dellien
Tamara Korpatsch v Heather Watson (7-6 (7), 5-7, 0-0)
Karolina Muchova v Simona Halep (16)
Alexander Ritschard v Stefanos Tsitsipas (4)
The order of play on Centre Court, from 1.30pm:
Iga Swiatek (1) v Jana Fett
Francisco Cerundulo v Rafael Nadal (2)
Serena Williams v Harmony Tan
Andy Murray on the move during his victory last night. Photo by The Guardian's Tom Jenkins.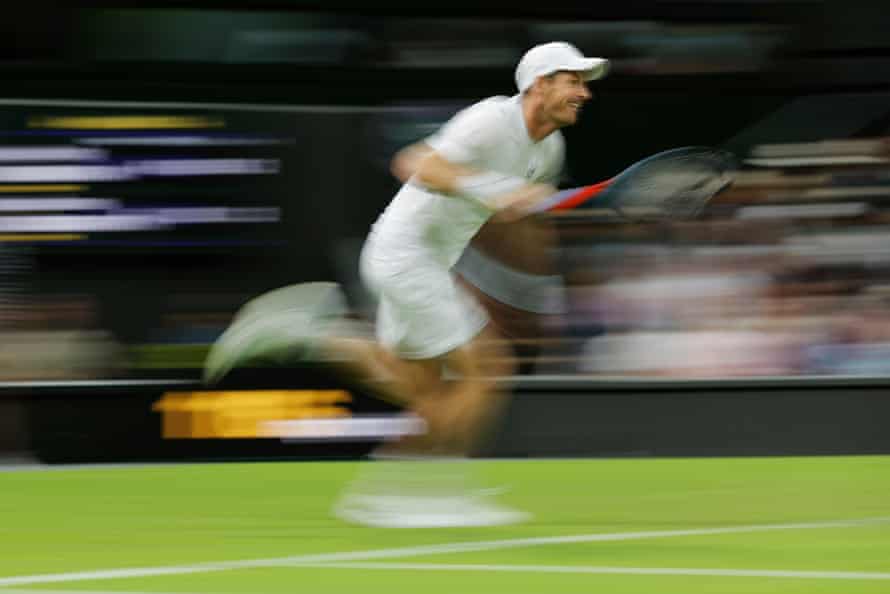 Berrettini 'heartbroken' after being ruled out by Covid-19
Last year's runner-up and one of the favourites for Wimbledon, Matteo Berrettini, has withdrawn from the tournament after testing positive for coronavirus. The Italian reached his first grand slam final at the All England Club last summer, losing in four sets to Novak Djokovic, and has been the form player on grass this summer.
After recovering from hand surgery that had ruled him out since March, Berrettini defeated Andy Murray to win an ATP tournament in Stuttgart and then successfully defended his title at Queen's Club last weekend.
Writing on Instagram, Berrettini said: "I am heartbroken to announce that I need to withdraw from wimbledon due to a positive Covid-19 test result. I have had flu symptoms and been isolating the last few days. Despite symptoms not being severe, I decided it was important to take another test this morning to protect the health and safety of my fellow competitors and everyone else involved in the tournament. I have no words to describe the extreme disappointed I feel. The dream is over for this year, but I will be back stronger. Thank you for the support."
Berrettini, who has been replaced by lucky loser Elias Ymer, was the eighth seed and had been due to face Cristian Garin in the opening match on Court One on Tuesday. His withdrawal follows that of former finalist Marin Cilic, who announced on Monday that he had also tested positive for Covid-19. Both players were in Rafael Nadal's half of the draw, with Cilic seeded to be his fourth-round opponent. (PA Media)
There are no fewer than 11 women's singles matches currently under way, and five men's singles ties. In the women's games Sakkari is the highest seed playing now (No 5), then the highest after that is Jelena Ostapenko, who is 5-3 up on Oceane Dodin in their first set.
In the men's draw, David Goffin is already a break and 2-0 up against Radu Albot. That's on Court 14. Both are unseeded.
Yulia Putintseva (seeded 27) is under way against Alize Cornet on Court 10 and it's 2-2 in the first set. Neither player has managed to hold on to their serve yet.
Meanwhile, play is commencing across the venue. On Court 3, Maria Sakkari (5) has gone 2-0 up in the first set against Zoe Hives.
Matteo Berrettini out with Covid
I mentioned that Berrettini was due on Court 1 a bit later. Well, he isn't anymore:
A terrible disappointment for the player who went all the way to last year's men's singles final. Get well soon.
Andy Murray threw in an underarm serve in his match against James Duckworth yesterday – watch it here:
"If they stand four or five metres behind the baseline, then why would you not do that to try to bring them forward if they're not comfortable returning there?" Murray said. "Tactically, it's a smart play."
Heather Watson will be back on Court 1 later but not until after Matteo Berrettini's match. Watson lost the first set to the world No 110 Tamara Korpatsch on a tiebreak yesterday, having been 5-1 up, but rallied to win the second set 7-5. They will be back to play the third and final set.
Here, if you missed any of them, are a few of the pieces we've recently published from Wimbledon:
"For Anhelina Kalinina, a 4-6, 6-2, 6-4 winner over Anna Bondar on Monday, the £78,000 she is guaranteed for reaching round two will go toward helping her family rebuild their home in Ukraine, which, she revealed, has been bombed by Russian forces."
Simon Cambers reports:
Barney Ronay
There has been an eagerness to cling to these pegs of the pre‑pandemic summer: Glastonbury, Wimbledon, queueing endlessly for a low-cost airline seat. And Monday was a red-letter day for the All England Club in other ways, with first-round appearances for the only two British players to win a grand slam singles title in the past 45 years, Andy Murray and Emma Raducanu.
Emma Raducanu and Andy Murray were the headline-makers yesterday as Wimbledon welcomed a capacity crowd for the first time in quite a while. Raducanu, the 19-year-old US Open champion, performed admirably on her Centre Court debut to see off Alison Van Uytvanck. Murray dropped a set against James Duckworth before finding his rhythm and progressing to a second-round date with John Isner.
It's another packed day of tennis today: women's singles top seed Iga Swiatek, the French Open champion, is up first on Centre Court against Jana Fett of Croatia at 1pm. Rafael Nadal (No 2 seed) will then face the Argentinian Francisco Cerundolo before the seven-times women's champion Serena Williams takes on Harmony Tan in the final match scheduled on Centre.
Matteo Berrettini, Stefanos Tsitsipas, Simona Halep, Coco Gauff, Karolina Pliskova and Garbine Muguruza will be taking to the court later, too. That sounds like plenty to be going on with. Let's do this.


Wimbledon 2022: Berrettini out with Covid, Swiatek, Nadal and Williams in action – live! | Wimbledon 2022 Source link Wimbledon 2022: Berrettini out with Covid, Swiatek, Nadal and Williams in action – live! | Wimbledon 2022