Texas
Viral cases continue to increase in Texas as vaccines are deployed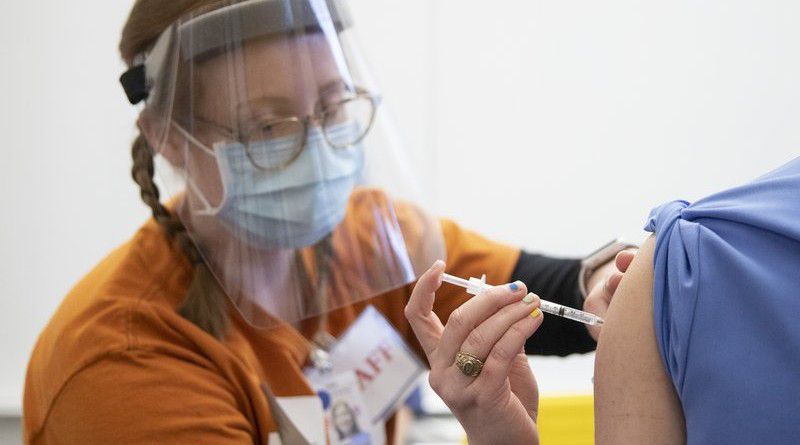 Austin, Texas — On Tuesday, Austin's Supreme Health officials said Christmas and New Year's Day as coronavirus continues to proliferate aggressively in central Texas, even if vaccination gives hope to fight a pandemic. Warned that it could be tough.
Dr. Mark Escott, Austin's interim health authority, said there are "tens" positive cases in the area, including the entire family, infected with COVID-19 for Thanksgiving trips and rallies. I told station KVUE. Like other Texas cities such as El Paso and Lubbock, Austin's hospitals can quickly be overwhelmed, Escott said.
"This will be a memorable Christmas for people for the wrong reason," Escott said. "If we don't take action now, we'll see unprecedented levels of cases and deaths in this community between now and the end of January."
On Tuesday, state health officials reported 14,569 newly confirmed cases of COVID-19, 2,754 estimated cases and 205 deaths. According to the Texas Department of Health, 9,472 people were hospitalized for the virus in the state on Tuesday, and intensive care units in some areas were full or nearly full.
Travis County Judge Andy Brown and Austin Mayor Steve Adler will send a letter to local religious leaders on Tuesday to consider virtual vacation services or protect older people and people with weakened immune systems. To make the necessary changes to secure the mask and social distance.
"We need your ongoing efforts to prevent a crisis from reaching," they said in a letter.
Meanwhile, the deployment of the COVID-19 vaccine continued as more hospitals were assigned throughout Texas and throughout the United States.
Robert Luckey, a nurse at the COVID-19 unit, was first vaccinated at Memorial Hermann Health Systems in Houston.
The place was filled with cheers.
"It's a big moment," Lucky said on Tuesday. "A great many people have come into contact with viruses and illnesses. I think this is hopeful for many."
According to data from Johns Hopkins University, Texas has reported more than 24,000 COVID-19-related deaths since the pandemic began. This is the second highest total number of deaths in any state in the country.
Over the past two weeks, the moving average of new daily coronavirus cases has increased by 2,405.4, an increase of 20.7%, according to university data. In Texas, there have been 703.4 new cases per 100,000 people in the last two weeks, ranking 41st in the country for new cases per person. One in 292 people tested in Texas last week was positive for the virus.
Viral cases continue to increase in Texas as vaccines are deployed
Source link Viral cases continue to increase in Texas as vaccines are deployed