Sports
US PGA Championship 2022: McIlroy sets pace in opening round – live! | US PGA
Matt Fitzpatrick sticks his tee shot at the par-three 6th pin high, 16 feet to the right. He rolls the putt straight into the cup, in the calm fashion, and rises to -2 again. He's met there by Lucas Herbert, coming the other way after dunking his approach at 15 into deep sandy trouble.
-5: McIlroy (F)
-4: Zalatoris (F), Hoge (F)
-3: Kuchar (F), Ancer (F)
-2: Kirk (F), Pereira (F), Schauffele (F), Smith (F), Na (F), Riley (F), Scheffler (8), Schwartzel (6), Fitzpatrick (6), Herbert (6*)
Jon Rahm makes an awful balls of the par-three 8th. His tee shot takes a hot bounce over the back of the green. He then blades his chip past the flag and off the front. He can't get up and down from 60 feet, and that's a double that crashes him down the standings to +1. His partners are in better mood and better nick: Collin Morikawa has made eight straight pars, while Scottie Scheffler pars to remain at -2.
There's not a great deal happening for Tommy Fleetwood. He's +1 through 5 after dropping one at 3. But his beloved Everton are safe from relegation, so it's swings and roundabouts!
… and Herbert was so very nearly joined there at -3 by Schwartzel! The South African looked to have rolled in a fairly straight downhill 12-footer on 5, only for the ball, just as it prepared to drop over the lip, took a little shimmy to the left and stayed up. Eh? Not sure how that happened, but there we have it. He remains at -2.
Lucas Herbert becomes the hottest player of the afternoon wave! The 26-year-old from Queensland won his first PGA Tour event earlier this season at the Bermuda Championship, and is the current Irish Open champion. So while he doesn't have much of a record in the majors yet, he has form elsewhere. He's just followed up birdies at 10 and 13 by curling a long-distance right-to-left swinger into the cup from the back of 14. He's the only player from the second wave of starters to reach as high as -3. So far.
-5: McIlroy (F)
-4: Zalatoris (F), Hoge (F)
-3: Kuchar (F), Ancer (F), Herbert (5*)
-2: Kirk (F), Pereira (F), Schauffele (F), Smith (F), Na (F), Riley (F), Scheffler (7), Schwartzel (4)
Justin Thomas has started to move in the wrong direction. He can't get up and down from sand at the front of 9, and it's back to back bogeys. He's back where he started at level par.
Quite a few players have been struggling with the bunkers today. Tiger, for one. Brooks is another. Having failed to get up and down from sand at 8, he repeats the failure at 9, and the two-time champion is turning in 40 strokes. He's +5, and these sort of days happen to us all. Succour for weekend hackers everywhere. Hey, we need it.
Justin Thomas drops his first stroke of the week. It's the result of finding the bunker to the right of the par-three 8th. He slips back to -1. His place alongside Scottie Scheffler at -2 has been taken by 2011 Masters champion Charl Schwartzel, who follows up birdie at 1 with another at 4.
Rickie Fowler holes out from a bunker at 7. The birdie cancels out the shot he dropped at the opening hole, and I can reveal that he's still cutting quite the dash with his Vic Colfari moustache.
Brooks Koepka continues to struggle. He pulls his tee shot at the par-three 8th way to the left, then chunks his chip into a bunker. He can only hack out to 20 feet … but then rolls the bogey putt straight into the cup. Difficult to know whether that will make him a little happier or not. You'd suspect not. He's +4. That hip must still be bothering him. Koepka playing with a dodgy hip, Bryson already withdrawn due to a sore wrist … this was supposed to be the rivalry of the age. Where's our rivalry of the age?! Get well soon, fellows.
Belated word of John Daly. The 1991 champion was mixing it with the leaders for a while, but ran out of

whisky and water
steam towards the end. After bogeys at 14, 16, 17 and 18, the old boy signed for a still-decent 72. And never anything but entertaining. What a hero.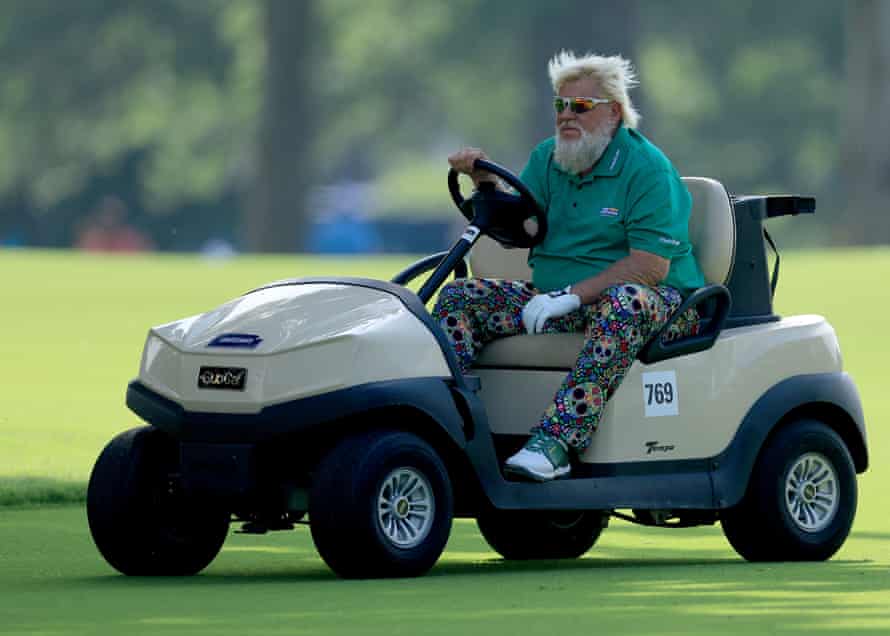 Scottie Scheffler makes mincemeat of the 665-yard par-five 5th! He bashes a 380 yard drive down the middle, then draws a fairway wood around the trees into the heart of the green, tucked away a little on the left. That's ten feet away! That is absurd. He rolls in the putt, and all of a sudden the world number one and new Masters champion joins Jesse Mueller and Justin Thomas as the only players out there this afternoon at -2. His playing partner Jon Rahm's birdie (-1) looks positively mundane by comparison.
Jesse Mueller bounces back immediately with birdie at 17! He nearly spins another approach into the cup from the centre of the fairway, but this one stops a couple of feet to the right of the hole. He pops in the putt and he's back to -2. In do-si-do news, he once again swaps places with Matt Fitzpatrick, who yips a tiddler on 3 to ship a needless shot. He slips to -1.
It's just not happening for Brooks Koepka. He crashes a huge drive down 7, then wedges to six feet. He looks to have confidently nailed the birdie putt, only for the ball to sling around the back of the cup and stop out. He's forced to settle for par and remains at +3.
… and having brought up Mueller, the club pro drops his first stroke of the afternoon soon after. Bogey at 16, and he's back to -1. He's replaced at -2 by Justin Thomas, who birdies the super-long (665 yards) par-five 5th. Time for a look at that old leaderboard!
-5: McIlroy (F)
-4: Zalatoris (F), Hoge (F)
-3: Kuchar (F), Ancer (F)
-2: Kirk (F), Pereira (F), Schauffele (F), Smith (F), Na (F), Riley (F), Thomas, (5), Fitzpatrick (2)
… so having said that, Matt Fitzpatrick immediately curls in a 15-foot left-to-right curler on 2. Back-to-back birdies to open, and the Sheffield star joins Mueller at -2.
Early days for the second wave, of course, but birdies seem a little harder to come by this afternoon. The wind's up, which might explain things. In fact, the only player currently out there better than one under for his round so far is the aforementioned club pro Jesse Mueller, who holed out from the fairway at 10.
An awful start for the two-time winner Brooks Koepka. Bogeys at 1, 3 and 4, and the 2018 and 2019 champion is already up against it. This is his first outing since the Masters, at which he missed the cut. He's clearly not on top of his game, and yet has also recently tied for fifth at the World Match Play and for third at the Phoenix Open. It's also easy to forget now that he finished in a tie for second at Kiawah Island last year, victim of the perfect storm that was Phil Mickelson. He could do with finding something soon, though … and nearly gets it on 6, but his long birdie rake across the green stops a couple of inches short. He's +3.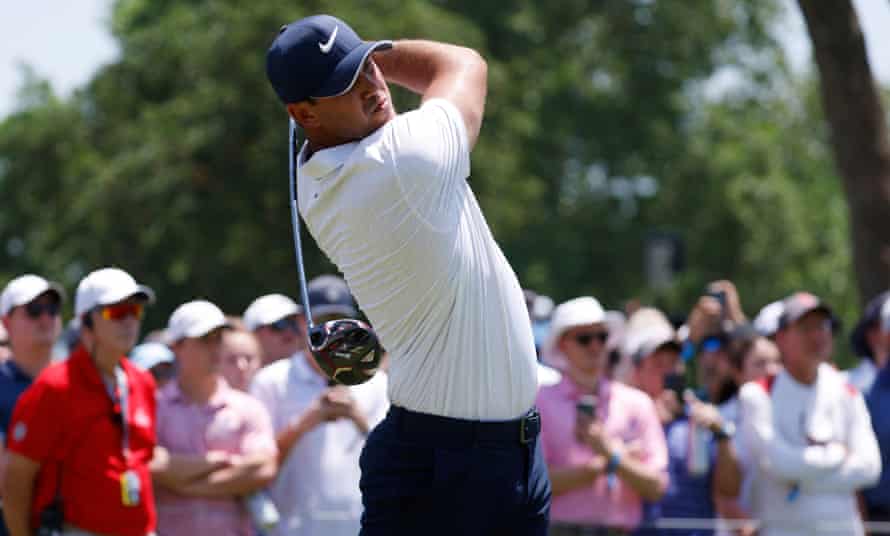 Justin Harding started slowly, with bogeys at 2 and 3. He's just wiped those out with one fell swoop, eagling the par-four 7th by holing out from 180 yards! He pitched his ball a couple of feet to the left of the flag. It gripped the turf, took an elegant little double bounce, then toppled slowly into the cup! The 36-year-old from South Africa doesn't have a particularly storied career, though he does have a tie for 12th at Augusta in 2019 and a top-20 finish in last year's Open on his resumé. Now he's got another major memory to put into the bank. He's level par.
Charl Schwartzel and Matthew Fitzpatrick take turns to pepper the flag at 1. They both tidy up from a couple of feet and it's the perfect start for the pair. They're -1. A slow start for Dustin Johnson, though; he's +1 through 4 after dropping a stroke at 2.
Moving the right way early doors: Justin Thomas, Louis Oosthuizen and Kevin Kisner, who have all made birdie at 1.
Rahm bounces back from that opening bogey with birdie at 2! He rolls in the sort of 25-foot left-to-right slider that, according to the statisticians, only gets made eight percent of the time.
Davis Riley has been hovering around the top of the leaderboard all day. The 25-year-old from Mississippi is a hotly tipped one to watch, and finishes his debut round at the PGA Championship by nearly draining a 40-footer on 9. A tap-in par, and that's a fine round of 68. He's -2.
This has also been a breakthrough year for Tom Hoge, albeit in a much more understated way. The 32-year-old North Carolinian won his first PGA Tour event in 203 starts at the Pebble Beach Pro-Am in February, and has since made the cut at his first Masters, and finished in the top 20 at both the Phoenix Open and last week's Byron Nelson. He follows up his birdie on 15 by closing out his round with three pars. He signs for a superb 66 and is currently tied for second.
-5: McIlroy (F)
-4: Zalatoris (F), Hoge (F)
-3: Kuchar (F), Ancer (F)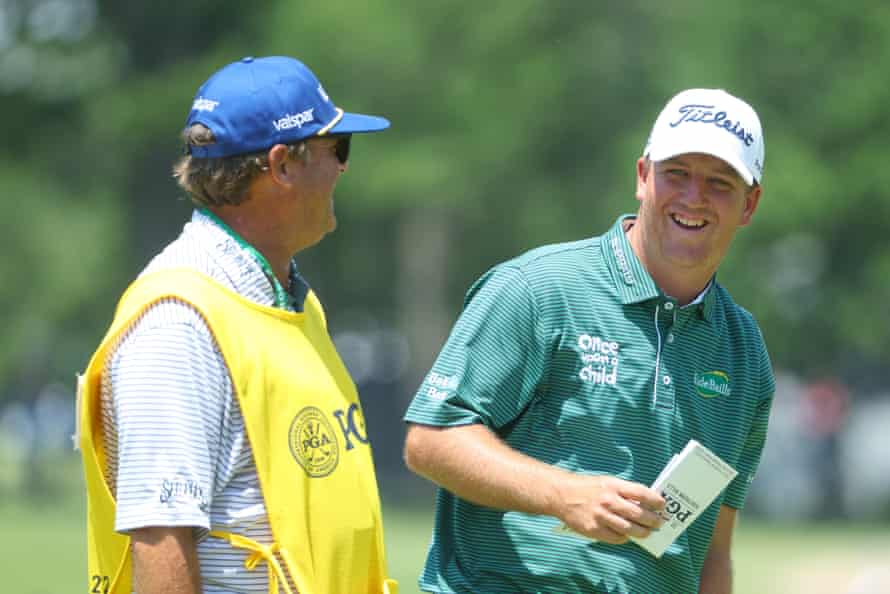 Since winning his first PGA Tour event back in February at the Phoenix Open, Scottie Scheffler has gone on quite the spree. Further wins at the Arnold Palmer Invitational, the World Match Play, and of course the Masters; ascension to number one in the world; and in the four other tournaments he's played since Phoenix, he's made two top-20 finishes and one tie for seventh. He's therefore one of the hot picks this week. He's part of the afternoon's marquee group with Collin Morikawa and Jon Rahm, and opens with a par. Morikawa makes one too, despite flaying his drive into woods down the left of 1. Rahm however dumps his approach into sand, and doesn't get particularly close with his splash out. The reigning US Open champion trudges off, slightly irritated by his immediately slipping to +1.
Rory speaks to Sky. "I have felt comfortable for the last few weeks … I took a lot from the final day at Augusta and played well at the Wells Fargo … once the draw came out I was excited to play in a group like that … I enjoy playing with Tiger and Jordan, it's a pretty comfortable group for all of us … we all know each other pretty well … it was a great day, and great to get off to a good start in a major for a change! My game is in good shape so it's just a matter of executing the shots like I know I can … today I did that very well and I just need to replicate that tomorrow, Saturday and Sunday, and not to get ahead of myself, although it was a great start."
Jesse Mueller is one of the 20 PGA club pros competing in his organisation's flagship event. A coach at Grand Canyon University Golf Course in Phoenix, Arizona, he's teeing it up in the PGA Championship for the first time, and has taken all of two shots to announce himself in spectacular style. Having found the centre of the 10th fairway, he pitched his second shot 30 feet past the flag, spinning it back on an inevitable journey into the cup! It's surely the shot of the 39-year-old's life: an eagle at a major championship, and one that instantly takes him to -2. He's currently tied for sixth!
Sky have a word with Tiger, sweat pouring from his brow. "Physically I have felt better! Emotionally I've actually felt better too. It was frustrating. I got off to a great start … but I did not keep it going. I hit a lot of bad iron shots. I felt comfortable with the driver … but from there, it was not very good. That's not normally how I play, but it's how it was. I'm going to try to shoot something in the mid-60s. Rory proved it today, he made it look very easy, it can be done. So hopefully I can put together something tomorrow and get back in the tournament."
Thanks Niall … so that's a pretty good first day's work for Rory McIlroy, huh? For the first time in the majors in quite a while, he hasn't left himself facing an uphill climb from the get-go. His last two rounds in major championship golf are now 64 and 65. (That final round at Augusta was a blast, wasn't it.)
Time to hand back to Scott, who will guide you through the rest of the day's play. Here is the current leaderboard:
-5: McIlroy (F)
-4: Hoge (16), Zalatoris (F)
-3: Kuchar (F), Ancer (17)
-2: Schauffele (F), Kirk (F), Pereira (F), C Smith (F), Mueller (2*)
McIlroy regains the lead! A big moment for Rory, with a birdie chance to end the round – and he takes it, completing an excellent round of 65. He moves clear at the top of the leaderboard again, while Jordan Spieth ends on two-over, and Tiger Woods finishes four over par after a final bogey.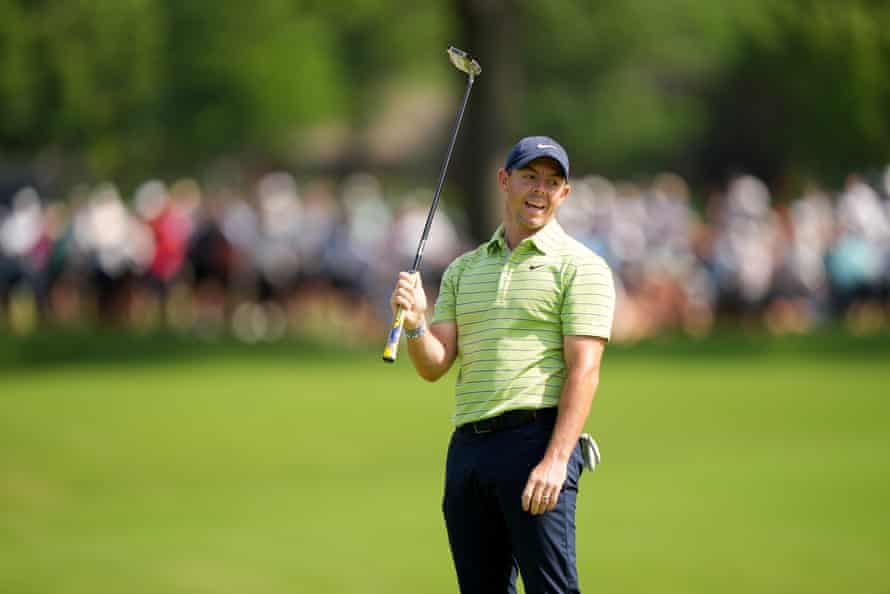 McIlroy loses outright lead! Another dropped shot at the eighth puts Rory McIlroy level with Hoge – and Zalatoris ends his round with another birdie, posting a 66 to take the clubhouse lead, and a share of the in-play lead. Matt Kuchar signs for a 67, one shot back.
Tom Hoge picks up a birdie at the 15th, and he's now just one behind Rory McIlroy. Here's how the leaderboard stands:
-5: McIlroy (16*)
-4: Hoge (15)
-3: Kuchar (17), Zalatoris (17*)
-2: Schauffele (F), Kirk (F), Pereira (18), C Smith (17*), Ancer (16), Riley (14*)
*Started round on 10th hole

McIlroy has to settle for a par at the seventh, and has just two more holes to try and extend his two-shot lead. Alongside him, Tiger Woods stays two-over for the day but rescues an excellent par after making a mess of his tee shot. Meanwhile, Xander Schauffele and Chris Kirk have both signed for 68s, and share the clubhouse lead at two under – although probably not for long.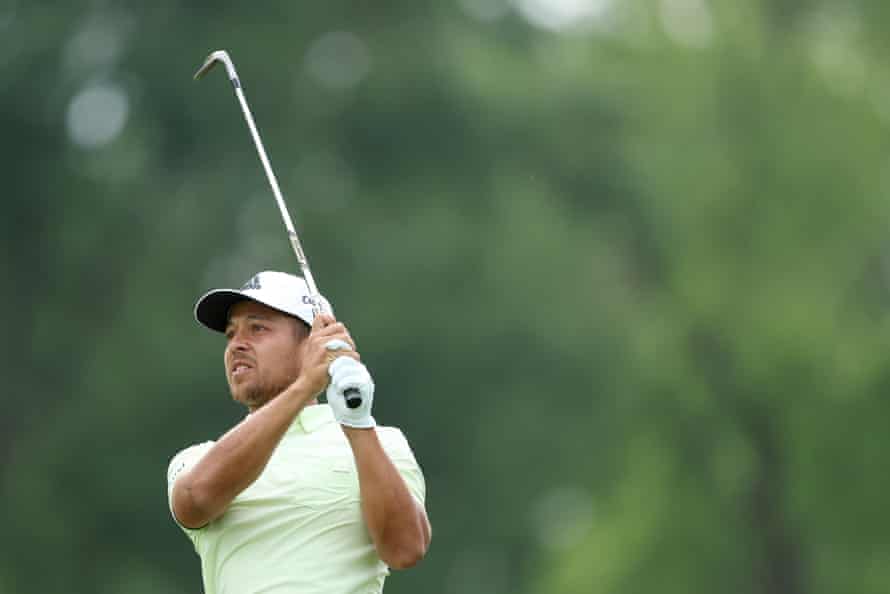 Thanks Scott, and hello everyone. First up, I have to report that Rory McIlroy has dropped a shot at the sixth, giving himself just too much to do with his par putt. Elsewhere, Matt 'Kooch' Kuchar has picked up back-to-back birdies, joining a growing group at three under, two behind McIlroy.
And that group now includes Will Zalatoris, who has bounced back from a bogey at the sixth with a birdie at the next. Rory could do with following his lead …
A stroke of bad luck for Dean Burmester on 17. A 15-foot par putt stays stubbornly on the lip. Half a dimple to the left, and it's surely dropping. In fact, how is it not dropping anyway? It's a real gravity-defying conundrum. The South African stands over it, casting his shadow in the hope of wilting the grass and the ball dropping in … but really pushes the limits of the ten seconds he's allowed to wait. He eventually taps in for bogey, slipping back to -2, but we might – stress might – not have heard the last of that. A three-putt bogey on 6 for Will Zalatoris, meanwhile, and suddenly the top of the leaderboard is once again thinning out.
-6: McIlroy (14*)
-3: Hoge (13)
… and with that, I'm taking a break. Niall McVeigh will guide you through the next hour! See you again soon, and godspeed Rory.
Rory McIlroy keeps on keepin' on! His second at the par-five 5th dribbles into a bunker guarding the front of the green. But he gets up and down, splashing out to ten feet, then walking in the putt. Yet another birdie, and with the wind expected to give the afternoon starters no little hassle, right now he's in very good shape indeed.
-6: McIlroy (14*)
-3: Burmester (16), Zalatoris (14*), Hoge (12)
Matt Kuchar has never won a major. The closest he's come so far was the 2017 Open at Birkdale, when Jordan Spieth screeched away from him with that birdie-eagle-birdie-birdie blitz down the closing stretch. At 43, the penny-pinching Floridian still has time on his side, and he's looking good right now: he nearly holes out from 100 yards on 15, tapping in for birdie that brings him up to -2. He's alongside another US veteran in Stewart Cink, the 2009

dream-wrecker
Open champion following up birdie at the par-five 13th by rolling a 20-footer straight into the cup for another.
The Players champion Cameron Smith is suddenly back in this! Having traversed the back nine in 37 shots, one of the pre-tournament favourites found himself well off the pace at +2. But he's just strung together a run of four birdies in five holes – at 1, 2, 3 and now 5 – and that's one hell of a turnaround by the highly entertaining Aussie. He's -2.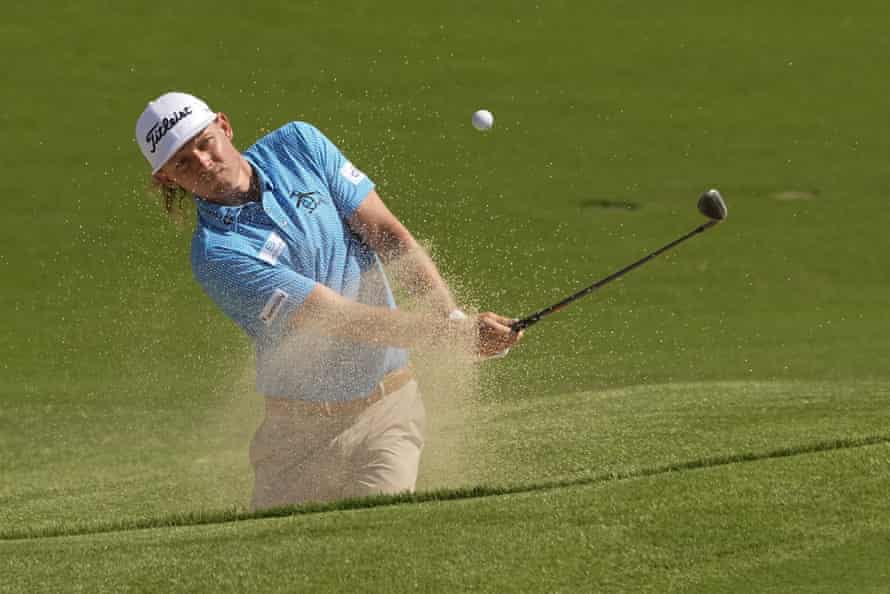 Xander Schauffele is the new Rickie Fowler, in so much as he's from southern California and surely, surely has to win a major at some point. But it never happened for Rickie during his imperial phase, despite several close misses, and Schauffele will be acutely aware that the same fate could befall him if he doesn't get a wriggle on. To this end, he's going along nicely today; having played the back nine in 34 strokes, he's parred the next five holes, and now makes birdie at the par-three 6th, sending a fine tee shot to seven feet. He's -2.
Another bogey for Tiger … the result of another mishit bunker shot. This one flies over the green at 4, and he's +2 again. He's limping badly, and should he go on to miss the cut tomorrow, he might not be as upset as he normally would. The great man looks in pain. Meanwhile a huge chance for McIlroy to extend his lead further, but his straight-ish ten footer slips away to the left. He remains at -5.
Rory stripes one down 4. He's got the ball on a string from the tee. And pretty much everywhere else right now. Would he take parring his way home from here? He looks in total control of his game at the minute, so maybe not … but then again the wind is picking up a little bit. It's due to get even gustier in the afternoon, too, and more problematic wind is forecast for Friday morning, so today's early starters very much have the better of the draw. Should McIlroy continue as he's doing, plenty of big names will have a job on this afternoon and early tomorrow.
McIlroy maintains his momentum on 3. His approach topples back off the false front, and his first putt up from the fringe is a no-good bobbler. He's left it six feet short … but he's currently in a good place with his putting in general, and salvages the situation by rolling the par saver into the centre of the cup. He remains at -5. A much-needed birdie for his partner Tiger, meanwhile, the reward for a fine approach knocked to four feet. He's back to +2.
Will Zalatoris gets pelters for his bang-average putting, though most of the real bother comes with the tiddlers. He's far less jittery further out, and on 3 he rifles in a ten footer for a birdie that brings him back to -3. Meanwhile bogey at 14 for the 1991 champ John Daly; he's now -1 through 15.
Davis Riley sends his second into 18 well to the right of the green. He can't get up and down and slips back to -2. Meanwhile behind him, on 17, the diminutive lefty Brian Harman lands his wedge from 75 yards a few feet past the hole, spinning it back into the cup for eagle. Suddenly a poor day – he started with four straight bogeys – looks a little brighter. He's +2. And there's another birdie for Tom Hoge, at 10; he's -3.
-5: McIlroy (11*)
-3: Burmester (14), Hoge (10)
-2: Kirk (14), Zalatoris (11*), Ancer (11), Riley (9*), Molinari (8*)
US PGA Championship 2022: McIlroy sets pace in opening round – live! | US PGA Source link US PGA Championship 2022: McIlroy sets pace in opening round – live! | US PGA