Sports
US Open golf 2022: Rory McIlroy makes strong start in first round – live! | US Open
Matt Fitzpatrick came so close at the PGA last month, and the experience seems to have given him the taste for more major action. He rifles his second at 9 straight at the flag. The ball rolls six feet past, and he knocks in the birdie putt coming back. He joins the leaders!
-3: Tarren (F), Lingmerth (F), McIlroy (F), Dahmen (F), Fitzpatrick (9)
-2: Buckley (F), NeSmith (F), Harman (F), Wise (F), Power (9), Simpson (9), Graser -a- (9*), Hadwin (7)
Adam Hadwin becomes the latest of the afternoon starters to join the group at -2. Having bogeyed 3, he's birdied 4, 5 and now 7. Not quite up there with the six consecutive birdies he made at Erin Hills in 2017, but not half bad either. Meanwhile on 17, Justin Rose rakes in a 50-footer that bears a similarity to Justin Leonard's famous/infamous putt on Ryder Cup Sunday in 1999. Rose almost splits his sides laughing, and performs a satirical dancing-across-Olazabal's-line jig to celebrate. A lovely scene, and one the crowd very much enjoys too. The 2013 champ is -1.
The 2012 champion Webb Simpson chips in from the fringe at the back of the par-five 8th! An eagle that breaks a sequence of pars and catapults him up into the crowd one shot off the lead at -2. The 36-year-old from North Carolina has, aside from his win ten years ago, a decent recent record at the US Open, with two top-ten finishes in the last four years. Another high finish? Another win? Anyway, he's going round with Matt Fitzpatrick, who adds birdie to the one he picked up at 5. He's on the shoulder of the leading pack too.
-3: Tarren (F), Lingmerth (F), McIlroy (F), Dahmen (F)
-2: Buckley (F), NeSmith (F), Harman (F), Wise (F), Power (8), Simpson (8), Fitzpatrick (8), Graser -a- (7*)
Par for Justin Thomas on 9, and the PGA champion turns in 34. He's -1. He then gets a huge break on 10, his tee shot whistling into the rockery down the right of the fairway but taking a huge ricochet straight left and back onto the semi rough. His partner Tony Finau, at level par, isn't so fortunate, sending a big hook into the rocks down the left. That one isn't coming out, and he could be in all sorts of blocked-out bother over there.
Some players peak later than others, and 35-year-old Séamus Power is taking to the majors like a duck to water. Having tied for 27th on his major-championship debut at this year's Masters, he finished in the top ten at last month's PGA, and now he's bothering the leaders at the toughest one of them all, the US Open. He's only a couple of revolutions away from eagle at 8; instead, he taps in for his third birdie in four holes, and joins Austin Greaser as the hottest property out there on the, er, property right now.
-3: Tarren (F), Lingmerth (F), McIlroy (F), Dahmen (F)
-2: Buckley (F), NeSmith (F), Harman (F), Wise (F), Power (8), Greaser -a- (7*)
This is turning into a nightmare for Phil Mickelson. Having bogeyed 1, 3 and 5, he tries to turn things around on the par-three 6th, knocking his tee shot to ten feet. He races the birdie putt four feet past, then pulls a frankly abysmal par effort wide right. That missed by a country mile! The one coming back horseshoes out, and it's a double bogey that clatters him down the standings to +5. There'll be no career slam for Lefty this week. There'll be no career slam for him at all, if we're being honest with ourselves. He wears the look of a man with the weight of the world on his shoulders. Has he brought it on himself? Well, maybe, but it'd take a heart of stone to derive any pleasure from seeing one of the game's true entertainers suffer an existential crisis like this.
The PGA champion Justin Thomas makes his first move into red figures. Birdie at the par-five 8th, having previously cancelled out his bogey at 4 with birdie at 6, and he joins that big group at -1.
There's not a lot of upward momentum right now. A bit of wind and slightly firmer greens have seen to that. The only player in the afternoon wave better than one under par is the amateur Austin Greaser. The 21-year old from Ohio is making his US Open debut, having finished runner-up to James Piot in the US Amateur last year. Early birdies at 11 and 12 have done the trick, and he's two under for his round through his first five holes.
-3: Tarren (F), Lingmerth (F), McIlroy (F), Dahmen (F)
-2: Buckley (F), NeSmith (F), Harman (F), Wise (F), Greaser -a- (5*)
-1: Rodgers (F), Morikawa (F), Piot (F), Rahm (F), Scott (F), Homa (F), Zalatoris (F), Hossler (F), Daffue (9*), Power (7), Lee (7), Fitzpatrick (6), Woodland (5*), Rose (5*), Izumida (3*)
The 2020 champion Bryson DeChambeau has a face on, after yipping a tiddler at 14. The bogey immediately hands back the shot he picked up at 13 to the field. He's back where he started at level par. MJ Daffue's fast start of three birdies in the first five holes seems an awfully long time ago, too. Bogeys at 15, 16 and 18. Throw in a birdie at 17, and he's out in 34, which on the whole is more than acceptable, but it's all about context and the 33-year-old South African debutant won't be feeling too chipper at the minute.
Thanks John. So, the travails of Cam Smith and Andrew Novak, then. Smith, having almost whiffed a chip out from the bushes to the right of 15, is staring a double bogey in the face. But he rattles in a 15-footer to limit the damage. He's +1 and despite it all, life won't seem so bad. Not so for poor Novak, who ends up with a triple-bogey seven on 10. Not a good way to start the most difficult stretch of holes on the course. Having enjoyed a share of the lead, he's back in the pack at level par.
Thomas, having birdied the sixth, his putting game looking in good nick, then makes a mess of his drive on the seventh. That's well wide, way out to his right. Shane Lowry, on the fifth, hits his drive but the ball seems to be caught in the headlands above the green. Mickelson follows him to the tee, there's a call of "fore", as it swings from left to right. Phil hacks it out, and somehow lands on the green, though some way off the hole
Oosthuizen, watching that Phil drive, wisely chooses to shoot left. Novak's hit some problems on the tenth, and Koepka, on the sixth, ends up drawing his shot into the stands, and off the knee of a spectator. Ouch, on both counts. Novak is forced to chop out on the tenth and only does so in going from the rough to the even less smooth. He then has to hack out, and tries his best to stay on the green, but ends up on the far lip. Cameron Smith, mullet resplendent, is also having problems. It's looking pretty tricky out there.
And who better to guide you through the tricky stuff than Scott Murray? He's back. Enjoy.
Dustin Johnson gets caught in the wind by blamming his drive on the fourth into what looks like verboten territory. You're not in Hemel Hempstead anymore. Andrew Novak has a joint-lead, having birdied the ninth. That's four on -3: Novak, Dahmen, McIlroy, Lingmerth and Tarren. Na was on -3 a moment ago but a double bogey on the 15th means he is back on -1.
Brooks Koepka has made a slow start, dropping two shots and on the fifth, while Bryson DeChambeau is also out there, even par after three holes. Hovland, on the sixth, clanks his tee shot into some deep rough. Here comes Phil, on the fourth, needing birdie after his slow start, and then rimming his long putt around and then back out. He has to settle for par. Rose plugs one in at 13, and is at evens. Na's run is in trouble, he's on 15, and has played four without even being on the green.
Justin Thomas, on the 5th, in a bunker, and after his wedge shot, he's back in the bunker, just one the other side of the pin. A bogey becomes likelier. On the same hole, Tony Finau's short wedge from uphill spins past the hole, and he makes par rather than birdie. Thomas digs himself out of the sand but still has work to do from five feet; he holes out to roars. Good save. Kevin Na, after the 15th, on -3, is making the likeliest charge, and with a breeze out there, there may not be many more. Maybe those LIV lads have got it right by starting simultaneously over the 18. Though perhaps not, too.
Hello, all. I shall attempt to guide you through the next passage of play. Not many low scores out there in Massachusetts, are there?
… and with that, I'll hand you over to John Brewin. Back in a bit!
MJ Daffue slips out of the lead after bogey at 15. After playing the tricky stretch between 10 and 14 almost to perfection, as well. That's the pure distilled tincture of golf, right there. His place on the leaderboard is taken by Kevin Na, who drains a 20-footer at 14 for his third birdie in five holes.
-3: Tarren (F), Lingmerth (F), McIlroy (F), Dahmen (F), Na (5*)
-2: Buckley (F), NeSmith (F), Harman (F), Wise (F), Daffue (6*), Greaser -a- (3*)
None of the LIV guys seem to be getting any pelters from the crowd. Kevin Na's early efforts have been well received, while Dustin Johnson has just raked in a long bounceback birdie putt on 3 to great acclaim. Phil Mickelson's delicate little lob from thick rough while shortsided at 2, scrambling par, got the gallery going as well. Nice to hear everyone getting along.
An eventful start for the 2013 champion Justin Rose. Bogey at 10, then nearly an ace at the dinky par-three 11th. He tidies up for a bounceback birdie to return to level par. Rose won his US Open at Merion, another singular, old-school track squeezed into a relatively small area. Will that ring a few welcome bells? He looks in a fairly good mood, so perhaps.
MJ Daffue becomes the latest unheralded name to join the leaders. He birdies 14, completing the hardest section of the entire course in three under par. Kevin Na meanwhile follows birdie at 10 with another at 13. He was inches away from birdie at 11, as well. Not bad for a man who has missed the last three cuts at the US Open.
-3: Tarren (F), Lingmerth (F), McIlroy (F), Dahmen (F), Daffue (5*)
-2: Buckley (F), NeSmith (F), Harman (F), Wise (F), Na (4*)
Joel Dahmen pars the last, and the 34-year-old from Washington posts a fine opening round of 67. He's never survived the cut at a US Open, but is looking good to snap that run this week. Meanwhile opening bogey for Phil Mickelson, and a vague air of despondency descends on the birthday boy, 52 years young today.
Birdie for Joel Dahmen at the par-five 8th. It's no more than he deserves after a clever chip that initially looks seriously overhit, but in fact has been deliberately knocked past the hole to utilise the camber at the back of the green, the ball gathering back to kick-in distance. He joins the leaders at -3.
-3: Tarren (F), Lingmerth (F), McIlroy (F), Dahmen (17*)
The starter announces Phil Mickelson. Plenty of anticipation regarding the reception he's going to get … will he be the lightening rod for LIV-based flak? – but the six-time runner-up gets a warm, respectful ovation. He blows his cheeks out, then cracks one down the middle. Everyone friends again.
A lull as the first wave make their way home, and the afternoon starters make their way out. Will the peace will be maintained when the LIV Tour's Phil Mickelson takes to the 1st tee? We're about to find out.
Wise gets his drop, but can only lob into the centre of the 9th. His attempt to salvage par with a 40-foot rake never looks like dropping, and like McIlroy before him, finishes with a bogey. But that's still a fine 68.
Brian Harman pars 9 and ends his day with a 68. Coming behind, Aaron Wise sends his approach into the tall fescue to the right of the green. Even more trouble than Rory was in a while back. He'll get a drop, as his backswing will be hindered by the stand, but he'll still be shortsided and coming over a bunker. Big mistake, and a chance to take the lead on his own has suddenly become a fight to keep hold of a share.
Four players now share the lead … because on the par-five 8th, Aaron Wise steers in a 15-foot eagle putt with plenty of right-to-left swing! That's a fine way to bounce back after the disappointing short miss at the previous hole. Meanwhile the second wave are taking to the course, and the first of them to trouble the upper echelons of the leaderboard is the 33-year-old South African debutant MJ Daffue, who has opened with birdies at 10 and 11.
-3: Tarren (F), Lingmerth (F), McIlroy (F), Wise (17*)
-2: Buckley (F), NeSmith (F), Harman (17*), Dahmen (16*), Daffue (2*)
McIlroy doesn't have much of a lie, and can only whip his ball 12 feet past the flag. He can't make the one coming back. In fact, he races it three feet past, and that's now a tester for bogey. Before he can take it, Hideki Mastsuyama rolls in a ten-foot birdie putt to return a level-par 70. McIlroy then holes his putt, finishing disappointingly with his first bogey of the day. When the sting dies down, he'll be pretty darn pleased with his 67.
McIlroy tosses his club away in disgust after losing his approach into 9 to the right. His ball disappears in the thick greenside rough, and he doesn't have a lot of green to work with. He'll be doing very well to get up and down for his par. His card is blemish free at the minute. Big scramble coming up.
Brian Harman is a couple of dimples away from rolling in an eagle putt on 8. He yelps in irritation, but taps in and walks off the green with a spring in his step anyway. He joins the group at -2 … as does Joel Dahmen, after back-to-back birdies at 5 and 6.
The PGA runner-up Will Zalatoris started cold, with two bogeys in the first four holes. But he's turned things around marvellously. Birdies at 13, 14 and now 17, and another high finish at a major no longer seems as fanciful as it did a couple of hours ago. He's -1. Meanwhile the leader Rory McIlroy sends a stinger down the middle of 9, and will already be dreaming of a third consecutive birdie that would send a shiver all the way down the leaderboard.
Rory McIlroy moves into the lead on his own! He rolls in his putt on 8 for back-to-back birdies. Meanwhile it's three birdies in four holes for his playing partner and friend Xander Schauffele, who gets up and down from a greenside bunker to move into red figures at -1. A reminder that the Californian has never finished lower than seventh at a US Open! Meanwhile Aaron Wise had been going along well, after birdies at 2 and 5. But he pushes a short par putt at 7 and slips back to -1.
-4: McIlroy (17*)
-3: Tarren (F), Lingmerth (F)
-2: Buckley (F), NeSmith (F)
David Lingmerth is in with a 67. The 34-year-old Swede shares the clubhouse lead with Callum Tarren. Rory McIlroy is the other player currently at -3, though he's still out on the course … and has set himself up with a birdie chance at the par-five 8th, wedging his third to ten feet, and he'll be putting uphill.
-3: Tarren (F), Lingmerth (F), McIlroy (16*)
-2: Buckley (F), NeSmith (F), Wise (15*)
Jordan Spieth finishes a frustrating day with a two-over 72. That's not half bad given his start – he was three over after 4 – but bogey at the last will sour his mood a little. Meanwhile 69s for his playing partners today, Adam Scott and Max Homa.
Not such a happy end to the round for Rahm's playing partner Collin Morikawa. He chunks his approach into a bunker guarding the front of 18, though he does pretty well to limit the damage to bogey with a crisp clip out of the sand to three feet. He's also back with a 69. The reigning US Open and Open champions are both -1.
David Lingmerth misses a five-footer for birdie on the par-five 8th, which is playing as the easiest hole on the course today. He looks disgusted with the misread. No wonder: that would have given him sole ownership of the lead. He remains at -3. Meanwhile on 18, another big break for Jon Rahm. A beneficial drop allows him to find the fringe of the green, from where he steers in a 30-foot right-to-left swinger for an outrageous birdie! He could so easily have finished his round with consecutive double bogeys; instead, he's played them in one under par … and that's where he finishes today. He signs for a 69, and fist pumps with a smile. His lunch will taste mighty fine after that!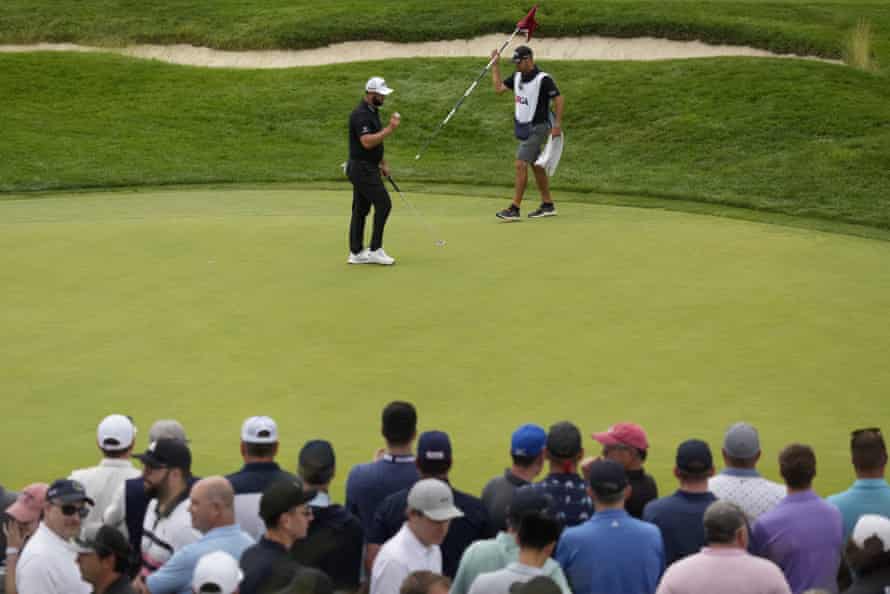 Rahm learns nothing from his escape on 17, sending another hook into deep trouble down the last. The ball disappears behind a concession stand. He'll get a drop but it's still not likely to be very nice. Better news for Rory, though! His wedge into 7 from 100 yards isn't all that, but he strokes in a left-to-right slider from 20 feet to grab himself a share of the lead! That momentum-saving, post-tantrum par on 5 suddenly looks even more important.
-3: Tarren (F), Lingmerth (16*), McIlroy (16*)
Rahm is able to wedge up onto the top shelf of the green at 17. He nearly drains the birdie putt, too, which would have been absolutely outrageous given how wild his drive was. He's slightly disappointed as his ball stubbornly stops one dimple shy of the cup, but he'd have snatched your hand off for this par when his tee shot was sailing into the woods. The defending champ remains at level par.
Back-to-back birdies for Will Zalatoris at 13 and 14, and the PGA runner-up is suddenly back at level par after a slow start. Also at level par, albeit heading in the wrong direction, is the amateur Stewart Hagestad, who doubles 13, the result of a wayward tee shot, then an unambiguous shank.
Buckley was out first this morning, and he's been going round with Callum Tarren. England's surprise package pars the last, and he's home in 67 strokes. Meanwhile a huge break for Jon Rahm on 17. He hooks into the trees down the left, and hangs his head in a mixture of shame and irritation, but he'll be buoyed when he sees where his ball has ended up: still in the thick rough, yes, but that's a lot better than in the jungle. A lucky ricochet for the reigning champ.
-3: Tarren (F), Lingmerth (16*)
-2: Buckley (F), NeSmith (F), Morikawa (16), McIlroy (15*), Niemann (13), Wise (14*)
Hayden Buckley has only played the US Open once before. Last year, in fact, when he missed the cut at Torrey Pines. He's after doing something a little better this time round. Birdies at 5 and 8, then a fine up and down from the front of the green at 9 to save his par, and the resident of Tupelo, the birthplace of Elvis, is signing for a fine 68. A comeback special.
Callum Tarren hits the lead! He crashes his second at the par-five 8th to three feet, and calmly secures his eagle. The unheralded 31-year-old from Darlo has just picked up four shots in the last four holes! He shares the lead with David Lingmerth, but not with Stewart Hagestad, who follows up his birdie at 11 by handing the shot straight back at 12.
-3: Tarren (17*), Lingmerth (15*)
-2: Buckley (17*), NeSmith (17), Morikawa (16), McIlroy (14*), Niemann (13), Hagestad -a- (12)
Hats off to McIlroy. He calms down quickly, and splashes out to ten feet, before rolling in the par saver. Having salvaged the situation and maintained his momentum, he has the good grace to walk off the green looking somewhat sheepish. He remains at -2.
The red mist descends on Brookline! McIlroy, on the drivable par-four 5th, sends his tee shot into the thick oomska down the right. His ball nestles in thick rough just to the right of a deep bunker, in which McIlroy has to stand and attack his second with an almost horizontal club. He can only squirt his ball into another bunker, a few yards ahead, at which point he dramatically batters the sand with a murderous downward axe swipe – then once more with feeling! We've all been there. Meanwhile up on 15, Rahm's poor approach leads to bogey, and a loud, booming, theatrical delivery of the eff-word. He's level par. Nobody likes to see or hear any of this, except we sort of do. All hail the comedic qualities of the dignity-stripping tantrum!


US Open golf 2022: Rory McIlroy makes strong start in first round – live! | US Open Source link US Open golf 2022: Rory McIlroy makes strong start in first round – live! | US Open