Texas
Ukraine: Azovstal steel plant bombed, Blinken and Austin visited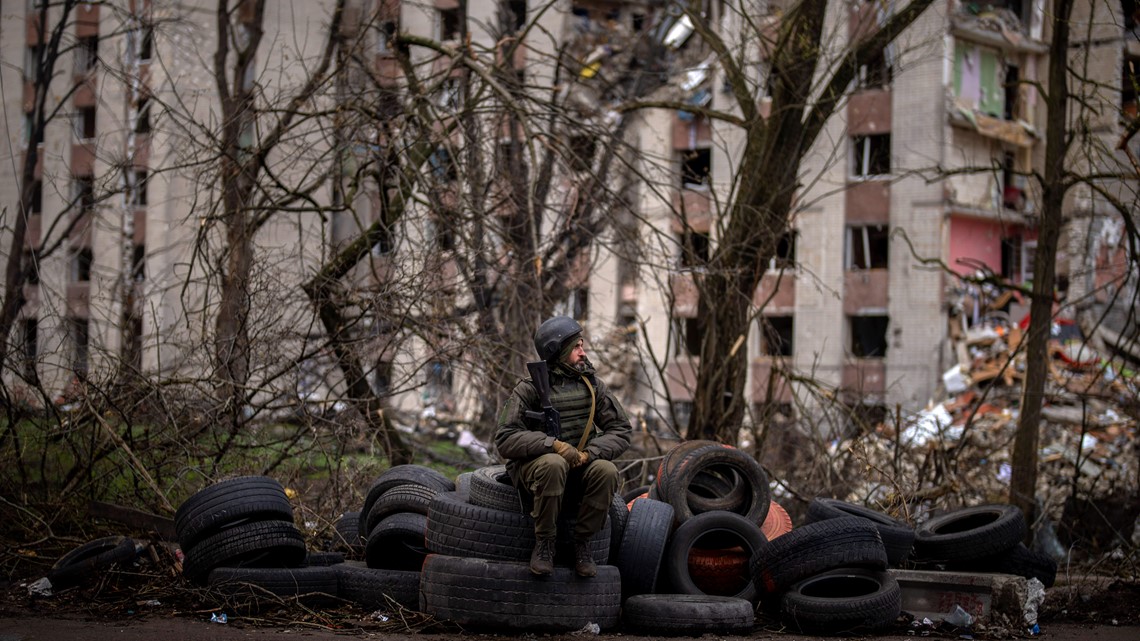 Zelensky gave some details about the material and technical basis of his planned talks with US Secretary of State Anthony Blinken and US Secretary of Defense Lloyd Austin.
KYIV, Ukraine – Russian forces have launched air strikes on a besieged steel plant in the city of Mariupol, Ukrainian officials said on Sunday, and President Vladimir Zelensky will meet in Kiev. with two high-ranking American officials.
Zelensky gave some details about the material and technical basis of the planned talks with US Secretary of State Anthony Blinken and US Secretary of Defense Lloyd Austin on the 60th day of Russia's aggression against Ukraine. But he told reporters he expected Americans to bring "not just gifts or some kind of cake, but concrete items and special weapons."
The visit will be the first visit by a high-ranking US official to the Ukrainian capital since the occupation began on February 24. Blinken, who visited Poland in March, briefly traveled to Ukraine to meet with the country's foreign minister. Zelensky's last one-on-one meeting with the US leader took place on February 19 in Munich with Vice President Kamala Harris.
The meeting was to take place at a time when Ukrainians and Russians were celebrating the Orthodox Easter holiday, and Zelensky stressed the allegorical significance of the two-month war for a broken nation.
"Today, the great holiday gives us great hope and unshakable confidence that light will overcome darkness, good will overcome evil, life will overcome death, and therefore Ukraine will definitely win!" he said Sunday while speaking of the ancient St. Sophia Cathedral.
Russia has been trying to take Mariupol for about two months, and the city on the Sea of ​​Azov has seen the worst deprivations of the war. Its capture will deprive Ukraine of a vital port, free Russian troops from fighting elsewhere, and create a land corridor to the Crimean peninsula, which Moscow seized in 2014.
About 2,000 servicemen are fighting to keep the Azovstal steel plant, Ukraine's last remaining outpost in the city, where civilians have taken refuge in a labyrinthine tunnel system.
A spokesman for the General Staff of the Ukrainian Armed Forces, Oleksandr Stupun, said on Sunday that Russian forces continued to strike the plant with air strikes, including long-range aircraft.
Mariupol was under blockade for most of the war. Ukrainian officials say they expect thousands of dead civilians and evidence of war crimes to be found there after the fighting ends. Satellite images show mass graves being dug in cities west and east of Mariupol.
Russia has also continued its attacks in the eastern Donbas region, where Moscow-backed separatists controlled parts of the region before the war and the Russians are aiming to take full control of Ukraine's eastern industrial center.
Stupun said Russian forces had stepped up operations in Luhansk's Popasna and Siverodonetsk, and in Donetsk's Kurakhiv. Luhansk Oblast Governor Serhiy Haidai said on Sunday that eight people had been killed and two others wounded in a Russian attack on Saturday.
According to regional governor Valentin Reznichenko, the Russians also fired on the Dnieper region west of the Donbas, where at least one person was killed by a Russian missile.
Russia has withdrawn its forces from Kiev and the north of the country to join the Donbas attack, but the British Defense Ministry said on Sunday that Ukrainian forces had repelled numerous attacks over the past week.
"Despite Russia's territorial gains, Ukrainian resistance has been strong on all fronts and has caused significant losses to Russian forces," the ministry said in a statement.
"Russia's weak mood and limited time to rebuild, re-equip and reorganize forces after previous attacks are likely to hamper Russia's combat effectiveness," he said.
Russian forces have bombed cities and towns in southern and eastern Ukraine in attacks on the eve of the Orthodox Easter holiday. A three-month-old baby was among eight people killed in a rocket attack on Russia's Black Sea port of Odessa, officials said. Zelensky said 18 more people were injured.
"The war started when this baby was one month old. Can you imagine what happened? " Zelensky said. "They are just scoundrels," he said. … I have no other word for it, just lowly ones. "
The Ukrainian army said on Saturday that it had destroyed a Russian command post in the southern city of Kherson, which had fallen to Russian forces at the start of the war.
A statement from Ukraine's military intelligence said a command post was hit on Friday, killing two generals and seriously injuring another. The Russian military has not commented on the allegations, which could not be confirmed.
If true, Ukraine says at least nine Russian generals have been killed since the occupation began.
On Saturday, the Azov Regiment of the Ukrainian National Guard, hiding in a steel plant in Mariupol, released a video of about 20 women and children taking refuge there. Its contents could not be verified independently, but if it were true, it would be the first video testimony to what life is like for civilians underground.
The video shows soldiers giving sweets to children who responded with punches. One of the young girls said that she and her relatives "did not see the sky or the sun" after leaving the house on February 27.
The regiment's deputy commander, Svyatoslav Palamar, told the AP that the video was taken on Thursday. The Azov Regiment has its roots in the Azov Battalion, which was formed by far-right activists at the beginning of the separatist conflict in eastern Ukraine in 2014 and has been criticized for some of its tactics.
Of the estimated 430,000 people before the war, more than 100,000 are believed to be left with little food, water or heat in Mariupol. Ukrainian authorities estimate that more than 20,000 civilians have been killed in the city.
Another attempt to evacuate women, children and the elderly from Mariupol on Saturday failed. Mariupol Mayor's Adviser Petro Andryushchenko said Russian forces did not allow Ukrainian buses to take residents to the northwestern city of Zaporozhye, 227 kilometers away.
Fish reported from the Ukrainian city of Sloviansk. Associated Press journalists Mstislav Chernov and Felipe Dana, in Kharkov, Ukraine, Yuras Karmanau in Lviv, Inna Varenitsia in Kviv, and Associated Press staff around the world contributed to the story.
Ukraine: Azovstal steel plant bombed, Blinken and Austin visited
Source link Ukraine: Azovstal steel plant bombed, Blinken and Austin visited