Texas
Three people have been detained in San Antonio after 46 people were found dead in 18-wheelers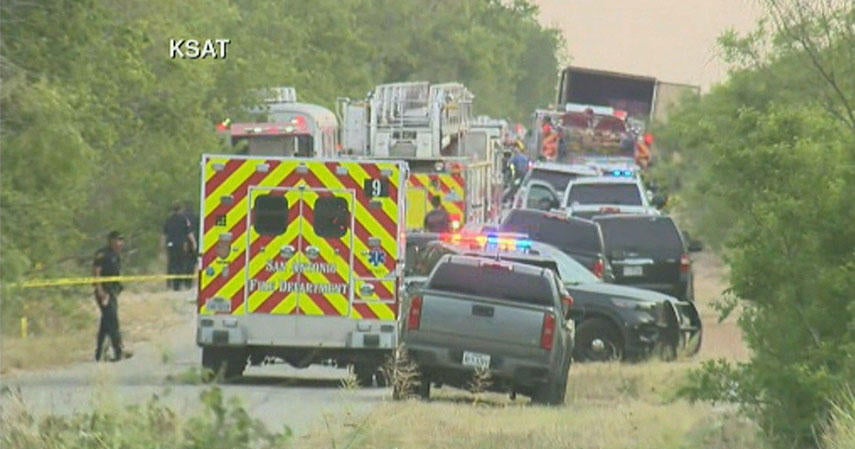 SAN ANTONIO, Texas (CBSDFW.COM) – Three people are in custody after 46 people were found dead inside a tractor trailer on the southwest side of San Antonio.
KSAT reports that San Antonio police, fire engines and ambulances have cordoned off 18-wheelers near the railroad tracks near the 9600 block of Quintana Road. A worker nearby said they heard a cry for help when the trailer was found.
The U.S. Border Patrol reportedly arrived at 8 p.m. Monday. San Antonio Mayor Ron Nirenberg told a news conference that the investigation is now a federal investigation.
According to Charles Hood, chief of the San Antonio Fire Department, all injuries were heat-related and patients were "hot to the touch." Hood told a news conference Monday night that the victims were suffering from heat stroke and fatigue due to high temperatures.
High temperatures in San Antonio reached 100 degrees on Monday. There was no air conditioning or water in the trailer.
Hood said 16 people were taken to hospitals in the San Antonio area – 12 adults and 4 children.
Commenting on Twitter, Governor Greg Abbott said the deaths were the result of President Joe Biden's open border policy.
Beto O'Rourke, a candidate for governor against Abbott, said on Twitter that the incident was "devastating."
This story is evolving.


Three people have been detained in San Antonio after 46 people were found dead in 18-wheelers
Source link Three people have been detained in San Antonio after 46 people were found dead in 18-wheelers