Sports
The Open 2022: second round updates from St Andrews – live! | The Open
Key events:
The battle to be top Cameron – first prize, a Claret Jug (possibly) – is hotting up.
Cameron Young moves to within one of leader Cameron Smith thanks to a birdie at 9. Let's have a leaderboard check.
-11 Smith (10)
-10 Young (9)
-9: Johnson (F)
-8: Hatton (F), Scheffler (F), Cantlay (16)
-7: Gooch (F), Scott (F), Theegala (F)
Cameron Smith rolls in his birdie putt at 10 to hit the dizzy heights of -11 and that's two clear of the field.
Rory McIlroy is now five back after missing his 15 footer for birdie at 4. Loads of time to go but Rory will want to find a spark. Matt is out there now and notes: "Group ahead of Rory not teed off on 5. Rory and group hanging around chatting and eating. Group behind only just teed off on four. Rory and Xander Schauffele sort of having a picnic in the grass."
The cut line: The top 70 and ties make the weekend so, as it stands, those at +1 or worse are going home.
That's bad news for the following, who have all finished their second rounds. The list includes several former Open champions:
+1: Henrik Stenson, Louis Oosthuizen
+2: Ryan Fox, Richard Bland
+3: Padraig Harrington
+5: Stewart Cink
+6: Gary Woodland, Marc Leishman
+9: Tiger Woods
+12: David Duval
+21: Mark Calcavecchia
Rory McIlroy has a wedge from 118 yards for his second at 4 and plops it down about 15 feet away.
Playing Partners Xander Schauffele and Collin Morikawa will also have decent looks at birdie. Morikawa dropped a shot at 2 to fall to +1 while Schauffele drained a lengthy putt at 3 to advance to -4 and inside the top 20.
At the 10th, leader Cameron Smith finds the green but doesn't quite get his lag putt right, leaving seven feet or so for his birdie.
The unique figure of John Daly is causing quite a stir out there right now: and in a good way. He looks to have a very real chance of making the cut.
Now resembling an extra from The Dukes of Hazzard, the 1995 St Andrews hero has a card showing three birdies, three bogeys, three pars and an eagle. His latest birdie which topples in from 15 feet at 10, takes him to -1 and inside the projected cut line.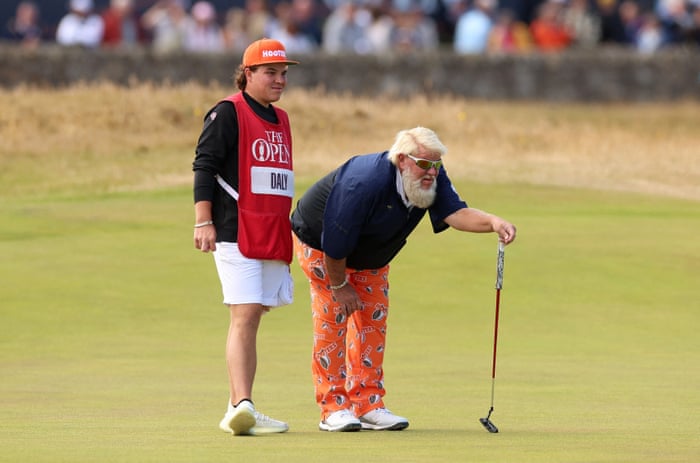 It's a par-par-par start for Rory McIlroy. He sails a lovely approach into the third green which finishes around 15 feet away but shows a hint of frustration as the birdie putt won't drop.
He won't want Cameron Smith to get too far away – Rory is currently four back – although the Aussie won't be making birdie at nine after going right with his approach and not threatening the hole with his long first putt.
Up at 18, Patrick Cantlay tidies up and completes a 5-under 67. Cantlay's record in the majors is curiously poor – two top 10s in 22 events – but he liked the firm conditions at Carnoustie in 2018 (tied 12th) and is relishing them here too. The world No 4 is currently three off the lead.
Tiger speaks to Sky Sports' Tim Barter after finishing his week two days earlier than he'd hoped. Woods doesn't rule out playing in more Opens but says it's a stretch that he'll play another at St Andrews which he believes won't host again until 2030. That's one rumour although others have said earlier. the official dates only extend to 2025.
2023 – Royal Liverpool
2024 – Royal Troon
2025 – Royal Portrush
Thanks Matt. And the first news I bring is that Cameron Smith has become the first player this week to reach double digits under par. The Aussie is ripping it up this afternoon with five birdies in his opening eight holes. He has further good scoring opportunities at 9, 10 and 12 coming up. In other words, he leads by one but has the chance to extend it over the next hour.
The 18th isn't the drive-it-with-your-eyes-closed hole of yesterday and earlier and Jordan Spieth, Jon Rahm and Harold Varner all have to wedge in. Rahm is the only one to emerge with birdie as he curls in a 20 footer to finish at -4, as do Spieth and Varner. Good team effort, although such a notion will never catch on (wink emoji).
Here's the state of play as I hand back to Dave.
-9: Johnson (F), Smith (7), Young (7)
-8: Hatton (F), Scheffler (F), Cantlay (16)
-7: Gooch (F), Scott (F), Theegala (15)
Meanwhile … It made sense to concentrate on the drama at the 18th but there was action elsewhere. Rory McIlroy needed to drain a par putt from nine feet for par at the 1st and did it. Then the two Camerons, Smith and Young, made birdies to join Dustin Johnson at the top of the leaderboard.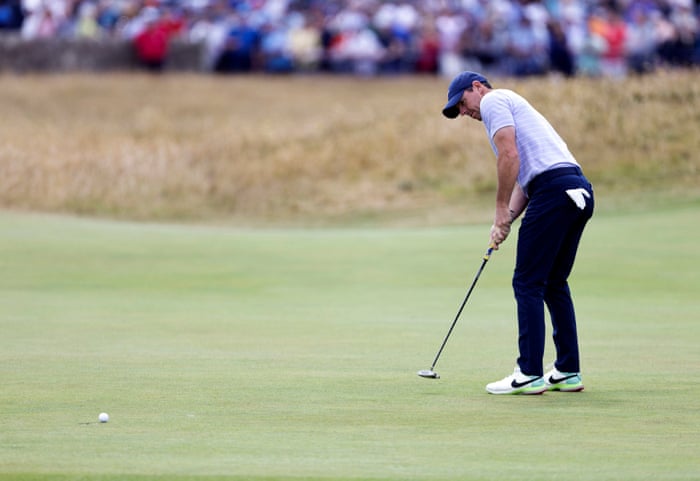 And here was the walk up the 18th for Tiger Woods. Quite a moment.
Tiger Woods finishes at +9 after second-round 75
Not the finish, or the week, Tiger Woods hoped for. He misses his birdie putt and he misses the cut. After a rueful look at the green, he removes his cap, smiles, and waves to the galleries. A two-time Open champion on the Old Course, in 2000 and 2005, he admitted earlier this week that he might not be playing golf next time the championship visits the town.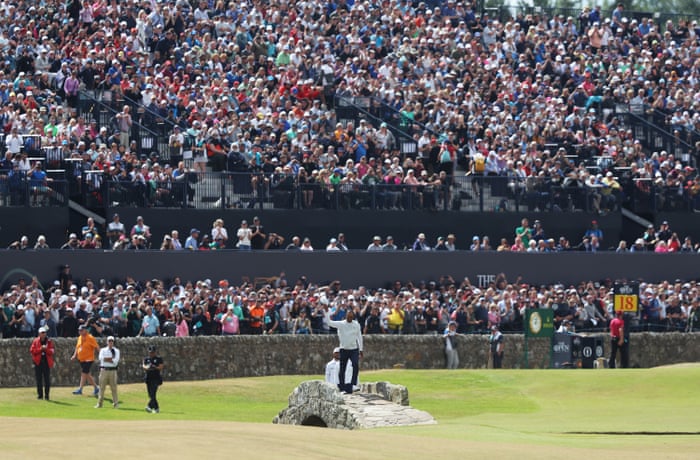 The wave to the crowds on the 18th from Tiger Woods. No stopping on the bridge.
Woods bumps and runs his second shot onto the green and close. He'll have every opportunity to close his 2022 Open with a birdie.
Matt Fitzpatrick and Max Homa hang back to allow Tiger Woods to cross the Swilcan Bridge alone. He removes his cap and waves to the galleries. As he closes on the town the fans stand to applaud him. Woods wipes away tears and the noise rises. The home of golf is acclaiming one of the sport's greatest.
Earlier I asked Bill Elliott, former golf correspondent of The Observer, about the relevance of this moment for Tiger Woods. Is this the end of the road for arguably the greatest golfer ever? He said:
I suspect this is the final time we will see Tiger Woods at St Andrews.

He certainly won't be a celebrity golfer pitching up with no hope of winning.

His entire career has been about winning and it now looks like he'll never win again.

That's going to be a hard, hard thing for him to digest and take on board.

It wouldn't surprise me, if he continues like this, if he retires quite soon.
Tiger Woods waits on the 18th tee. At the other end of the strange rectangle of land, on the 1st tee, Rory McIlroy swishes a club. A remarkable moment. One man almost certainly saying farewell to the home of golf, another trying to end a major drought from a good position, on a favourite course.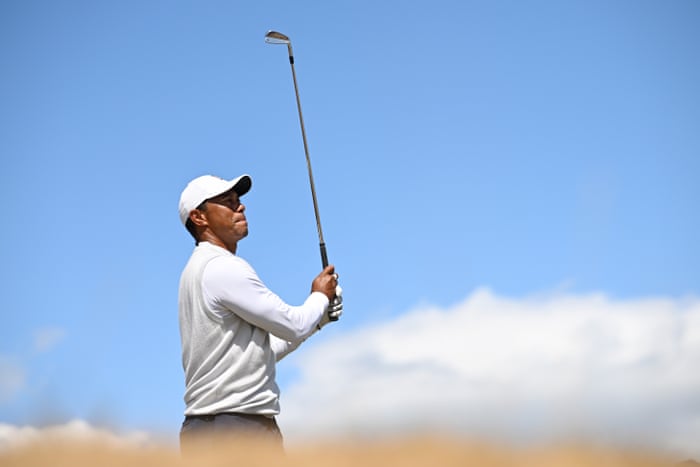 Big cheers for Tiger as he saves par from a tricky distance at the 17th. The cheers are about to get a lot louder on the 18th however. The TV cameras close in on him. He looks a little pensive. He's missing the cut – is he also saying goodbye?
The putter of Cameron Smith has gone cold. He misses a short birdie putt at the 6th, but he's still three under for the day and eight under for the championship. Englishman Matt Fitzpatrrick is transformed from yesterday and his Sheffield blade is very hot. Back-to-back birdies at the 15th and 16th get him to six under for the week.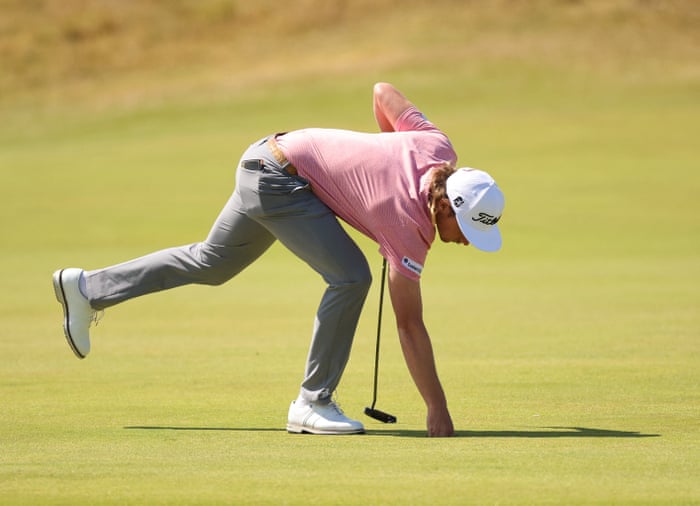 English amateur Barclay Brown has made a solid start to his second round. He's one under through the 10th, five under for the championship and tied 14th. His IMDB entry reveals he played a few cameos in the Ealing comedies (note: it doesn't – as, Dave suggested yesterday, we're both tickled that he sounds like a pal of Terry-Thomas).
It's a great time to be looking for a seat in the grandstands around the 1st and 18th holes. Tiger Woods has just missed the 16th green with a chip shot, he won't be making the weekend and in 20 minutes he'll be heading up the last, possibly for the final time here in at the home of golf. At more or less the same time, Rory McIlroy will be teeing off in his second round from the same plot of land.
Tyrrell Hatton isn't getting carried away. The Englishman has signed for scores of 70-66 to sit second in the clubhouse but he's playing down his chances. He just told the media:
"Although I've won around here in the past, the golf course is very different to how we play in October. So also the pin positions are a lot tighter.

"So we'll see. If I play good golf, then, sure, we'll have a chance. But it's definitely not a time to get ahead of ourselves.

"The greens are pretty mental. They can put the pins in some crazy spots and that slows down scoring in itself. Although you've got shorter shots, it's still really hard to hit it close."
Sahith Theegala is enjoying the short par-fours around the turn. He drained an eagle putt from 50 feet at the 352-yard 9th and gives himself half that distance for another with a sensational blow from the 12th tee, some 351-yards from the green, but can't convert this time. He's three-under for the day and six-under for the championship.
Short game magic from Jordan Spieth at the par-five 14th. He misses the green then fidgets, frets and twitches ahead of his chip. It settles close to the hole and he converts the birdie which atones for the post-Coffin bogey. He's back to five under for the tournament. Spieth is the best body language watch in golf since Monty. A wonderful wriggler.
A dropped shot for the first round leader. Cameron Young adds bogey at the 2nd to his card. He's tied fifth on the leaderboard now on seven under. He's also the only man in the current top 25 over-par for his round.
Jordan Spieth visits the Coffins at the 13th. That's the trio of fairway bunkers to you and me. A good graphic informs us that every previous visitor to them today dropped a shot at the hole. Spieth hacks out, hits a fine approach, has around 20 feet for his par and misses it. Have the Coffins closed the lid on his chances? Not quite. He's four under for the week, but he'll want to find a few birdies before a late lunch.
The leader speaks. Dustin Johnson has been in the media centre after hitting the top of the leaderboard. He dodged a lot of queries about LIV. Of the event he said:
I felt like I've done a good job off the tee, getting into the right positions and putting it in the right position around the greens.

Probably be a few back by the end of the day, I would imagine. Still in a good spot going into the weekend.

I feel like I've got a good game plan and I feel like I'm swinging well.

Just avoid the bunkers as much as possible. I've been in three so far and two of them I had to chip out sideways.
Blistering stuff from Cameron Smith. He's added a second birdie of the day at the 2nd … and then again at the 3rd. Here's how the hat trick started.
Rebels together? After his excellent second round of 69 Talor Gooch was asked about the rancour of this week regarding LIV Golf, the circuit he has signed up to. He said:
"Everybody, it feels like, is against us, and that's okay. It's kind of banded us together, I think."
Garrick clubbing well. South Africa's Garrick Higgo transformed his career with three victories last summer – two in Europe, one in the States – and he's jumped from the blocks on the B of the Bang this afternoon. Birdies at each of the first four holes to be four under for the championship.
Scottie Scheffler joins Tyrrell Hatton in second. His tap-in birdie at the 18th completes a second 68 of the week.
-9: Johnson (F)
-8: Hatton (F), Scheffler (F), Young (-)
-7: Gooch (F), Scott (F), Cantlay (10)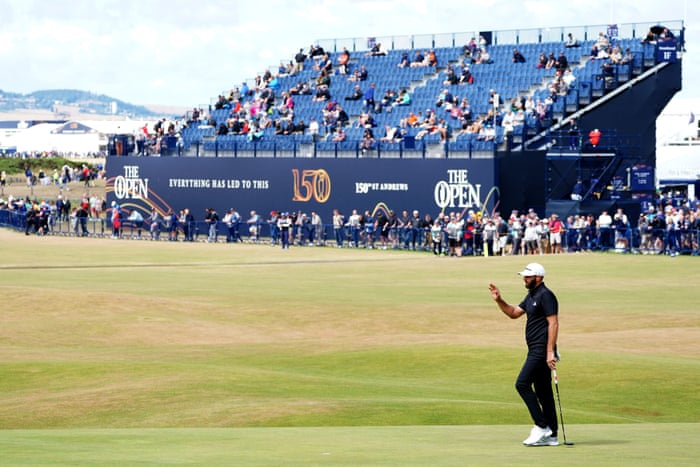 Early statement from Cameron Smith. The Aussie has 50 feet for birdie on the 1st. His aim is true, the roll perfect. He's now six under for the week and the birdies are dropping everywhere. Tyrrell Hatton makes a sixth of the day. A 66 for him and he'll take lunch in second place on the clubhouse leaderboard.
Terrific golf from Sahith Theegala this week. An eagle at the par-four 9th gets him to two under for the round and five under for the tournament. The American has Indian ancestry and the Indian journalists here are excited by his potential. "A bit early to say," says one before adding: "A bit like Seve." The comparison is based on his capacity to find trouble from the tee followed by outrageous escapes thereafter.
Weather update. With quite a few of the leading contenders set to start their second round in the next two hours it seems to make sense to check conditions. The late-early starters have played catch-up this morning but the bad news? The Met Office expects a nice afternoon: sunny, with the wind as it was this morning … and easing as the day goes on.
Thanks Dave. Bit of a buzz about the place during my wander. Might be the golf, might be the talk about Niall Horan's whereabouts. The singer is a massive golf fan and is around this week.
As Johnson bids for that birdie at 18, I'll hand you back to Matt 'live at St Andrews' Cooper for a couple of hours.
"Cut" is the shout from Dustin Johnson as his drive at 18 bounds left of its intended target, the green. But that's fine and he'll be putting from the 'Valley of Sin' for eagle. A birdie the most likely outcome from there and if he makes it, the LIV man will have the outright lead on 9-under.
Americans now flooding the leaderboard and Patrick Cantlay has made a real surge. An outward 5-under 31 has lifted him to -7 overall.
Joint-leader Dustin Johnson found the back of the 17th green with his approach and hits a fine lag putt to kick-in range. A par keeps him at -8.
Good news for Jordan Spieth fans as the three-time major champion rolls in a 15-footer for birdie at 9 to be out in 4-under 32. At -5 overall, Spieth is just three back.
Sergio Garcia's attempt so shoot something daft rather petered out. The Spaniard was 7-under for the day after 14 but finished par-par-bogey-par to end the day at 3-under. That 66 matches his best round in an Open since he set out with a 65 at Carnoustie in 2007.
Adam Scott is also 6-under for the day after 16 (-6 overall) while big-hitting Belgian Thomas Pieters could be another one to watch for low-score fans. He's -5 for the day after 10 holes (-2 overall).
Could we see a hole-in-one at a par 4 this week? There are plenty of opportunities and Jon Rahm goes relatively close at 9 as his ball bounds onto the green, has a little look at the cup and rolls off the back edge.
It would be the first in Open history if someone could manage an albatross on one of the par 4s. Here are some on par 3s. A chance to see Frank Lickliter in action.
Leader Cameron Young had a hole-in-one at last month's US Open by the way.
At last, Cameron Young has company at the top as Dustin Johnson pours in a 20-foot birdie at 16 to hit -8. DJ bogeyed the first hole today but has since sprinkled birdies at 3, 9, 10, 14 and 16.
Scottie Scheffler's bid to join that same club just fails at 15 as his 15 footer wobbles wide of the hole.
"Light the candle" shouts some buffoon in the crowd as Johnson finds the fairway on the tough 17th.
For the viewing public at St Andrews, the mornings on the first two days are more fun than the afternoons. The first group today completed lap two in just under four hours. As the day goes on and players back up on tees and wait for double greens to clear, those 18 holes will be taking six hours and more.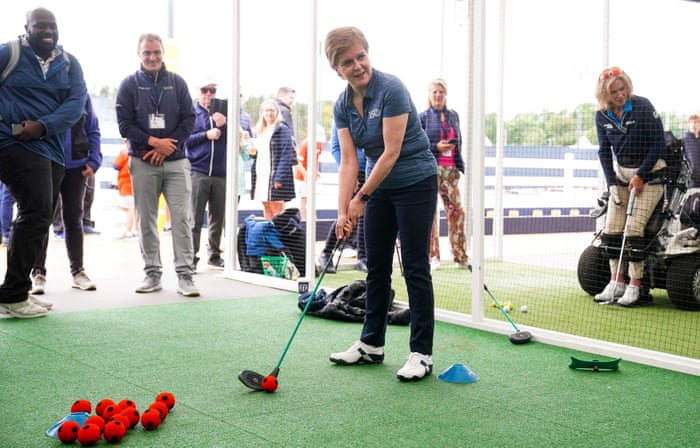 Jordan Spieth is always a thrilling watch at an Open but he struggled to go through the gears in his first-round 71.
But he's making a move today and a mix of three birdies and four pars over his first seven holes have lifted the 2017 Claret Jug winner to tied 12th and only four back.
Up ahead at 14, Hatton seems to have taken note of that last update chronicling the lack of English winners and he taps in for birdie to make it a four-way tie for second place at 7-under.
Poulter has responded too. There was a very odd period in Open history when Poulter's choice of trousers kept the nation guessing. Just what would they be? How maverick would he go? No one gives a shit now. But perhaps we need to keep an eye on his golf as he's just birdied the first to go tied 12th on -4.
It still seems a bit weird that an English golfer hasn't won the Open since Nick Faldo in 1992. Tommy Fleetwood, Justin Rose, Lee Westwood and Ian Poulter have all finished runner-up since Sir Nick triumphed at Muirfield 30 long years ago.
The current leaderboard shows a quartet of Americans (Young, Gooch, Johnson and Scheffler) leading the way, with Tyrrell Hatton the best-placed Englishman at -6, just two back. Hatton has twice won the Alfred Dunhill Links Championship on these very grounds so perhaps this is the week.
Poulter has just teed off by the way. The good news: he didn't flirt with out of bounds left this time. The bad news: he got booed again. Poulter went to LIV if you didn't know.
Talor Gooch drives the green at 18 and two swishes of the blade later his ball has vanished below ground and he's set the clubhouse lead of -7. That prompts a scores on the doors and here it is.
-8: Young (-)
-7: Gooch (F), D Johnson (14), Scheffler (13)
-6: SW Kim (F), Scott (14), Hatton (13), McIlroy (-)
-5: Wise (F), Cantlay (5), Smith (-)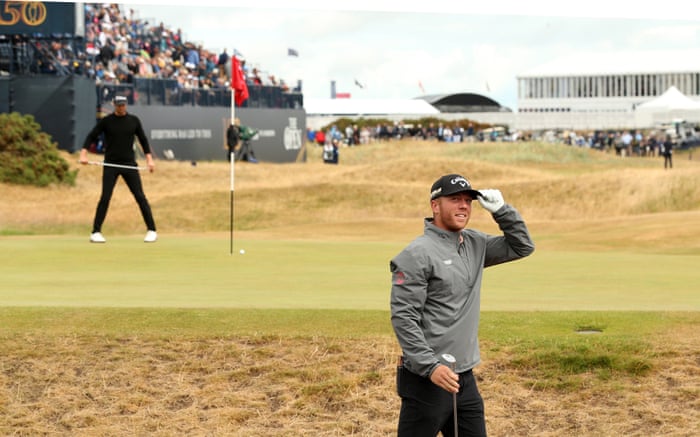 Si Woo Kim almost beats Gooch to that 7-under clubhouse target as his eagle chip from the left of the 18th green smacks into the pin but stays out. On lots of other days that drops. Still, he taps in and those pair of 69s give him a halfway total of 6-under which is good right now for tied third.
Kim caused quite the stir when winning The Players Championship at Sawgrass as a 21-year-old but his best major finish in 22 appearances is tied 12th. His Open record before this week was MC-67-MC while he's missed the cut at each of his last three events, including the Scottish Open. In short, he wouldn't have found his way onto many betting slips at the start of this week.
There's a narrow strip of grass between the path and the road by the 17th green and Talor Gooch finds it. That gives him a better lie than he might have expected and the world No 40 cashes in by nearly holing his delicate chip up the bank. A par at the Road Hole should always bring pleasure and Gooch will now focus on making birdie at 18 and posting a clubhouse lead of 7-under 137.
Scottie Scheffler and Talor Gooch flip positions at the top. Scheffler two-putts the short par-4 12th for his third birdie on the spin. He's now -7 but Gooch drops to -6 after a clumsy bogey at 16.
Another young American, Aaron Wise, has climbed into the top 10 after six birdies against two bogeys in his first 17 holes to land at -4.
The Las Vegas resident, who was born in South Africa before moving to America aged three, has been in good form on the PGA Tour over the last couple of months, finishing second at the prestigious Memorial Tournament and sixth at the Mexico Open.
Tiger famously avoided all 112 bunkers when winning here in 2000 but he's found sand at 6 and has to just play out. He's a tough watch this morning. The quick turnaround from his late finish last night clearly hasn't helped him and, basically, he looks in pain and way off 100%.
A minor consolation is that he's even par for the day after five holes but he probably has to play the final 13 in six under or better to make the cut. Make that seven under or better as he's just dropped a shot at 6 following his visit to sand.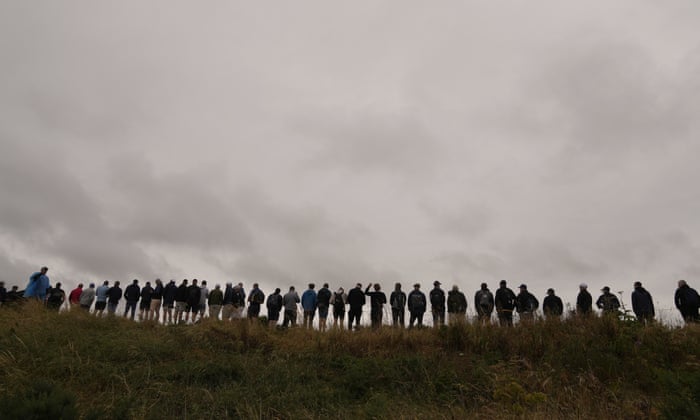 The pin on the par-5 5th hole is more tucked than Tom Daley during his highest degree of difficulty dive in an Olympics. Jon Rahm sensibly ignores going anywhere near the thing, smashing his second to the right edge of the green before hitting a decent lag putt from a mile away.
Rahm definitely had the grumps yesterday but a birdie-birdie start has improved his mood and if he holes his second putt at 5 that'll take the 2021 US Open champion to -2. And he does! Official status: lurking.
Talking of Spaniards, Sergio birdies the other par 5 on the course, the 14th, and he's -7 for his round! Garcia has vaulted 108 spots up the board this morning and, at 4-under overall, he's only four off the pace.
The question now is will Cameron Young still be leading when he tees off at 1.26pm?
The chasing pack is growing and Scheffler drops a 15-foot birdie try into the hole at 11 to expand the bunch at 6-under to five (Kim, Johnson, Scheffler, Hatton and McIlroy). They're two behind the leader, who heads out in exactly two hours' time.
Best score out there right now belongs to Sergio Garcia. The 2017 Masters winner used to be a top 10 staple in this event (10 of them from 2001 to 2016) but he's basically been useless in the majors since finally winning his first at Augusta five years ago.
But look at him go today: four birdies and an eagle in his first 12 holes. A par at 13 keeps him 6-under for the day and -3 overall after a poor opening round (75). Does it spoil it to say he's another who signed up for LIV?
Thanks Matt. There seem to birdies flying in everywhere at the moment. Just in the last few moments, Scottie Scheffler and Adam Scott have picked up shots at 10 and 11 respectively. Time for a leaderboard update.
-8: Young (-)
-7: Gooch (14)
-6: SW Kim (15), D Johnson (11), Hatton (10), McIlroy (-)
-5: Scott (11), Scheffler (10), Dinwiddie (-), Smith (-)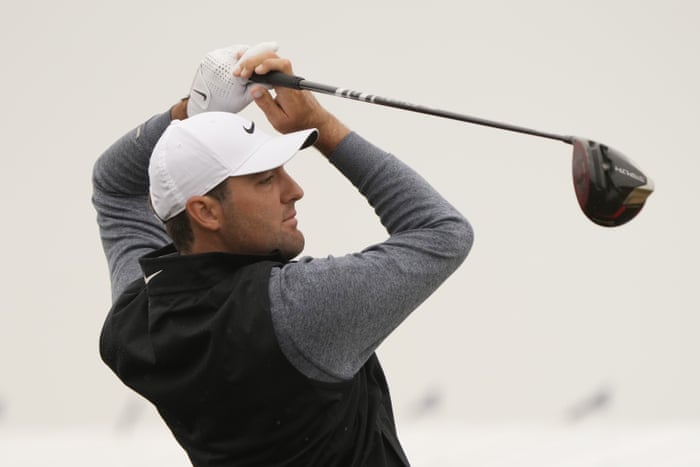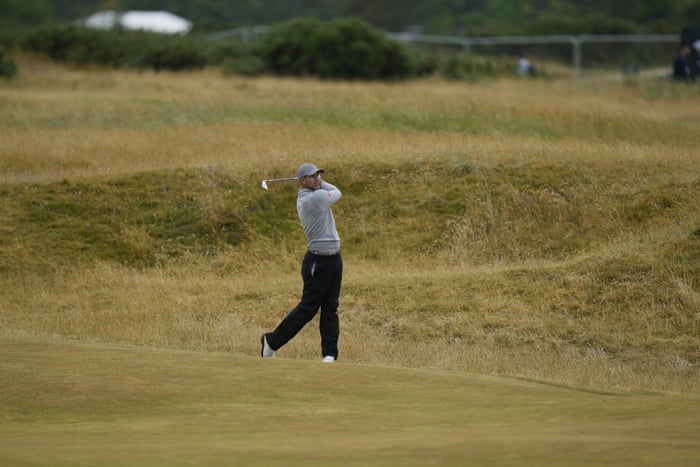 Tyrrell Hatton's hot spell continues. Birdie at the 10th is a fourth par breaker in five holes and vaults him to six under for the week. He's tied third. With that, I'm off for a wander and will leave you in Dave's safe hands.
High polish for Adrian Meronk. The story of first Pole to play in the Open became something of a theme yesterday, but he struggled out on the course. A big difference today, however. He's made 13 pars and three birdies to give himself every opportunity of making the cut. He's level par for the week and tied 60th on the leaderboard. Par-birdie ought to get him into the weekend.
Bogey for Tiger. He misses a short par putt at the 4th and is back to level par for the round. He badly needs a spark. Meanwhile, playing partner Matt Fitzpatrick moves to two under for the day and the week. He was oddly grumpy yesterday and couldn't get anything going. He's looking more focused this morning.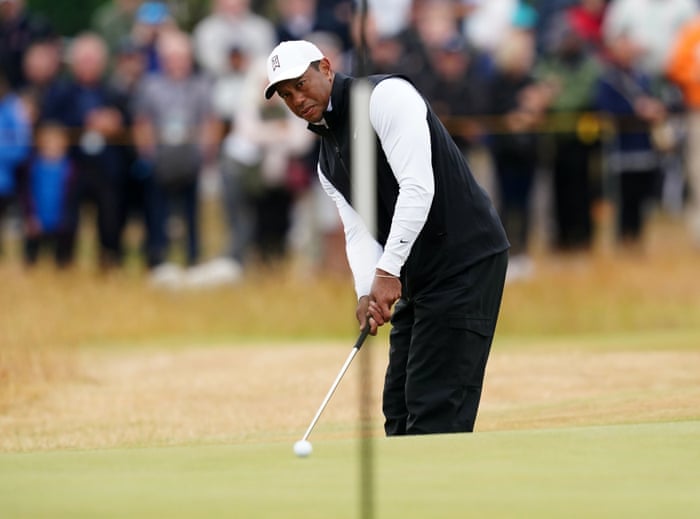 Tyrrell Hatton joins the party. A burst of three birdies in the final four holes of the front nine gets him to five under for the week. He has Old Course pedigree as a two-time Dunhill Links Championship winner – and he's also a two-time top six finisher in the Open.


The Open 2022: second round updates from St Andrews – live! | The Open Source link The Open 2022: second round updates from St Andrews – live! | The Open