Sports
The Open 2022: first round at St Andrews – live! | The Open
Key events:
Interesting clothing choice from Justin Thomas, who hits a fine approach to the 1st before missing his birdie putt. A camouflage hoodie with trousers short enough to flash a bit of ankle.
Thomas won the PGA Championship (for a second time) at Southern Hills in May but he's yet to have a top 10 in an Open; his best was tied 11th at Royal Portrush.
Up ahead, a chapeau doff to hat-wearing Barclay Brown as the amateur holes a five-footer for birdie at 14 to advance to -3. That's just one back from the lead of -4 held by Min Woo Lee, Joo-Hyung Kim and Cameron Young. Kim was third in last week's Scottish Open so is continuing his impressive form.
From Matt Cooper at the course: An extraordinary scene on the main putting green by the range – Kevin Kisner putting with balls strapped under his feet. "Why's he doing that?" someone asked. "To help his balance," someone replied. "How hard is it to stand up?" came the counter.
Rory McIlroy casually pours in a 55-foot putt for birdie at the 1st! What a start for the tournament favourite and 2014 Claret Jug winner! That's a contrast to Xander Schauffele who suffers a three-putt bogey.
Back on the 1st tee, 2019 Open champion Shane Lowry gets his bid underway. Surprisingly, Lowry hasn't won anywhere since that emotional victory at Royal Portrush although he's played some excellent golf this season, finishing third at the Masters and racking up a series of top 10s.
Klaxon! We have a first player to hit -4. It's Aussie Min Woo Lee after an eagle at 14 and that's some burst of scoring after he slipped to +2 following a double bogey at 3. Since that blemish, he's birdied 4, 8, 9, and 12 before needing just three swishes at the par-5 14th. Lee won last year's Scottish Open so he likes links golf.
It's Rory time! After waiting 12 years to hit another shot in an Open at St Andrews, McIlroy finally begins his bid to join the likes of Tiger Woods, Jack Nicklaus and Nick Faldo by winning a Claret Jug at the Old Course. First to hit is defending champion Collin Morikawa, followed by McIlroy and then last week's Scottish Open winner Xander Schauffele. All hit routine irons down the massive opening fairway.
Simon McMahon writes: "I'm sure there would be many popular champions on Sunday, not least among them Rory and Tiger, but also strange to think that there could also be a few, well, less popular ones too. Imagine the faces on Sunday evening, "Firstly, I'd like to thank Greg…". Maybe the R&A will present a three quarters size Claret Jug to all of the leading LIV players after the third round on Saturday, then quietly escort them out of St. Andrews..?"
DeChambeau (-2 after 7), Mickelson (-1 after 9) and Reed (-1 after 8) currently the best placed to act out that chilling scenario for the R&A.
Bryson DeChambeau nearly corkscrews himself into the ground as he tries to drive the par-4 7th. He almost does so, his ball pulling up just short. The eagle putt won't fall but he taps in for a third straight birdie and golf's biggest hitter is now lurking at -2, just one off the lead which is now a five-way tie. Poulter is no longer part of it after a bogey at 11.
-3: Burmester (12), Wu (12), J Kim (8), Tringale (7), Poston (3)
Poulter's eagle putt at 9 (9.29am) was 162 feet by the way. And that means he's just pipped swimmer Michael Phelps, who famously drained one from 159 feet (at Kingsbarns) in the 2012 Alfred Dunhill Links Championship held in these parts.
Wogan's putt, holed at Gleneagles, seems to be from a mere 100 feet. Although Tel did the best celebration.
Time for a leaderboard update as the air warms, the wind drops and the birdie-rate quickens.
-3: Wu (11), Poulter (9), J Kim (7), Tringale (6)
-2: MW Lee (12), Brown (12), Burmester (11), Kitayama (8), Smith (5), Young (4), MacIntyre (4), Poston (2)
Chris Carey writes: "This may be a stupid question, and one from those of us who only dip into golf at the majors, but why are the tee times 11 mins apart? Seems oddly specific."
I think you work backwards after calculating daylight hours and number of players in the field. If they were shorter intervals, you'd have lots of waiting around. Longer and you'd never get everyone round in time. And so we land at 11. That's my best explanation at least!
Forget those boos on the 1st tee, Ian Poulter has just generated the loudest cheers of the morning after draining a, what, 100 foot putt from just off the green at 9. Wow!
Not only is it one for the highlight reels, that Terry Wogan-esque bomb takes him into a tie for the lead with American Brandon Wu!
Austrian Sepp Straka won this year's Honda Classic but why is that so significant in terms of this week? Take a look at past winners and you'll find a bunch of Open champions: Mark Calcavecchia, Justin Leonard, Todd Hamilton, Padraig Harrington, Ernie Els and Rory. Its host course, PGA National, is exposed and windy so that could be the explanation.
Can Straka add to that trend Hmmm. An Austrian journalist by the 1st tee says Straka is struggling a bit this week. "Born in Vienna, bred in Georgia, not a lot of seaside golf there."
That little nugget, by the way, came from Matt Cooper, who is sharing blogging duties with me this week. Matt is actually in St Andrews as you might have guessed.
Rory McIlroy is on the range, prepping for his 09.58 tee time. The Northern Irishman is in one of the marquee groups alongside defending Open champion Collin Morikawa and man-of-the-moment Xander Schauffele (three straight wins if you count his victory at last week's 36-hole JP McManus Pro Am).
Cameron Smith, the tip of Lloyd Cole, discusses strategy with his caddie on the par-5 5th tee. The Aussie rather pulls his drive left but it looks okay. A decent start so far for the Players Championship winner: he drained a big birdie putt at 2 and has signed for pars at 1, 3 and 4.
Up at 12, Simpson had to take a penalty drop from the gorse and his third to yet another tricky pin position, tumbles away to finish on the bottom tier so a par looks unlikely from there.
Joint-leader Webb Simpson shouts 'fore' as he pulls his tee shot at the short par-4 12th towards a bunch of gorse bushes. Oh dear, that could be trouble.
All those scare stories that St Andrews would yield ridiculously low scores look somewhat misplaced so far with the leaders only at -2. Jamie Donaldson, who qualified after finishing sixth in last week's Scottish Open, is +5 and dead last.
How about a left-handed winner this year? History says no. Surprisingly, Bob Charles in 1963 (Royal Lytham) and Phil Mickelson (2013) are the only southpaws to have had their names engraved on the Claret Jug. This ain't no Wimbledon or indeed Augusta National where left-handers won six of the 12 editions from 2003 to 2014.
There are four lefties in the field this week: Mickelson, local man Robert MacIntyre, American Brian Harman and South African Garrick Higgo.
All four are already out on the course and MacIntyre (2) and Harman (1) have both made early birdies to sit at -1. Mickelson is level after five straight pars while Higgo is +2 after 6.
Simpson makes a careless bogey at the 10th and that means the leaderboard is bunched.
-2: Simpson (10), Brown (9), Herbert (5), Tringale (3)
-1: Wu (8), Poulter (6), M Kim (5), Kitayama (5), Hoge (4), J Kim (4), Smith (3), Young (2), MacIntyre (2), Horschel (1)
John Daly, sporting his now familiar Father Christmas beard, has started par-bogey-par.
'Wild Thing' must have the most curious major record in men's golf. In 76 starts, he has just three top 10s but two of those are wins! That includes his memorable victory at St Andrews in 1995 when he gathered himself to win a playoff after watching ashen-faced as Costantino Rocca holed a miracle long-range birdie putt from the 'Valley of Sin' to tie. Daly hasn't made the cut at an Open since 2012.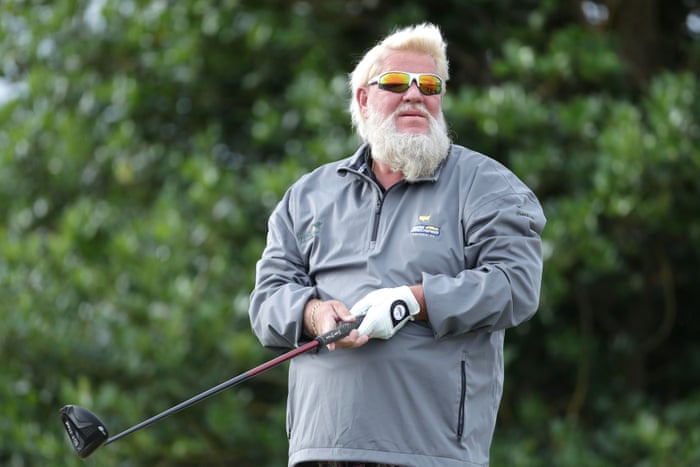 Cameron Tringale, the first-round leader in last week's Scottish Open (he went on to finish sixth), has made another bright start. Birdies at 1 and 3 have taken the Californian to -2 and a shot back from Simpson.
Tringale has yet to win on the PGA Tour so this would seem an unlikely place to grab that elusive first victory. He was tied 26th in last year's Open at Royal St George's and tied 14th in last month's US Open (his best major finish) so perhaps the 34-year-old could hang around near the top of the leaderboard this week.
Leader Webb Simpson drops a shot at 8 but bounces back with a birdie at 9 to return to -3. That's an outward half of 33 and he's a shot clear of Australian Lucas Herbert, who has picked up shots at 2 and 4.
Forget Reed, the leader in the hat stakes is English amateur Barclay Brown, who sounds like an English character actor from the Terry-Thomas era. A member of last year's Britain and Ireland Walker Cup team, Brown has made an excellent start: six pars and a birdie at 7 to sit tied third.
Bryson DeChambeau's 'drive a load of par 4s' strategy hits an early bump as he bogeys one of his targeted holes, the 2nd. Perhaps the message sinks that it isn't this straightforward as he only takes an iron off the tee at the 3rd.
Meanwhile, fellow major winner, Patrick Reed, has birdied the 3rd to go to -1. Reed is another of those to sign up with LIV. And just in case anybody doesn't know, he's wearing a LIV golf cap.
Justin Rose, the runner-up at Carnoustie in 2018, has pulled out. The Englishman was seen warming up but he doesn't appear for his 08.14 tee time. That's a real shame. Rose has shown flickers of good form this season, finishing fourth at the Canadian Open three starts ago. And, of course, we all remember how he first shot to fame in this event when finishing fourth as a lanky teenage amateur at Royal Birkdale in 1998. Rose was also tied sixth in the last St Andrews Open in 2015 and finished runner-up at Carnoustie four years ago.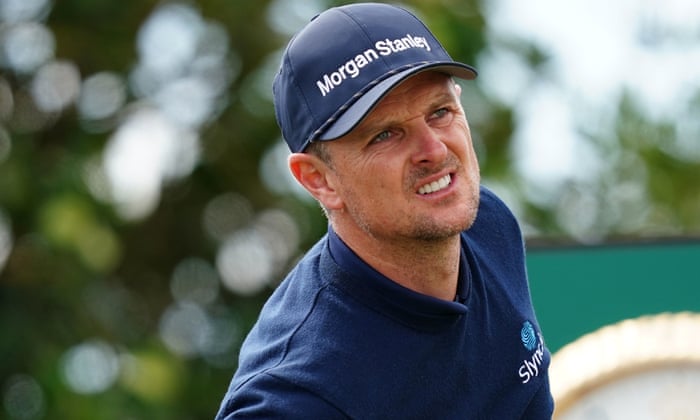 Another birdie for Webb Simpson, this time at 7, and the 36-year-old moves to -3. That's good enough for a two-shot lead.
The American seems to like a fast start in this event. He was third after day one at Royal Portrush in 2019 and shot a 66 to lie fourth following the opening lap at Royal St George's last year.
Despite all the talk of low scoring, the field is a collective +4 over par. These tucked pin placements help explain why. It's also pretty chilly.
Some big names starting to go out and Bryson DeChambeau almost holes his approach at the 1st for eagle, his ball sucking back and just failing to catch the cup. Potential eagle becomes par as he shoves his short birdie try right.
DeChambeau claimed earlier this week that he reckons he has a chance to drive the par 4s at 2, 3, 7, 9, 10 and 12. Strangely, he didn't say 18. We shall see if he can walk the walk and what good such a strategy does him.
Not the warmest of welcomes for Ian Poulter on the 1st tee earlier. Some boos in fact. Hard to think that the Englishman would be fazed but he almost hooked his opening tee shot out of bounds which is going some on the widest fairway in golf.
Polite applause for Phil Mickelson though and the six-time major champion/LIV disgrace finds the right-hand side of the fairway. He makes par, as does Poulter.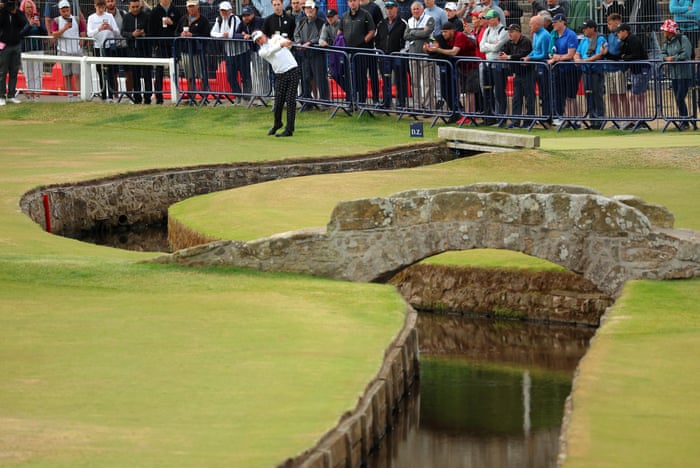 Links golf is all about dealing with bad breaks. But imagine being Rory McIlroy after his third-place finish in the 2010 Open at St Andrews and being told you won't be contesting another Claret Jug at the Home of Golf until 2022 due to knackering your leg playing football and a global pandemic.
But here we are 12 years later and Rory finally gets another chance to make history and do what so many of the greats have done: win an Open at St Andrews.
This is the 150th edition of the world's oldest major and 30th at St Andrews. Tom Kidd pocketed 11 quid for winning the first to be held here in 1873 while this year's champion banks $2.5million.
A scroll down memory lane at St Andrews shows a timeline of exalted champions: Bobby Jones 1927, Sam Snead 1946, Peter Thomson 1955, Bobby Locke 1957, Jack Nicklaus 1970 and 1978, Seve Ballesteros 1984, Nick Faldo 1990, Tiger Woods 2000 and 2005 and, erm, Zach Johnson in 2015.
The bookmakers think 'Rory McIlroy 2022' is the next entry but there's an all-star cast with other ideas bidding to be announced as "the champion golfer of the year" on Sunday.
Here are the tee times for round one – all times BST
06.35 Paul Lawrie, Webb Simpson, Min Woo Lee
06.46 Sadom Kaewkanjana, Ben Campbell, Barclay Brown
06.57 Dean Burmester, Chan Kim, Brandon Wu
07.08 Ian Poulter, Jamie Donaldson, Guido Migliozzi
07.19 Garrick Higgo, MinKyu Kim, Ashley Chesters
07.30 Phil Mickelson, Lucas Herbert, Kurt Kitayama
07.41 Patrick Reed, Tom Hoge, JooHyung Kim
07.52 John Daly, Bryson DeChambeau, Cameron Tringale
08.03 Cameron Smith, Brooks Koepka, Seamus Power
08.14 Francesco Molinari, Tommy Fleetwood, Justin Rose
08.25 Cameron Young, Kyoung Hoon Lee, Robert MacIntyre
08.36 Zach Johnson, Billy Horschel, Corey Conners
08.47 Brian Harman, Pablo Larrazabal, Danny Willett
09.03 Stephen Dodd, JT Poston, Lee Westwood
09.14 Sepp Straka, Luke List, Justin De Los Santos
09.25 Ernie Els, Adri Arnaus, Brad Kennedy
09.36 Mackenzie Hughes, Scott Vincent, Victor Perez
09.47 Jason Kokrak, Nicolai Hojgaard, Sihwan Kim
09.58 Collin Morikawa, Rory McIlroy, Xander Schauffele
10.09 Shane Lowry, Justin Thomas, Victor Hovland
10.20 Will Zalatoris, Hideki Matsuyama, Tony Finau
10.31 Kevin Kisner, Chris Kirk, Takumi Kanaya
10.42 Dylan Frittelli, Trey Mullinax, Matthew Jordan
10.53 Anthony Quayle, Zander Lombard, John Parry
11.04 Thomas Detry, Richard Mansell, Marco Penge
11.15 Alexander Bjork, Oliver Farr, Matt Ford
11.36 Mark Calcavecchia, Ryan Fox, Jediah Morgan
11.47 Christiaan Bezuidenhout, Bernd Wiesberger, Sam Bairstow
11.58 Adrian Meronk, Haotong Li, Marcus Armitage
12.09 Thriston Lawrence, Fabrizio Zanotti, Alex Wrigley
12.20 Aaron Wise, Si Woo Kim, Sam Horsfield
12.31 Talor Gooch, Shaun Norris, Wyndham Clark
12.42 Henrik Stenson, Russell Henley, Aldrich Potgieter
12.53 Stewart Cink, Sergio Garcia, Aaron Jarvis
13.04 Sungjae Im, Paul Casey, Gary Woodland
13.15 Dustin Johnson, Adam Scott, Marc Leishman
13.26 Scottie Scheffler, Joaquin Niemann, Tyrrell Hatton
13.37 Darren Clarke, Richard Bland, Filippo Celli
13.48 Kevin Na, Kazuki Higa, Erik van Rooyen
14.04 David Duval, Justin Harding, Jordan Smith
14.15 Shugo Imahira, Jason Scrivener, David Law
14.26 Abraham Ancer, Yuto Katsuragawa, Emiliano Grillo
14.37 Louis Oosthuizen, Harris English, Keita Nakajima
14.48 Padraig Harrington, Thomas Pieters, Keith Mitchell
14.49 Tiger Woods, Matt Fitzpatrick, Max Homa
15.10 Jordan Spieth, Jon Rahm, Harold Varner III
15.21 Patrick Cantlay, Sam Burns, Mito Pereira
15.32 Keegan Bradley, Sebastian Munoz, Sahith Theegala
15.43 Laurie Canter, Dimitrios Papadatos, Matthew Griffin
15.54 John Catlin, Jamie Rutherford, David Carey
16.05 Mingyu Cho, Jorge Fernandez Valdes, Robert Dinwiddie
16.16 Lars Van Meijel, Jack Floydd, Ronan Mullarney
It's just under 90 minutes since 1999 Open champion Paul Lawrie – using a yellow ball! – hit the opening tee shot of this 150th Open Championship.
Very few birdies so far with the pins tucked away although Lawrie's playing partner, 2012 US Open champion Webb Simpson, has managed red numbers at 1 and 5 and leads at -2. Lawrie got tangled up in rough at the 4th to slip to +3 but has bounced back with a birdie at the 5th.
Your early leaderboard:
-2: Simpson (5)
-4: Burmester (3), M Kim (2)


The Open 2022: first round at St Andrews – live! | The Open Source link The Open 2022: first round at St Andrews – live! | The Open