Sports
The Masters 2022: Tiger Woods in action during first round – live! | The Masters
Tiger makes an awful horlicks of the par-five 8th. Statistically, it's the easiest hole on the course, averaging 4.5789, having already given up 18 birdies today. Just the two bogeys … until now. Tiger, from the centre of the fairway, sends a dismal second miles right of the green, fails to reach with his chip, then takes another three to get down. It's a dreadful bogey and he is fuming. Back to level par he goes. A few minutes earlier, the Cam Smith resurgence continued apace, as he made his third birdie in four holes at 8, and rises to -1.
Takumi Kanaya has played at Augusta once before, as a 20-year-old amateur in 2019. He made the cut that year, finishing tied for 58th, and now having turned pro and scraped into the top 50 in the world (he's 49th) a second invitation to the Masters has been extended. The young Japanese prospect has grabbed his opportunity with both hands, flying out of the traps and making birdie at 1 and 2 … and so, with Talor Gooch whiffing a chip from the side of 10, running up a double bogey to drop back to level par, the 23-year-old from Hiroshima is the new leader of the Masters! We waited 85 years for the first Japanese winner. Two in successive years? Why not? You know the rule about London buses.
-2: Kanaya (2)
-1: Willett (10), Smith (8), Woods (7), Niemann (7), Champ (5), Schwartzel (3), MacIntyre (3), Rose (2), Westwood (2)
This time last year, Justin Rose opened with a 65. Having established a four-stroke first-round lead, the only way was down, and he finished the rest of the week with a pair of 72s and a 74. Throw in a late collapse in 2007, plus his famous but ultimately unsuccessful tussle with Sergio Garcia ten years later, and he's got history here. Nobody has seriously mentioned the 41-year-old Englishman as a contender this week, but while he hasn't got the form, he does have the knowledge, and he's just steered in a tricky downhill right-to-left curler on 2 for a birdie that takes him to -1.
Bob MacIntyre finished in a tie for 12th here last year. While he's not been in the best form since, the 25-year-old from Oban remains the best chance Scotland has had to win a major since Colin Montgomerie was sat in the middle of the 72nd fairway at Winged Foot in 2006. Oh Colin! Anyway, birdie at 2 puts him into the big group in second spot … alongside Harry Higgs, who has just shipped a shot at 11, falling victim to the super-enhanced swale to the right of the green. Talor Gooch – on debut at the age of 30 – is now out on his own.
-2: Gooch (9)
-1: Higgs (11), Willett (9), Berger (8), Woods (7), Niemann (7), Champ (3), Schwartzel (2), MacIntyre (2), Kanaya (1)
Tiger loses his balance while driving at 7, sending his ball whistling into the trees down the right. He manufactures a slice back out, his ball stopping just short of the bunker guarding the front of the green. He screeches his chip to kick-in distance, and that's an outrageous par save. He remains at -1 … where he's joined by the 2016 surprise package Danny Willett! The 34-year-old Yorkshireman follows up birdie at 8 with another on 9, slinging a big right-to-left downhill putt into the cup from 90 feet! That's a stunner, and he hits the turn in 35!
The first player to top the leader board at the 2022 Masters, the 1994 and 1999 champion Jose Maria Olazabal, ends the day with a 77. Ollie made the cut for the first time in seven years last April, but he'll not be making it to the weekend this time round. He went round this morning with JJ Spaun, who only secured his invitation last week with his win at the Texas Open. After an emotional week, it looked as though the 31-year-old Californian was running on fumes after that long-awaited maiden PGA Tour victory – it was his 147th start – as he doubled 3 and bogeyed 4. But he steadied the ship impressively. Pars all the way home, with the exception of birdie at 13, and he's round in 74. Not bad for a debut spin around Augusta.
"I've seen the media in all its tawdry finery today, a competition between a lot of players reduced to a one-man snorefest. OK I like to know how Woods is doing, but TV and blogs are only in it for one man. I'll come back when his round is over." Roger Kirkby there, impressively typing and furiously wagging his finger at the same time, a motor-skills discipline that comes with a difficulty tariff of 5.3. Anyway, Tiger keeps on trucking, launching his tee shot at 6 straight at the flag, his second heat-seeking approach in a row. He's not to be denied this time. He knocks in the two-footer he leaves himself, and moves into red figures for the first time this week. Tiger! Oosthuizen rakes in a long putt meanwhile to repair some of the damage of the previous hole. He's +1. And it's a birdie for Talor Gooch at 8. Suddenly the leader board has an all-new look to it. Shame Roger isn't here to enjoy it.
-2: Higgs (10), Gooch (8)
-1: Woods (6), Niemann (6), Scott (4), Champ (2)
Tiger whips his second at 5 from 220 yards to 15 feet. A glorious approach. He looks to have nailed the birdie putt, as well, and walks after it with the express intention of celebrating. Somehow, just as the ball hits the lip, it rolls around the edge of the cup and stays out on the left. That is preposterous, and surely not in keeping with the laws of gravity. Can we get a ruling? Nope. He taps in for his fifth par in a row. A double for Louis Oosthuizen, however, punishment for going over the back of the green and failing to give enough to his chip.
The in-form Cam Smith came into this Tournament as one of the hot favourites. The new Players champion was runner-up here in 2020, and has another couple of top-ten finishes on his CV, but he didn't start well today. His opening tee shot found a deep-faced fairway bunker, forcing him to chip out, then his approach went over the back. A double to begin, then just a par on the par-five 2nd, having found more sand from the tee. (Butch Harmon wondered on Sky whether the big stick would prove his undoing this week.) He's repaired the damage however by chipping in from the side of 5, then nearly slam-dunking his tee shot at 6 straight into the cup! A tap-in for back-to-back birdies, and he's level par again.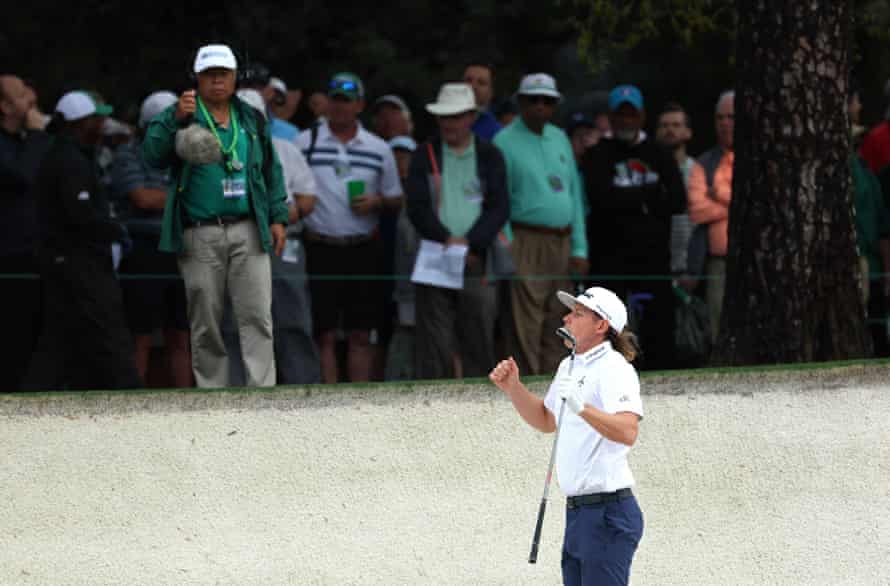 A slow start by the defending champion Hideki Matsuyama. He sends his tee shot at 3 into the trees down the right, and is always out of position as a result. A bogey, and he's +1 alongside some other former champs: Mike Weir (13), Zach Johnson (8), Danny Willett (6) and SANDY LYLE (1). On the subject of 1988 hero Alexander Walter Barr Lyle, Euan Hendrie (see Sandy entries passim) has sent me a screenshot from a betting site offering odds for Top Scot. Robert Macintyre is 1-100, while Lyle has been priced at a much more generous 11-1. "An outrage," splutters Euan, tongue only partially in cheek. Time waits for no man, I guess.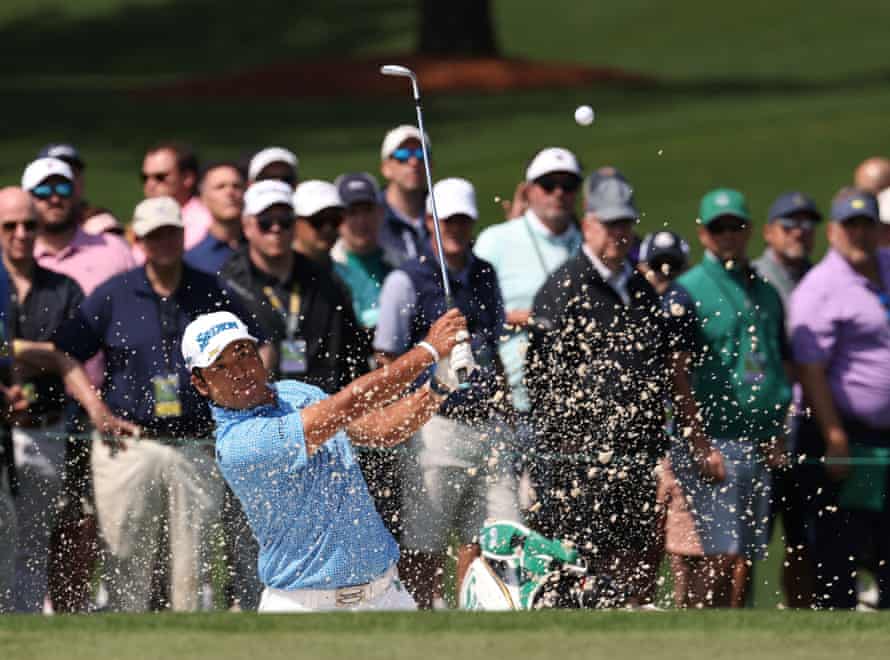 Tiger and Oosthuizen continue to par their way around Augusta. Niemann however makes it back-to-back birdies, arrowing his tee shot straight at the flag, leaving a ten-foot gentle right-to-left slider. In it goes, and he joins the group in second at -1, as does 2013 winner Adam Scott, who makes a fine up and down from the side of 2, rolling up with a fairway wood, and Tony Finau, who nearly drains an eagle putt on the same hole but makes do with a kick-in birdie.
-2: Higgs (8)
-1: MW Lee (9), Harman (8), Gooch (6), Berger (5), Niemann (4), Scott (2), Finau (2)
It's been a fairly steady … borderline uneventful … start to this Masters. The course playing long in the wet conditions, the wind, some tricky pins, and folk not wanting to play themselves out of contention early doors are all factors. It might not get much easier until the weekend, when the wind finally drops, the course dries out, and the committee place the flagsticks in a few more favourable conditions.
Another fairly uneventful par for Tiger, this time on 3. It's also a par-par-par start for Oosthuizen, but a birdie for the third man in the group, Niemann, who cancels out his opening bogey to return to level par. Up on 12, Harrington can't get up and down from the bunker at the front of the famous par-three, and slips back to level par, but on the par-five 8th, Higgs knocks a wedge to three feet and tidies up for a birdie that gives him sole ownership of the lead!
-2: Higgs (8)
-1: MW Lee (8), Harman (8), Gooch (6), Berger (4)
The wind is beginning to pick up at Augusta, as expected. Meanwhile one-man whirlwind Bryson DeChambeau came into this tournament under the radar, out of form and admitting that he's only firing at about 80 percent of capacity. Birdie at 3 however means he's joined the leading pack at -1.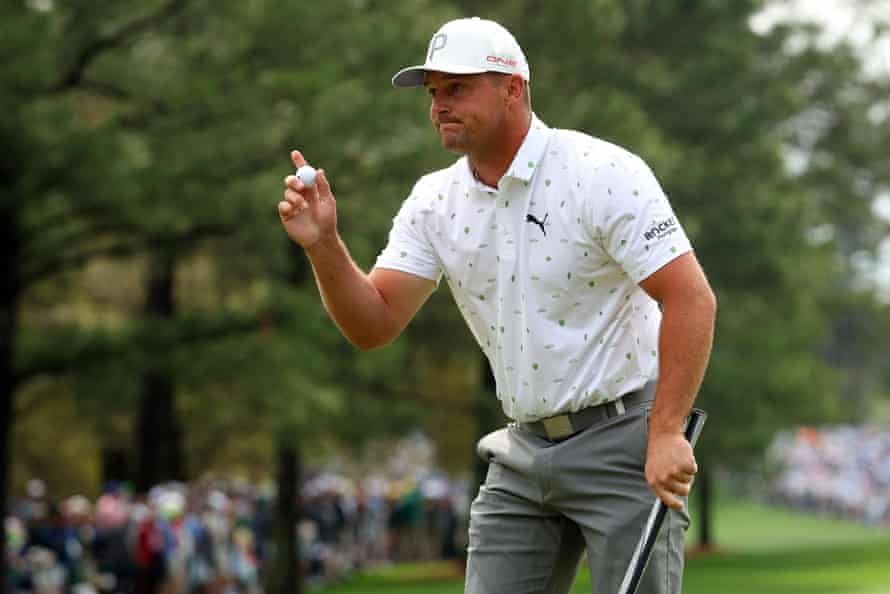 "Golf is sometimes unfair," says Butch Harmon on Sky. Preach on, brother. Thankfully, Lowry's stroke of bad luck at 4, finding himself faced with a tricky two putts for par after hitting a near-perfect tee shot, doesn't cost the 2019 Open champion too much. He cradles his first putt up close, and tidies up to remain at +1. And he's already made an ace at Augusta, on 16 in 2016, so life could be worse.
Tiger takes a fairway wood off the tee at the par-five 2nd. Playing for position. He sends another just short front and right of the green, giving himself a good angle to attack the flag, tucked near the back left. His chip is overly conservative, though, and he can't make the 15-foot birdie putt. Still, that's a par-par start. Oosthuizen pars as well, getting up and down from a tight spot over the back, though there was a slight concern back up the hole when he grabbed the small of his back after hitting his second, and squatted down to rest awhile. Meanwhile the new world number one Scottie Scheffler has opened up with par.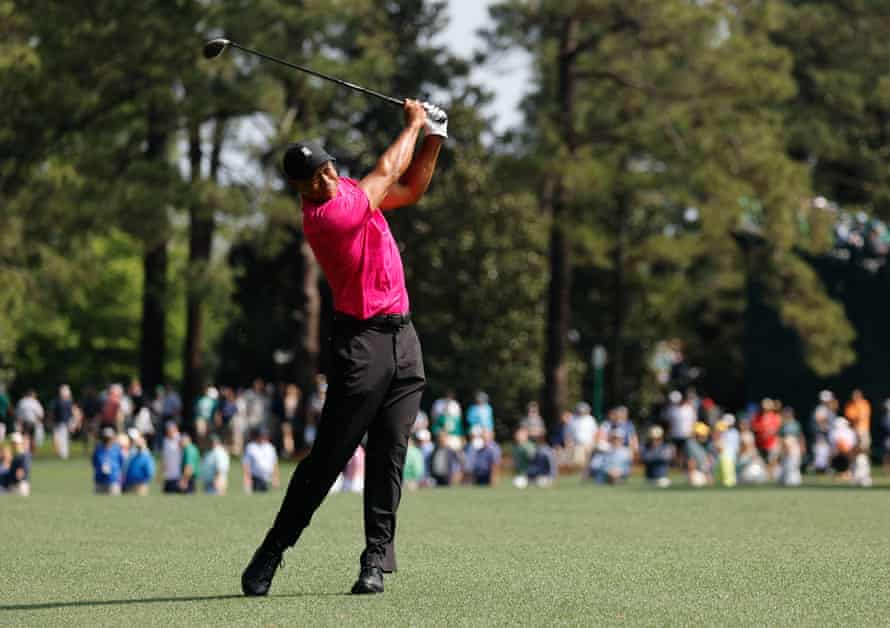 At the par-three 4th, Shane Lowry (+1) slam-dunks his tee shot straight into the cup … nearly! Sadly it's not a hole in one, because the ball rebounds off the base of the flagstick and a good 30 feet from the pin. So unlucky! He throws his iron to the floor in mock indignation, then flashes a wide smile and shares a laugh with his playing partner Kevin Na. That would have been just the second ace at 4 in the entire history of the Tournament, Jeff Sluman the only man to hole out, in 1992.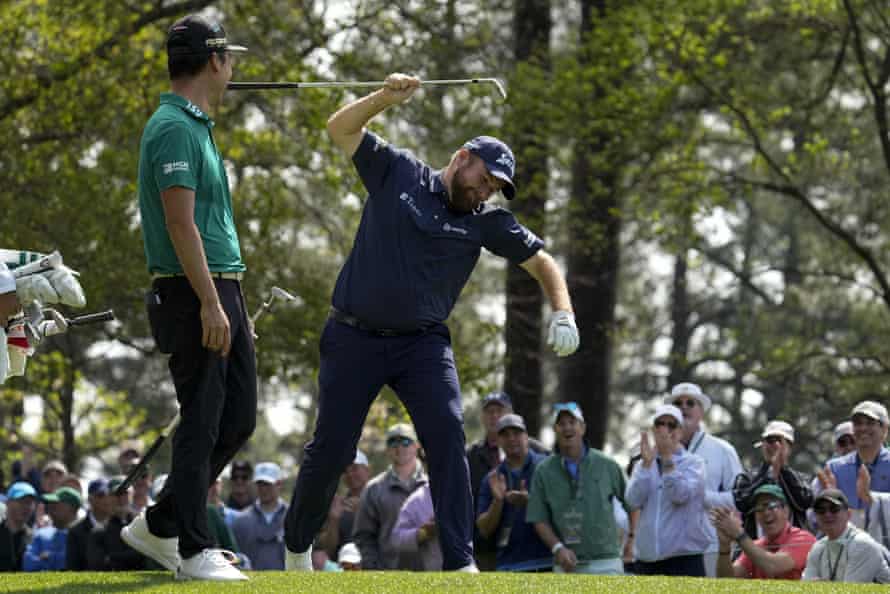 Sepp Straka became the first Austrian to win on the PGA Tour when he won the Honda Classic back in February. He's since chalked up a top-ten finish at the Players, and now on Masters debut he's traversed the front nine for the very first time in style. Eight pars followed by a 20-foot birdie putt at 9. He hits the turn in 35 and joins a crowded group at -1 that now also includes Brian Harman, Daniel Berger and Tommy Fleetwood. (Harrington, incidentally, remains a member of this not particularly exclusive club with a fine up and down at 10, his second having toppled back off the false front.)
-1: Harrington (10), Straka (9), Harman (6), Higgs (6), Gooch (3), Homa (3), Berger (2), Fleetwood (2)
The sun comes out at Augusta. Almost as though the golfing gods know it's lights-camera-action time for Tiger. Turns out his drive at 1 stopped just short of the bunker down the right, but he can still only find the front fringe of the large upward-sloping green. He chips up delicately, his ball making it up over two ridges but only just clinging onto the top level. He'll have a straight uphill 12-footer for his par. In it goes, no problem. Meanwhile a two-putt par for Oosthuizen and bogey for Niemann, who could only splash out from a deep fairway bunker and paid the price accordingly.
The leading pack fall back into the bunch. Guido Migliozzi doubles 7, having flayed his tee shot into the trees down the right. MW Lee drops a couple on 6, the latest to be fooled by the ridge along the middle of the green, a chip coming back to his feet. And it's a three-putt bogey for Harry Higgs on 5. Meanwhile birdies for Talor Gooch and Max Homa on 2, plus back-to-back birdies for the 21-year-old amateur Austin Greaser, the runner-up in last year's US Amateur behind James Piot, at 8 and 9, and it's a five-way lead at the top.
-1: Harrington (9), Greaser -a- (9), Higgs (5), Gooch (2), Homa (2)
Amid bedlam at the 1st tee – albeit the sort of bedlam permitted at Augusta National – Tiger Woods makes his major championship comeback. He's hit some nightmare opening drives at big tournaments through the years – OB, lost balls, the lot, even during his peak years – and this one isn't the best, sneaking into a bunker down the right. He looks pained, but thankfully only in the spiritual sense. A lot of patrons following this match. They're lining the fairway five, sometimes ten deep! God speed Louis Oosthuizen and Joaquin Niemann, going round in Tiger's attention slipstream.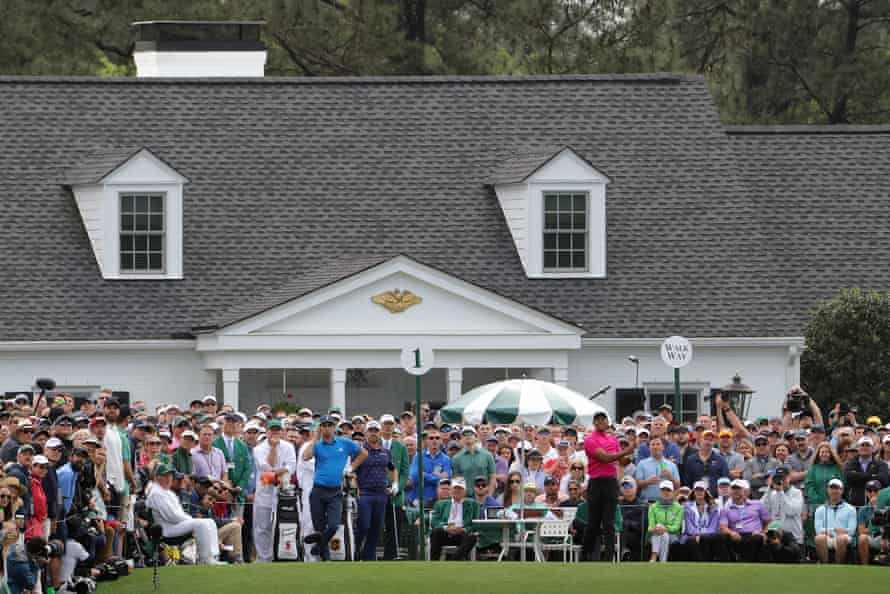 Paul Casey's long search for a maiden major will stretch on to Southern Hills and the PGA Championship next month. The 43-year-old Englishman, who has five top-ten finishes at Augusta on his resumé, plus two top-ten finishes in the majors last year (at the PGA and US Open) has been forced to withdraw with a back complaint.
Migliozzi is joined at the top by the ever-entertaining Harry Higgs. The 30-year-old from Dallas is playing in his first Masters, having finished tied for fourth at Kiawah in last year's PGA, and is very much part of the Barnes-Daly-Jimenez everyman tradition, as anyone who remembers him getting the old puppies out at the Phoenix Open a couple of months ago will attest. Having opened with bogey, he's seized the day much as he embraces life, with birdies at 2, 3 and now 4. The young Australian Min Woo Lee, current Scottish Open champion, makes it three with a long birdie rake across 5.
-2: Migliozzi (6), MW Lee (5), Higgs (4)
-1: Harrington (8)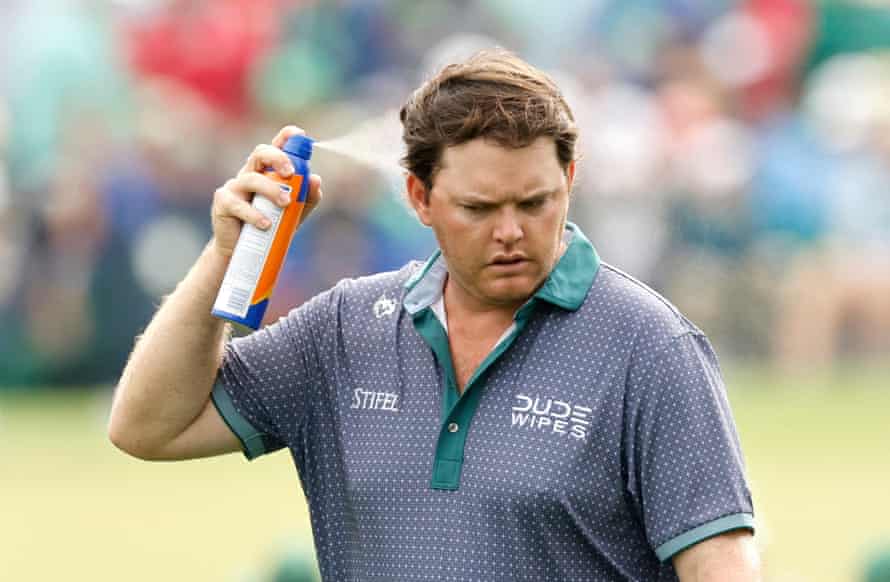 Guido Migliozzi regains sole ownership of the early lead at -2 by rolling in a 20-footer for birdie at the par-three 6th. He's going round with Garrick Higgo, who combines the earlier travails of Olazabal (failing to get his long putt over the ridge down the middle of the green, the ball rolling back to his feet) and antics of Harrington (rolling in a monster putt) for an entertaining bogey. He's +1.
A bit more on those sandwich-softening conditions. The aforementioned poor weather caused the start to be delayed by half an hour this morning, so use your mental arithmetic skills to recalibrate those tee times accordingly. The course will play softer and longer, spin accentuated on the greens, while a swirling wind could pick up as the day progresses. There's not so much rain forecast for the rest of the week, though, so there's plenty of time for the greens to dry out and act up in a very different way.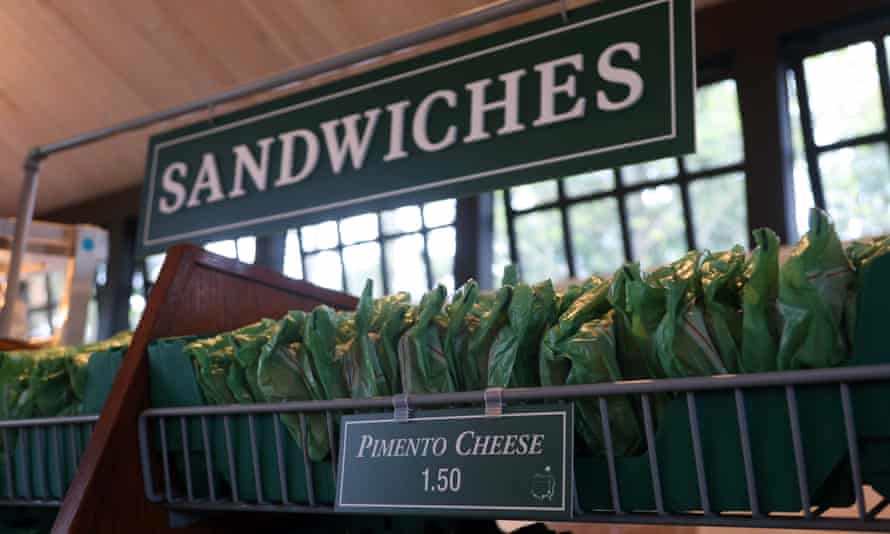 Our man Andy Bull is in Augusta, and here's his first dispatch from the trenches. "Morning from a slightly damp and dreary Augusta, where the clouds seem to be just beginning to clear and the sky's getting a little lighter after two days of torrential rain, thunder and lightning (photo below). Just finished one of my favourite Masters traditions, the press conference with the Honorary Starters. Highlights this year included debutant Tom Watson's exasperation at being asked whether he outdrove Gary Player even though he's 14 years younger than him, and his trying to keep a poker face when he was asked if he had any advice for Phil Mickelson after his recent scandal (and their infamous bust-up at the Ryder Cup in Gleneagles), plus Player's opinions on Cameron Smith's mullet ("whatever a man wants to do, that's freedom") and how well dressed Indian women are ("I'm so used to seeing women with damn dresses up their bum and you don't see anything like that in India"), and his insistence that he holds the record for the most consecutive rounds in which he's scored lower than his own age, at just over 2000. Jack Nicklaus was in fine form too."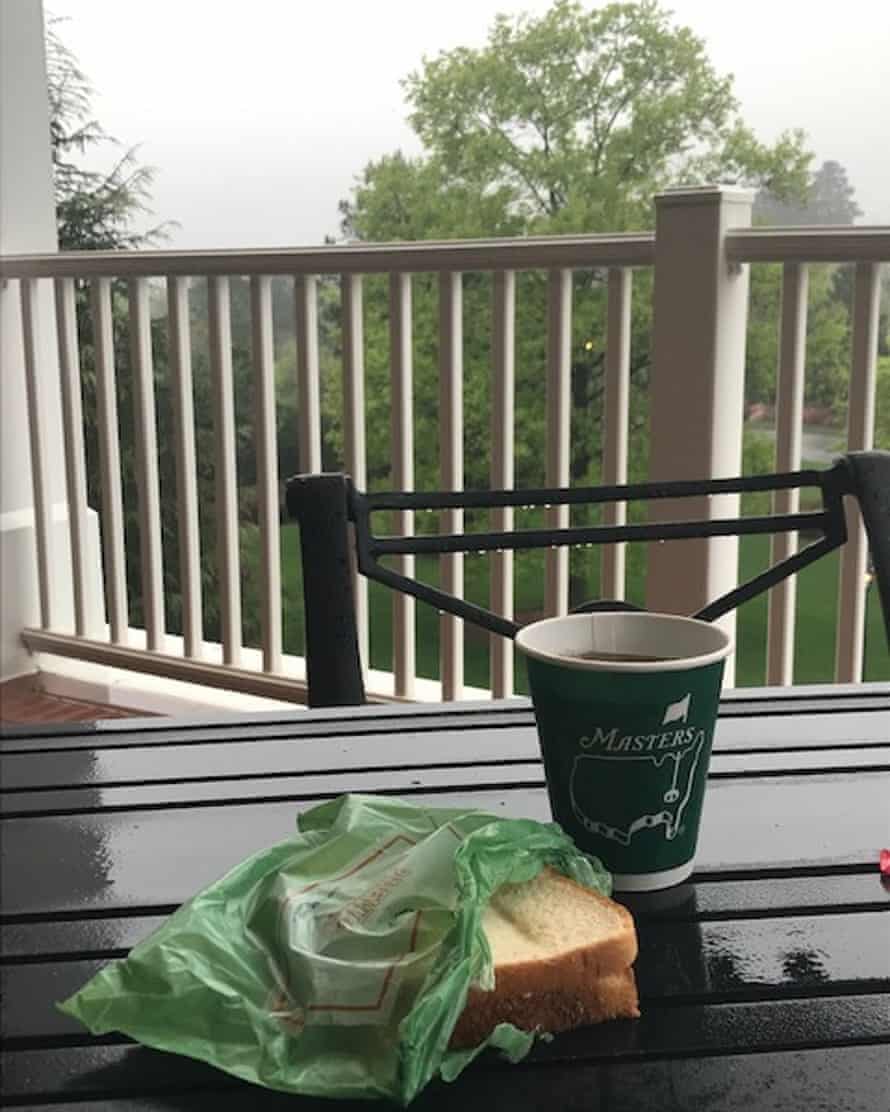 Some details on Padraig Harrington's antics at the par-three 6th. Having shoved an awful tee shot 25 yards right of the green, he then sent a heavy-handed chip 67 feet past the flag. No matter! He tramlined the putt and it dropped to the biggest cheer of the week so far. (Yeah, yeah.) Tell you what, though, if there's a more outrageous par save this week, we'll be in for some top-drawer entertainment. Not a bad way to hold onto a share of the lead.
Ah well, you can scrub that. Migliozzi's tee shot into the par-three 4th only just finds the front of the green. He's faced with a long two putts for par, and he can't make them. Back he drops into a share of -1. He's alongside another debutant, the 22-year-old South African lefty Garrick Higgo. He earned his place here this year with a win at the Palmetto Championship in South Carolina last June, in only his second start on the PGA Tour. He's since missed the cut at the US Open, the Open and the Players, but that run in the majors has to stop sometime, and birdie at 1 won't harm his chances. He's now -1 through 4.
-1: Harrington (6), Higgo (4), Migliozzi (4)
To the top of the nascent leader board! The two-time Open champion Padraig Harrington was the first man to reach the heady heights of -2, with birdies at 3 and 4. But after sending his drive down the left of 5, he was only able to send his second onto the front edge of the green, from where he took three putts to drop back to -1. He's now a shot behind the 25-year-old Italian Guido Migliozzi, who is playing here for the first time after qualifying thanks to his tie for fourth at last year's US Open at Torrey Pines. Birdies at 2 and 3, and whatever happens from here on in, and admittedly there's still a fair bit of golf to be played this year, he can always say he led the Masters.
-2: Migliozzi (3)
-1: Harrington (4), Higgo (4)
The first shot of this year's Masters was hit by the 1994 and 1999 winner Jose Maria Olazabal. That was quickly followed by this year's first birdie: Ollie creamed a fairway wood pin high to 15 feet and rolled in the putt. It's not been going quite so well for the 56-year-old Spaniard since then. Bogeys at 2, 4 and 5, and now a four-putt double-bogey at the par-three 6th, where the pin is high on the right-hand side of the green. Ollie sent his tee shot to the lower left, then couldn't get over the ridge running down the middle, his long putt rolling all the way back to his feet. He's +4 through 6.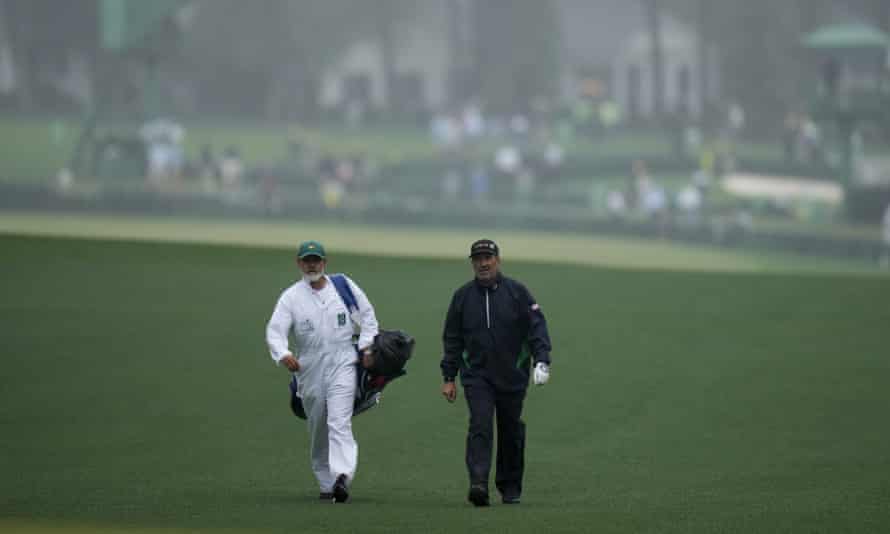 There's only one place to start.
Welcome to our live coverage of the 86th edition of the Masters Tournament. Here's a snippet from last year's first-round preamble …
[Tiger's] awful accident means he won't be here this year; here's to the great man rebuilding his health and completing yet another fairytale comeback. A sixth Masters in 2022? Hey, we're allowed to dream.
Did we really believe what we were writing back then? We can't have been serious. Was the heart ruling the head? Not sure. But here we are!
We'll be keeping close tabs on the five-time winner this morning as he attempts a comeback for the ages that would make 2019's comeback for the ages look like a walk in the park. We make no apologies for doing so. You'll have to sue us. It's just the way things have to be.
Other players are available, though! The favourite going into the week is reigning US Open champion Jon Rahm, aiming to become the fourth Spaniard to pull on a jacket in Pantone 342. Justin Thomas, the one and only player in the field that'll be getting beneficial advice from Tiger, if you believe Rahm, is not far behind in the betting. A second major is long overdue for the 2017 PGA champ.
Cameron Smith and Scottie Scheffler are the hottest properties on the PGA Tour this season. Smith has a sensational record at Augusta – three top-ten finishes in five starts, including a tie for second a couple of Novembers ago. Scheffler has yet to make a mark here, but he is the new world number one, so there's that. Sam Burns is another man in form, though he's never played here before, and nobody has won here on debut since the club dropped their insistence on everyone using local caddies. You gotta know where to miss, see, as Bernhard Langer told Bryson DeChambeau the other year.
The 2020 champ Dustin Johnson is coming back into form. Rory McIlroy and Collin Morikawa could be dangerous if either get their erratic putters going; ditto Viktor Hovland with that wedge of his. Brooks Koepka usually shows in the majors; Jordan Spieth always shows at Augusta. Xander Schauffele, Patrick Cantlay and Will Zalatoris have all had near misses here, and are good to come again.
And of course there's the reigning champion Hideki Matsuyama, bidding to become the first player since Tiger in 2002 to successfully defend his title. We could go on for some time – Bryson! Bubba!! Sergio!!! – but what would be the point? There aren't too many no-hopers in this field. So make yourself a pimento cheese sandwich, pour a long cool glass of iced tea, pine for the legendary Georgia Peach Ice Cream Sandwich (missing this year due to supply-chain issues) and settle down. We'll get going here at 3pm BST, which translates as 10am in Georgia. Until then, here are the tee times. Peruse and select your winner (times BST, USA unless stated, -a- denotes amateurs) …
13.00 Jose Maria Olazabal (Spa), JJ Spaun
13.11 Austin Greaser -a-, Padraig Harrington (Irl), Mike Weir (Can)
13.22 Larry Mize, Francesco Molinari (Ita), Sepp Straka (Aut)
13.33 Fred Couples, Garrick Higgo (Rsa), Guido Migliozzi (Ita)
13.44 Kyoung-Hoon Lee (Kor), Ryan Palmer, Vijay Singh (Fij)
13.55 Min-Woo Lee (Aus), Hudson Swafford, Cameron Young
14.06 Stewart Cink, Brian Harman, Harry Higgs
14.17 Aaron Jarvis (Cay) -a-, Zach Johnson, Si Woo Kim (Kor)
14.39 Mackenzie Hughes (Can), Luke List, Matthew Wolff
14.50 Talor Gooch, Jason Kokrak, Danny Willett (Eng)
15.01 Max Homa, Shane Lowry (Irl), Kevin Na
15.12 Daniel Berger, Tommy Fleetwood (Eng), Kevin Kisner
15.23 Paul Casey (Eng), Bryson DeChambeau, Cameron Smith (Aus)
15.34 Joaquin Niemann (Chi), Louis Oosthuizen (Rsa), Tiger Woods
15.45 Hideki Matsuyama (Jpn), James Piot -a-, Justin Thomas
15.56 Tony Finau, Scottie Scheffler, Adam Scott (Aus)
16.18 Stewart Hagestad -a-, Sandy Lyle (Sco)
16.29 Cameron Champ, Lucas Glover, Erik van Rooyen (Rsa)
16.40 Christiaan Bezuidenhout (Rsa), Cameron Davis (Aus), Bernhard Langer (Ger)
16.51 Robert MacIntyre (Sco), Charl Schwartzel (Rsa), Laird Shepherd (Eng) -a-
17.02 Takumi Kanaya (Jpn), Justin Rose (Eng), Gary Woodland
17.13 Corey Conners (Can), Russell Henley, Lee Westwood (Eng)
17.24 Lucas Herbert (Aus), Seamus Power (Irl), Patrick Reed
17.35 Tom Hoge, Keita Nakajima (Jpn) -a-, Bubba Watson
17.57 Sung Jae Im (Kor), Marc Leishman (Aus), Webb Simpson
18.08 Sergio Garcia (Spa), Thomas Pieters (Bel), Harold Varner III
18.19 Abraham Ancer (Mex), Sam Burns, Tyrrell Hatton (Eng)
18.30 Billy Horschel, Dustin Johnson, Collin Morikawa
18.41 Patrick Cantlay, Jon Rahm (Spa), Will Zalatoris
18.52 Viktor Hovland (Nor), Xander Schauffele, Jordan Spieth
19.03 Matthew Fitzpatrick (Eng), Brooks Koepka, Rory McIlroy (NIrl)
The Masters 2022: Tiger Woods in action during first round – live! | The Masters Source link The Masters 2022: Tiger Woods in action during first round – live! | The Masters