Entertainment
The impending summer solstice, highlights from the Warriors parade, and more trending topics | Entertainment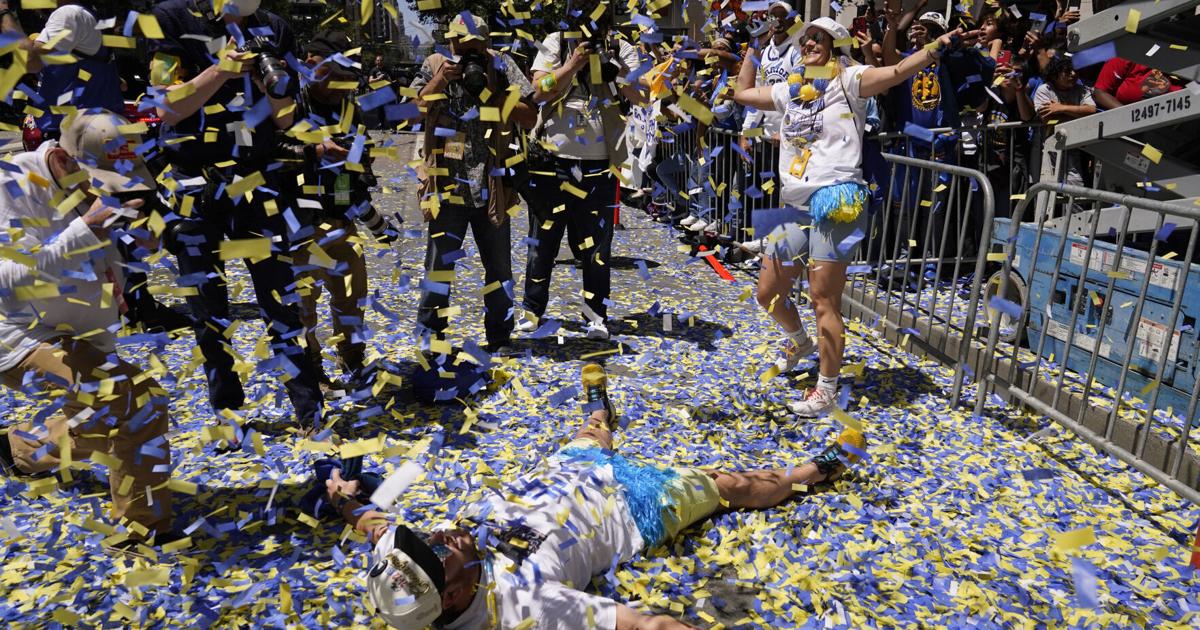 Here's a look at today's trending topics for June 20.
Summer solstice
It's hot. The official start to summer happens tomorrow, but it already feels like we are in the middle of it.
Temperatures moderated somewhat over the weekend, so we caught a tiny break from the oppressive heat from last week, but here we go again. We are in for another heat wave, right on the heels of the last.
"It is somewhat unusual to have two strong, large-scale heat waves occur in quick succession in the same region of the country," said Alex Lamers, Warning Coordination Meteorologist for the Weather Prediction Center (WPC).
While rare, Lamers mentioned it is not unprecedented.
Get more on what to expect for the longest day of the year here:
Warriors parade
From the moment all those months ago that Klay Thompson uttered "championship or bust" with his team off to an 18-2 start, the Golden State Warriors seemed set to make good on his lofty proclamation.
It took Thompson getting healthy at last, then Draymond Green and Stephen Curry overcoming their own injuries down the stretch, and a cast of youngsters shining on the big playoff stage for the Warriors to win again.
Coach Steve Kerr and his champion Warriors celebrated with a victory parade through San Francisco on Monday as thousands packed the streets on a warm June day and blue and gold confetti fell — with all those new faces taking part this time, too.
Eric Greitens
Facebook on Monday removed a campaign video by Republican Missouri U.S. Senate candidate Eric Greitens that shows him brandishing a shotgun and declaring that he's hunting RINOS, or Republicans In Name Only.
In the ad, Greitens, a former Missouri governor who resigned in disgrace in 2018, is flanked by a tactical unit outside a home on a tree-lined street as he whispers, "The RINO feeds on corruption and is marked by the stripes of cowardice," using a term of derision that former President Donald Trump and his allies use to label moderate or establishment Republicans.
The armed tactical team breaks through the front door and throws what appear to be flash-bang grenades inside. Greitens enters an empty living room through the smoke and says, "Join the MAGA crew. Get a RINO hunting permit. There's no bagging limit, no tagging limit and it doesn't expire until we save our country."
***
Get more of today's trending topics here:
Juneteenth
Colombian election
DC 'Moechella' shooting
Around the world, drivers are looking at the numbers on the gas pump and rethinking their habits and finances. Walking, biking, public transport, or going car-free are options for the lucky ones. But for minibus operators in the Philippines or a graphic artist in California with clients to visit, it's not so simple. Those without access to adequate public transportation or who otherwise can't forgo their car have little other choice than to grit their teeth and pay. Energy prices fueled by Russia's war in Ukraine and the global rebound from the COVID-19 pandemic are a key driver of inflation that is rising worldwide.
Federal officials say most of Yellowstone National Park should reopen within the next two weeks. Record floods pounded the region last week and knocked out major roads. Yellowstone's superintendent said the park will be able to accommodate fewer visitors for the time being, and it will take many months to re-connect the world-renowned park's roads with some southern Montana communities. Yellowstone will partially reopen at 8 a.m. Wednesday. Only portions of the park that can be accessed along its "southern loop" of roads will be opened initially and access to the park's scenic backcountry will be for day hikers only. Within two weeks officials plan to also open the northern loop.
Members of the House committee investigating the Capitol riot say they may subpoena former Vice President Mike Pence. And they are waiting to hear from Virginia "Ginni" Thomas, the wife of Supreme Court Justice Clarence Thomas, about her role in the illegal plot to overturn the 2020 election. In interviews on the Sunday news shows, committee members pledged to provide pertinent material to the Justice Department by the end of the month for its criminal investigation. Rep. Adam Schiff says the committee is "not taking anything off the table in terms of witnesses who have not yet testified." He describes a Pence subpoena as "certainly a possibility."
A year after Juneteenth became a federal holiday in the U.S., people gathered this weekend at events filled with music, food and fireworks. Celebrations also included an emphasis on learning about the past and addressing racial disparities. President Joe Biden signed legislation last year making June 19 the nation's 12th federal holiday. June 19, 1865, was the day that Union soldiers arrived in Galveston, Texas, to order freedom for the enslaved Black people in the state. It was two months after the Confederacy had surrendered in the Civil War and about 2 1/2 years after the Emancipation Proclamation ended slavery in the Southern states.
Colombia will be governed by a leftist president for the first time after former rebel Gustavo Petro narrowly defeated a real estate tycoon in a runoff election that underscored people's disgust with the country's traditional politicians. Petro's third attempt to win the presidency earned him 50.48% of the votes Sunday. That's according to results released by election authorities. Political outsider Rodolfo Hernández got 47.26% of the votes. The election came as Colombians struggle with rising inequality, inflation and violence. Those factors led voters in the election's first round last month to punish long-governing centrist and right-leaning politicians and pick the two outsiders for the runoff.
Ukrainian President Volodymyr Zelenskyy has posted an uplifting Father's Day message with 10 photos of parents and children set against the backdrop of war. He praised his nation's fighters who "protect and defend the most precious." Zelenskyy wrote in English that followed the Ukrainian on Instagram: "Being a father is a great responsibility and a great happiness. It is strength, wisdom, motivation to go forward and not to give up." One photograph shows a kneeling soldier kissing a child. In another, a couple look toward a swaddled baby. His message Sunday came as four months of war appear to be straining troop morale on both sides.
The Nobel Peace Prize that Russian journalist Dmitry Muratov was auctioning off to raise money for Ukrainian child refugees has sold for $103.5 million. Monday's sale shatters the old record for a Nobel. Previously, the most ever paid for a Nobel Prize medal was $4.76 million. Muratov was awarded the medal in October 2021. He helped found the independent Russian newspaper Novaya Gazeta and was the publication's editor-in-chief when it shut down. That was in March, amid the Kremlin's clampdown on journalists and public dissent in the wake of Russia's invasion of Ukraine.
The world watched as Prince William grew from a towheaded schoolboy to a dashing air-sea rescue pilot to a balding father of three.  But as he turns 40, William is making the biggest change yet: assuming an increasingly central role in the royal family as he prepares for his eventual accession to the throne. That was clear two weeks ago when William took center stage at the extravaganza concert marking Queen Elizabeth II's 70 years on the throne, lauding his grandmother as an environmental trailblazer as he delivered a call to action on climate change.
Italian news reports are quoting prosecutors in southern Italy as saying film director Paul Haggis has been detained for investigation of the alleged sexual assault of a woman.
After two days of deliberations, jurors in a civil trial deciding on sexual abuse allegations against Bill Cosby will have to start from scratch on Monday. By the end of Friday, jurors had decided on nearly all questions put before them, including whether Cosby had sexually assaulted plaintiff Judy Huth at the Playboy Mansion in 1975 when she was 16. Los Angeles County Judge Craig Karlan, who had promised one juror she could depart after Friday, wanted to accept the partial verdict, but courthouse closure rules left him no choice but to close down. Jurors will begin again with an alternate.
The unsettled future of golf was in the surest of hands over the final four tantalizing hours of the U.S. Open. The sport, almost always at its best when major titles are at stake, went on a wild ride courtesy of Matt Fitzpatrick and Will Zalatoris, two 20-somethings in search of their first major titles but playing like they'd been doing this for years. There were ties, lead changes and enough momentum shifts to make an NBA crowd edgy. There was tension. In the end, it was a career-defining shot from a fairway bunker that gave Fitzpatrick a one-shot victory. And a putt missed by a whisker that left Zalatoris holding his head in his hands in agony after yet another excruciating close call at a major.
World swimming's governing body has effectively banned transgender women from competing in women's events. FINA members at the organization's extraordinary general congress voted 71.5% in favor of its new "gender inclusion policy" that only permits swimmers who transitioned before age 12 to compete in women's events. James Pearce is the spokesperson for FINA president Husain Al-Musallam. He said that it is not about encouraging athletes to transition by 12, but that scientists are saying transitioning after puberty gives transgender women an unfair advantage.
The impending summer solstice, highlights from the Warriors parade, and more trending topics | Entertainment Source link The impending summer solstice, highlights from the Warriors parade, and more trending topics | Entertainment