Texas
The Consul General of Ukraine visits Dallas City Hall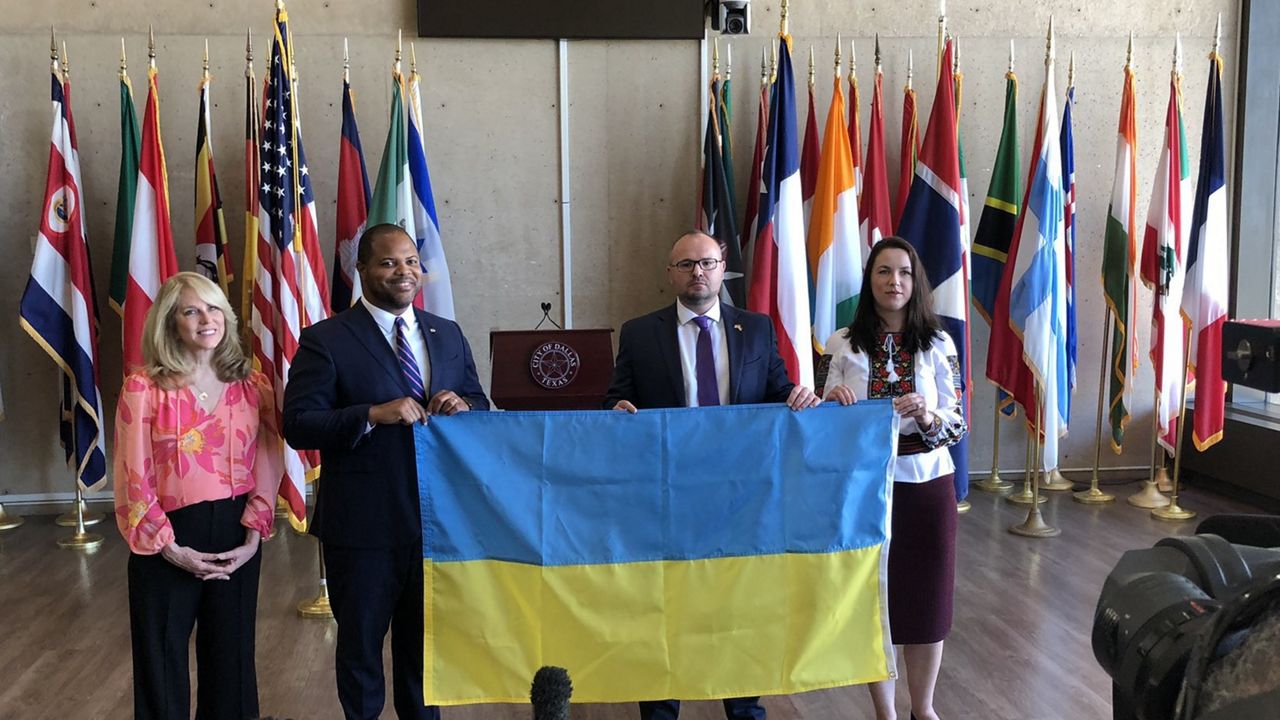 DALLAS – Leaders of the city of Dallas have shown their support for the citizens of Ukraine after millions fled their homes due to the Russian invasion of Europe's second largest country. On Monday, Ukraine's Consul General Vitalli Tarasiuk visited Dallas City Hall where he met with Mayor Eric Johnson and other leaders to discuss further ways the city and businesses across the state can help Ukrainians during the war.
"This is a humanitarian issue," Johnson said. "This has ramifications, I think, for freedom and democracy around the world."
Earlier this month, Dallas City Council members voted unanimously to end ties with Russian companies as well as their sister city in Saratov, Russia.
"I thank Mayor Johnson for his leadership, his moral compass and his support for Ukraine [the] first day, "Tarasiuk said.
On February 24, Russian President Vladimir Putin authorized "special military operations" in Ukraine. And it was then that Russian forces launched a missile and artillery attack, attacking cities like Kiev and killing hundreds of people. As the days go by, the number of people fleeing the country is constantly increasing. Today, the UN Refugee Portal estimates that nearly 4 million people have fled Ukraine since the start of the war.
"We are defending democracy around the world and for that we need the right tools to do so," Tarasiuk said.
After President Joe Biden returned from Europe, he said: "For God's sake, this man cannot stay in power" in reference to Putin. But on Monday he reiterated that he was not implying regime change in Russia.
"I was just expressing my outrage," Biden said at the White House. "It shouldn't stay in power, just like, you know, bad people shouldn't keep doing bad things. But that doesn't mean we have a fundamental policy to do anything to bring down Putin in any way."
In an interview with a Houston media outlet earlier this month, Tarasiuk insisted that people across the state show solidarity with Ukraine.
"Texans and Texas businesses can do more," he said. "We would also like the Texas authorities to do the same as the New York governor by announcing that it is no longer okay for New York companies to do business with Russian entities. We also want to do the same here in Texas. I think it's time to show Putin that the world is united in supporting Ukraine. "
Tarasiuk mentioned the closure of ports to "impose a trade embargo on Russia" related to oil and gas.
"All the trade that is going on with Russia right now is feeding Russia's war machine with Ukraine," Tarasiuk said.
During Johnson's meeting with Tarasiuk, he gave him a copy of the resolution outlining the city's severing ties with Russia. Tarasiuk gave Johnson a Ukrainian flag that will remain in the flag room.
"We consider ourselves part of the world community and what has happened in Ukraine is something we absolutely condemn," Johnson said.
Until the end of the war, Tarasiuk hopes that companies everywhere will help Ukraine during this difficult time.
"After Ukraine wins this war, there will be many opportunities to do business together," Tarasiuk said.


The Consul General of Ukraine visits Dallas City Hall
Source link The Consul General of Ukraine visits Dallas City Hall