Texas
Texas school shooting: first student victims identified; Biden calls for action on gun laws after 21 killed – latest updates | Texas school shooting
Biden speaks on mass shooting: 'It's time to turn this pain into action'
The president has delivered remarks at the White House on today's mass shooting. Footage of the talk can be found here.
"I had hoped when I became president I would not have to do this, again. Another massacre," he began in an emotional speech.
Biden drew on his own experience with grief, having lost his first wife and young daughter in a car accident in 1972 and an adult son to cancer in 2015.
"To lose a child is like having a piece of your soul ripped away," he said. "There's a hollowness in your chest you feel like you're being sucked into it … you're never quite the same"
The president took a harsher tone when speaking about the need for "common sense" gun legislation. He spoke of the shooting in Buffalo ten days ago, and lamented that in both incidents an 18-year-old was able to purchase a gun and commit such heinous crimes.
"When in God's name are we going to stand up to the gun lobby?" he said. "Why are we willing to live with this carnage? Why do we keep letting this happen?"
"It is time to turn this pain to the action," he said. "For every parent, every citizen of this country. We have to make it clear to every elected official in this country: it's time to act. It's time for those who obstruct or delay or blocked the common sense gun laws – we need to let you know that we will not forget."
Biden's speech came shortly after he returned to the White House from a multi-day trip to Asia.
Ukraine President Volodymyr Zelenskiy has offered his condolences to the relatives of the victims of the Texas school shooting while speaking at the World Economic Forum in the Swiss resort of Davos via video link.
"I would like to express my condolences to all of the relatives and family members of the children who were killed in the awful shooting in a Texas elementary school," Zelenskiy said as he addressed an event.
"As far as I know, 21 people were killed, including 19 children. This is terrible, to have victims of shooters in peaceful time," Reuters reports he added.
Associated Press have been provided with two photographs of one of the victims that has been identified so far, 8-year-old Uziyah Garcia.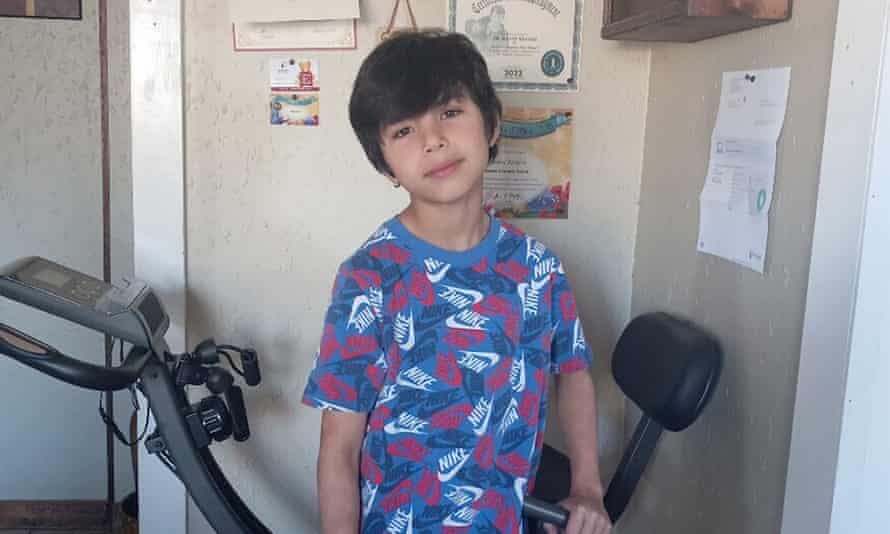 The images have been provided by his grandfather Manny Renfro, who earlier told AP that Garcia was "the sweetest little boy that I've ever known."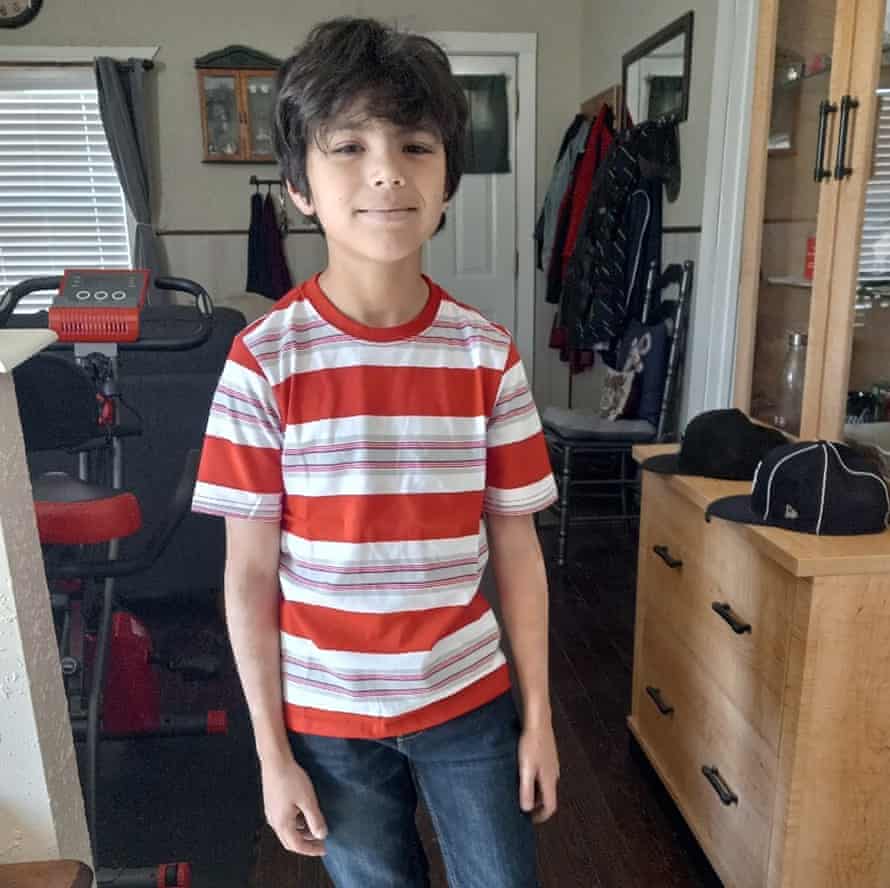 The president of civil rights organisation the NAACP, Derrick Johnson, has issued a statement imploring lawmakers to act in the wake of another school mass shooting in the US. He said:
There's no statement. There are no words. I'm shattered for the community and frustrated by the lack of action by the government that should be working for the people. Every time it's just more thoughts and prayers – the only thing this Congress seems to be able to do successfully. Congress, do your job. Don't just post a tweet, pass a bill. Kids are dying.
Associated Press reminds us that gun violence bills have stalled in the face of Republican opposition in the Senate in the last year. The House passed two bills to expand background checks on firearms purchases, but both languished in the 50-50 Senate where Democrats need at least 10 Republican votes to overcome objections from a filibuster.
The identity of another of the young victims at the Robb elementary school in Uvalde is being reported by the Washington Post. It has named Jose Flores, aged 10.
His uncle, Christopher Salazar, told the Post: "He was a very happy little boy. He loved both his parents … and loved to laugh and have fun."
Flores was a baseball fan, and had two brothers and a sister, according to the reports.
Nineteen students and two adults were killed in a Texas elementary school shooting on Tuesday.
Here's everything we know so far:
An 18-year-old suspect, identified by police as Salvador Ramos, opened fire in an elementary school in Texas, killing at least 19 students and two adults, Texas state senator Roland Gutierrez, who was briefed by state police, told reporters.
The shooting occurred at Robb elementary school in Uvalde, a mostly Latino community about 85 miles west of San Antonio near the Mexico border, around 11.30am on Tuesday.

Police said Ramos was killed, apparently shot by arriving officers, after he fled that scene and crashed his car near the school. The motive was not immediately clear and it is believed he acted alone. Gutierrez said the suspect shot his grandmother at her home in the morning. She is believed to be in critical condition in hospital, Sergeant Erick Estrada told CNN's Don Lemon.
The suspected gunman bought two rifles on his 18th birthday, Gutierrez told reporters after he was briefed by Texas Rangers. Two assault-style rifles were reportedly purchased from a store in Uvalde County on his birthday. "That was the first thing he did on his 18th birthday," Gutierrez said, adding that Ramos had hinted on social media that an attack could be coming. "He suggested the kids should watch out," he said.
Fourth-grade teacher Eva Mireles has been confirmed as one of the adults killed in the attack. "I'm furious that these shootings continue," her aunt said in a statement reported by ABC News. "These children are innocent. Rifles should not be easily available to all."
Names of the first student victims are also beginning to emerge. Eight-year-old Uziyah Garcia and Xavier Javier Lopez, 10, were confirmed by the Associated Press to have been killed after speaking with members of their families. Amerie Jo Garza, also 10, was identified by family as one of the children killed, according to ABC news.
Joe Biden addressed the nation on Tuesday night shortly after returning to the White House from a five-day trip to Asia. The president delivered an emotional speech, calling for "common sense" gun laws and said: "It's time to turn this pain into action."
Parents of schoolchildren have had to wait for hours in a parking lot to receive the news that their children are dead after being swabbed for DNA, according to New York Times reporter, Jazmine Ulloa.
Relatives are also turning to social media and waiting in a desperate attempt to find their missing children.
The families of people killed in the Sandy Hook elementary school shooting have pleaded for action on gun control in the wake of the killings.
NBA coach Steve Kerr gave an emotional pre-game press conference which he devoted to the events in Texas. He singled out politicians for failing to act on gun control in order to hold on to power and noted the recent shooting in Buffalo.
That's it from me, Samantha Lock, as I hand you over to my colleague.
First student victims identified
By nightfall in the Texas town of Uvalde, the names of the first student victims had began to emerge.
Eight-year-old Uziyah Garcia was identified by his family as one of the children killed in the school shooting attack.
"The sweetest little boy that I've ever known," Garcia's grandfather, Manny Renfro, told the Associated Press. "I'm not just saying that because he was my grandkid."
Renfro said Uziyah last visited him in San Angelo during spring break.
"We started throwing the football together and I was teaching him pass patterns. Such a fast little boy and he could catch a ball so good. There were certain plays that I would call that he would remember and he would do it exactly like we practiced."
Lisa Garza, 54, of Arlington, Texas, also mourned the death of her cousin, Xavier Javier Lopez.
"He was just a loving 10-year-old little boy, just enjoying life, not knowing that this tragedy was going to happen today," she said. "He was very bubbly, loved to dance with his brothers, his mom. This has just taken a toll on all of us."
Lopez's cousin earlier told KSAT the local ABC news affiliate, that his mother was with him at the school during an awards ceremony just hours before the shooting, not realising it would be the last time she would see him.
Amerie Jo Garza, also 10, was identified by family as one of the children killed.
Her father, Angel Garza, told ABC News the little girl had just turned 10 on 10 May.
"Thank you everyone for the prayers and help trying to find my baby," Angel Garza wrote to ABC in a statement. "She's been found. My little love is now flying high with the angels above. Please don't take a second for granted. Hug your family. Tell them you love them. I love you Amerie Jo. Watch over your baby brother for me."
UK foreign secretary Liz Truss has also shared her horror following Tuesday's attack.
Horrified by the news of a fatal shooting at a Texan primary school. My thoughts are with the people of Texas and all those affected by this dreadful attack," Truss tweeted early Wednesday morning.
The 18-year-old suspected gunman bought two rifles on his 18th birthday, a Texas state senator has said.
Democrat Roland Gutierrez said he was told in a briefing by Texas Rangers that Salvador Ramos bought two assault-style rifles from a store in Uvalde County on his birthday.
That was the first thing he did on his 18th birthday," he said.
Investigators believe Ramos posted photos on Instagram of two guns he used in the shooting, and they were examining whether he made statements online alluding to the attack in the hours before the assault, a law enforcement official said.
NZ PM speaks of 'pragmatic' gun laws with Stephen Colbert after mosque shooting
Tess McClure
New Zealand's prime minister Jacinda Ardern says her country's swift change to gun laws following its 2019 mass shooting was a "pragmatic" response, where "we saw something that wasn't right and we acted on it".
The prime minister was speaking as her visit to the US coincided with the mass killing of children in Texas.
Ardern appeared on the Stephen Colbert late show, which was filmed shortly after the Uvalde shooting. "When I watch from afar and see events such as this today, it's not as a politician. I see them just as a mother," an emotional Ardern said. "I'm so sorry for what has happened here."
Colbert referred to the wake of the 15 March mosque shootings, where 51 were killed by a white supremacist, saying, "Immediately thereafter the New Zealand parliament took action to remove guns from the streets." He asked "why New Zealand was able to do that, when we can't so much as pass universal background checks… how did New Zealanders get that done?"
Ardern said New Zealanders were "a very pragmatic people".
"We saw something that wasn't right and we acted on it, and I can only speak to that experience."
When we saw something like that happen, everyone said never again, and so it was incumbent on us as politicians to respond to that," she said. "Now, we have legitimate needs for guns in our country, for things like pest control and to protect our biodiversity – but you don't need a military-style semi-automatic to do that."
In the wake of the 2019 shooting, New Zealand banned almost all semi-automatic weapons and assault rifles. The law change was passed near-unanimously, with a single dissenting vote. Speaking at the time, Ardern said: "I could not fathom how weapons that could cause such destruction and large-scale death could have been obtained legally in this country."
Ardern told Colbert New Zealand's current gun control situation was imperfect, and there was still work to be done.
Hillcrest Memorial funeral home, which is located across the street from Robb elementary school, has said it will be assisting families for funerals of the shooting victims at no cost.
"Hillcrest will be assisting families with NO COST for funerals for all involved in today's horrific events. Prayer for our small amazing town," the company said in a Facebook post on Tuesday evening.
Basketball star LeBron James has also joined the cohort of celebrities expressing their shock following the Texas school shooting.
Actor Chris Evans simply tweeted:
Pop singer Taylor Swift has spoken out, describing her "rage and grief" following the attack.
A nightmarish scene is continuing to play out for many parents who are still waiting outside the family reunification center in Uvalde to receive the news that their children are dead.
Many have been waiting for hours.
According to New York Times reporter, Jazmine Ulloa, parents say they have had to go inside the center for DNA swabs to confirm their relationship to their children and were then told to wait for results.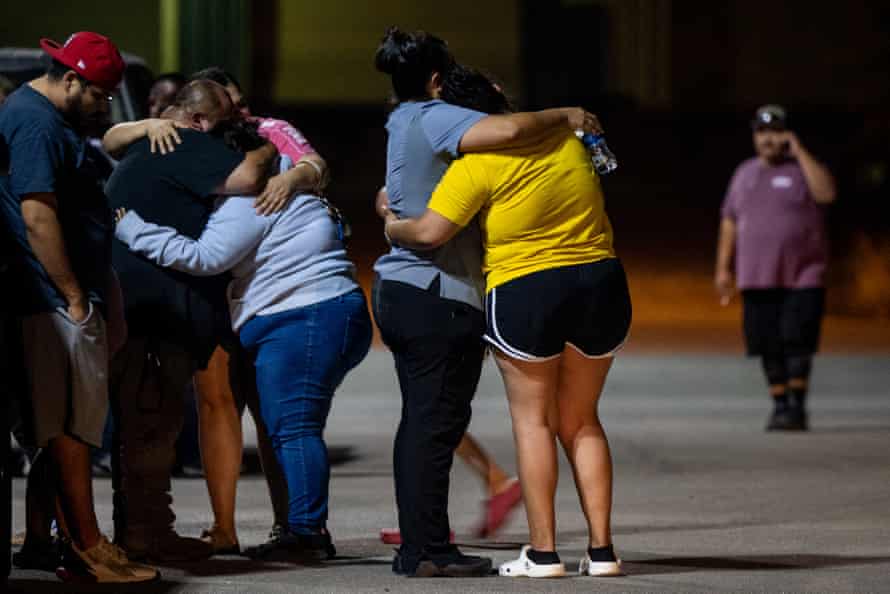 One mother who just received the news that her child was dead said she had been waiting since the early afternoon, according to the publication.
Parents have been clustered around their cars "quietly talking or weeping on a hot, muggy night", Ulloa said adding that audible sobs continue to ring out across the parking lot as cars slowly clear out.
As more details continue to pour in, here is a video report compiled by some of our reporters detailing some of the facts we know so far.
Sandy Hook families speak out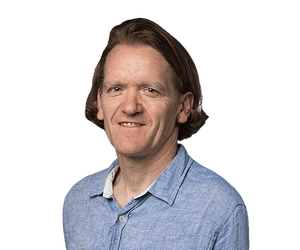 Martin Farrer
The families of people killed in the Sandy Hook elementary school shooting have pleaded for action on gun control in the wake of the killings at Robb elementary school in Texas.
Erica Leslie Lafferty, whose mother was killed in the massacre in Connecticut in 2012, said that it was "beyond time to take action" in the wake of the attack in Uvalde which has left at least 19 children and two adults dead.
"Thoughts and prayers didn't bring my mother back after she was gunned down in a hallway at Sandy Hook, she said on Twitter. It is beyond time to take action."
She said she had struggled with PTSD after the massacre. "My heart is with #RobbElementarySchool families, faculty and the community. I'm broken."
Speaking later on CNN, Lafferty said: "These families in that community are walking into hell and there is definitely a network of people out there who have lived it, who are stepping up to support them … But it's not going to just go away. Not for the families, not for the community. It's life-changing. It's devastating. It's traumatizing, and every single time it happens, it brings it back like it was yesterday."
Neil Heslin, whose son Jesse Lewis, 6, died in the shooting in 2012, told the New York Times that he felt defeated. "I guess it's something in society we know will happen again, over and over."
Watching the coverage was "almost like an instant replay of Sandy Hook," he said.
Read our full report below.


Texas school shooting: first student victims identified; Biden calls for action on gun laws after 21 killed – latest updates | Texas school shooting Source link Texas school shooting: first student victims identified; Biden calls for action on gun laws after 21 killed – latest updates | Texas school shooting