Texas
Nebraska factory fire: Massive fire destroys Omaha chemical plant, residents tell to evacuate
NEWYou can listen to Fox News articles!
A large three-alarm fire was raised at a chemical plant near downtown Omaha, Nebraska, Monday night.
The fire and smoke were so strong that those living nearby had to be evacuated. Thick black smoke could be seen billowing from the house.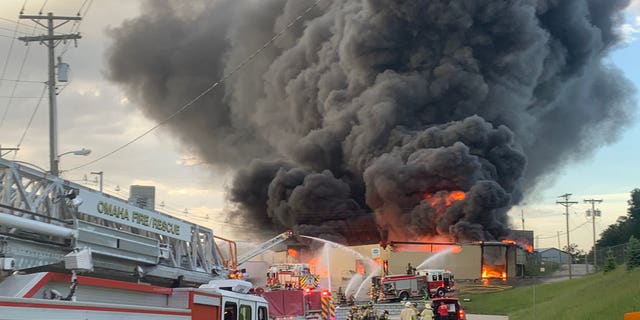 Videos posted on the website also showed large fires raging from the building from the work of firefighters and first responders to control the blaze.
Explosions could be heard from the building due to propane drums and other chemicals exploding inside the Nox-Crete school located on South 20th Street.
NEBRASKA'S CAR KILLED 2, INJURED 20 NOTES 'Not' Intentional ': MAKAI
The fire started around seven in the evening, and it is not clear what started it. Officials with the Omaha Fire Department said the walls of the building had begun to collapse.
ROE REVERSAL: NEBRASKA GOV. RICKETTS vowed to protect 'firstborn babies' if the court overturns the decision to get pregnant.
Click here to download the FOX NEWS program
Currently, there are no reports of injuries. It is not clear if anyone was in the house when the fire started.
Nebraska factory fire: Massive fire destroys Omaha chemical plant, residents tell to evacuate
Source link Nebraska factory fire: Massive fire destroys Omaha chemical plant, residents tell to evacuate