Tech
Multi-cloud-view from the ground
Organizations employ multiple IaaS / PaS providers for a variety of reasons
Multi-cloud strategies are implemented by more than half of polled organizations, either by chance or by design Computing Early this month.
Of the 150 executives surveyed, all worked in businesses that utilize cloud infrastructure, but 84 (56%) "significantly use" multiple cloud IaaS / PaaS providers. The average number of externals is 2.3 for cloud providers per organization.
The most popular IaaS / PaaS vendors are Microsoft Azure (82% of respondents report using the service) and AWS (64%), with IBM accounting for one-third (12%). ..
Which cloud provider do you use for IaaS / PaaS?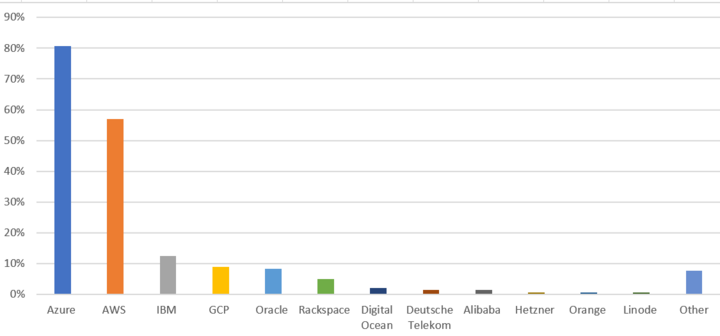 There were many reasons for choosing multiple cloud providers. This means global operations (12%), which means one provider can't cover all regions, multiple teams of developers each favorite (12%), and new IT leaders (9%) who insist on a familiar cloud. %), Integrator included. Or another partner makes the decision (7%).
However, the main driving force was "avoiding lock-in or excessive reliance on one supplier" (31%).
How did you use multiple public cloud providers?Please choose the closest answer

There seems to be growing concern about cloud vendor lock-in. This month, 17% said they were taking aggressive steps to avoid cloud lock-in, while a similar poll in January said 9% did the same. Overall, 59% consider lock-in to be a concern.
Do you think cloud vendor lock-in is the problem?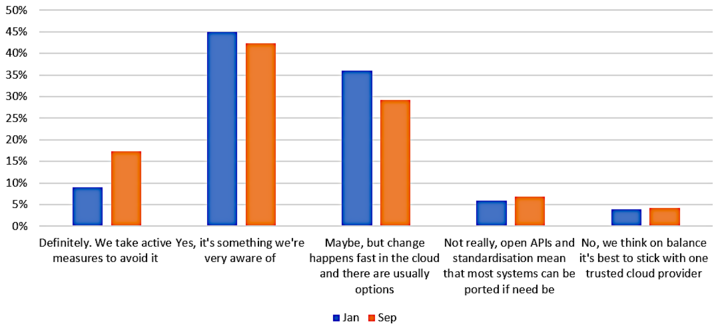 Of course, the most common cloud pairing was AWS + Azure. Interestingly, none of the "third clouds" were deployed alone.All the users we polled, GCP, Oracle, IBM, etc. (this certainly a small sample) deployed these cloud services. along with From another provider. Obviously, these players need to focus on their niches and make their services as interoperable as possible in order to succeed in the multi-cloud world. This is exactly what they are doing.
Therefore, while it is common to employ multiple clouds, diversity inevitably creates complexity. More skills need to be deployed, making it harder to manage costs. So far, moving data and applications cheaply and efficiently, at least between vendors' clouds, has never been so easy.
Multi-cloud requires a lot of decision-making about what has become known as data gravity. In general, moving large datasets between clouds is a very costly business and therefore a factor that limits the flexibility of the multi-cloud concept.
Functionality was a key factor in deciding which database to place where. For example, an organization may have financial information on AWS and ERP on Azure, or it may choose to cluster applications with similar data needs in one cloud. Some people choose the cloud depending on the applications they support. Scalability needs were also an important consideration.
How do you decide which workload / dataset to place in which cloud? Choose the three most important considerations

Nonetheless, despite the problems caused by the gravity of data, a surprisingly high 30% of organizations are cloud service providers, a "true" multi-cloud promise offered by platform-independent cloud natives. Container technology that said it actively manages data between CSPs).
Are you actively managing your data between environments from different cloud service providers?

Therefore, this diagram is a practical but fragmentary approach, choosing the best cloud for your job from two or three (and in some cases even more) options. Organizations are enthusiastic about diversification because they are wary of lock-ins and often use multiple providers for historical reasons, but they tend to stay that way due to the difficulty of moving data and some applications. .. However, a significant number of respondents report that they are actively managing data between clouds. Exactly what they are doing and how it will be a topic for future research.
Cloud strategy is among the topics discussed in ComputingUpcoming IT Leader Festival 2021-Register Now
Multi-cloud-view from the ground
Source link Multi-cloud-view from the ground