Texas
Eva Mireles' mural shines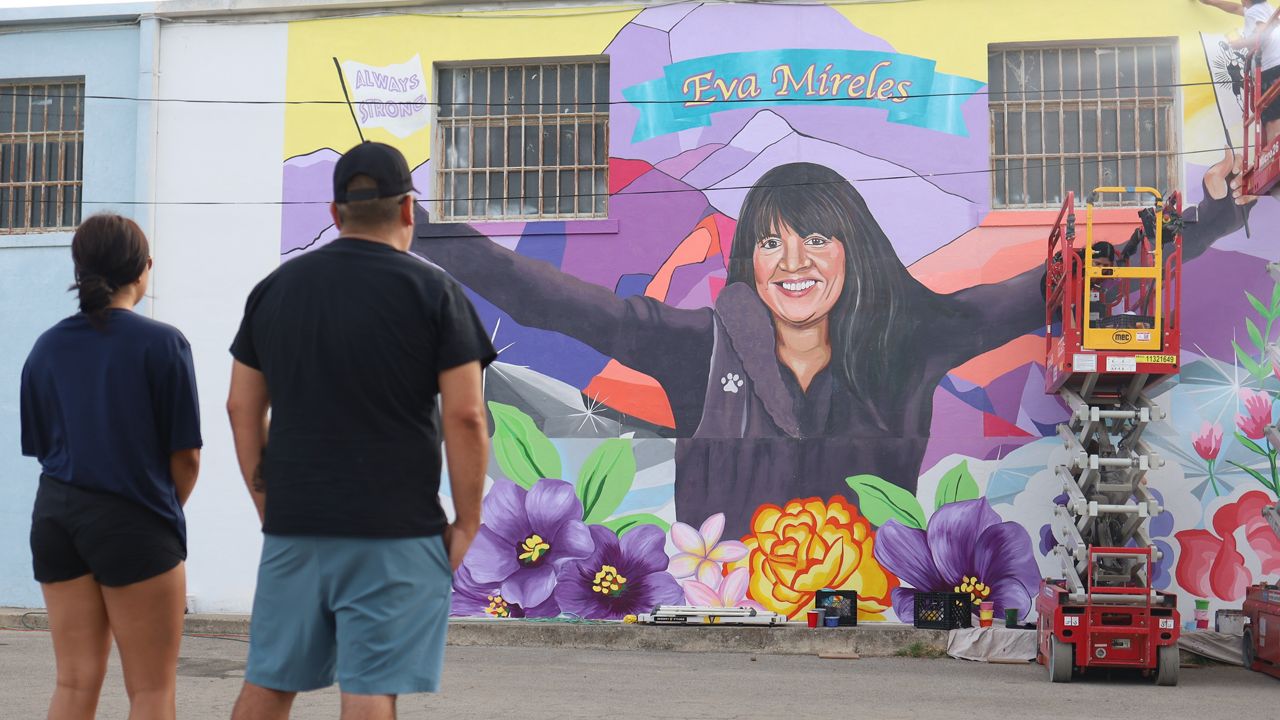 SAN ANTONIO — Sandra González did everything to capture the essence of Eva Mireles in her mural. Mireles was one of two teachers who lost their lives in the shooting at Robb Elementary School.
It was difficult for González at times because she, like Mireles, is a teacher. Gonzalez teaches art at Roosevelt Middle School on San Antonio's North East Side.
"It's very emotional, especially as a teacher just to represent her soul here, it's emotional," Gonzalez said.
This is not one of those mural stories that aim to unite the community: the Mireles mural literally brought people from outside the city and Uvalde together.
"It was really amazing to see the support of the community. The people of Uvalde keep coming, stopping, asking if we need anything, they bring water, they bring food," said González.
All the artists participating in this Uvalde healing mural project said the same thing: grieving families showed their love and support.
González even received help from Mireles' husband, Rubén Ruiz, and their daughter Adalynn Ruiz.
"I was like waiting for them to use my favorite picture. I mean I got a tattoo that's my favorite picture," said Adalynn Ruiz. "When he took it and framed it, it's in our house. It was a long time ago, she loved it too. It's his place, he loved hiking."
Mireles loved the Mexican rock band Mana, so her family played their favorite jams through a giant speaker while they painted.
"She loved Mana. She sang really bad, but she loved to sing, so that was her thing: hiking and karaoke," said Adalynn Ruiz.
Mireles loved singing Diamonds by Rihanna. Adalynn said that once Mireles had the microphone, you couldn't take it out of his hands.
This 21-mural project was a collaborative effort between MAS Cultura, a non-profit organization in Austin, Collectors of Chicano/Latinx Art and Allies, and Art Lab Contemporary Art Space in Uvalde.
Abel Ortiz directs the Art Lab Contemporary Art Space in Uvalde and thought of the idea of ​​putting up these murals. Monica Maldanado, founder of MAS Cultura, helped organize this project and brought all the artists together to help heal Uvalde.
"I loved that they allowed us to be apart because it's perfect, the way she is with her arms and her flags. Her smile makes it all happen," said Adalynn Ruiz.
In the mural, Mireles holds two flags, one with the words "always strong" and the other with "CrossFit".
The little diamonds on the mural were a fitting touch, because like Mireles' favorite karaoke song, it sparkled like a diamond.
There was a moment when Adalynn Ruiz and her father Ruben Ruiz put down their brushes and stood together to admire the mural.
Everyone noticed the two of them glance at the mural as this happened, Marco Antonio Solís' voice echoing through the loudspeaker.
"There's nothing harder than living without you," echoed the lyrics, which translates to "there's nothing harder than living without you."
The moment of those lyrics and Adalynn Ruiz looking at the mural with her father left everyone else in tears.
Spectrum News 1 asked Adalynn what else she wanted the world to know about Mireles.
"She's just … her smile is perfect. She loved everything she did, she loved her students, she loved her job," said Adalynn Ruiz. "So I'm very thankful that she was there to protect them and now she's with them."
Eva Mireles' mural shines
Source link Eva Mireles' mural shines